Read time:

1:30min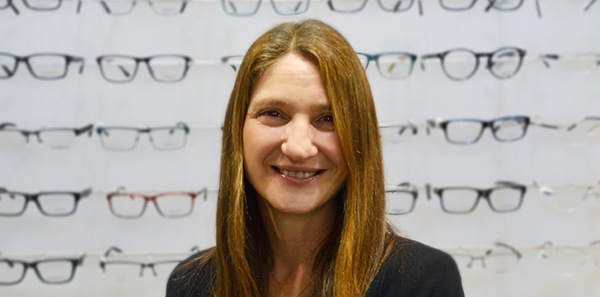 Professor Fiona Stapleton
Image: School of Optometry and Vision Science, UNSW
_____________________________
By Helen Carter
Journalist
The first female head of an Australian optometry school, Professor Fiona Stapleton, continues to pave the way for women and is now the first female recipient of the prestigious H Barry Collin Research Medal.
Professor Stapleton, Head of Optometry and Vision Science at UNSW Sydney, is the 2018 recipient of the medal, joining a stellar cast of 11 previous winners. She is the first woman to receive the medal in its 41 year history.
She will receive the award for her life-long research in the field of contact lens infection, specifically corneal infection. Her lasting interest in understanding why contact lens wearers can develop corneal infections was sparked by working as a hospital optometrist in the United Kingdom.
The medal recognises outstanding contributions to the advancement of knowledge in optics, vision science or clinical optometry by a person who is an Australian citizen or a graduate of an Australian optometry school, or who has done a significant part of his or her research in an Australian institution.
The honour is accompanied by a monetary prize of $5,000 and the recipient is required to submit a paper for publication in Optometry Australia's journal, Clinical and Experimental Optometry.
Professor Stapleton, who will be presented with the medal and the prize-money in 2019, said she would use the money to help fund the research of her postgraduate students and support them to attend conferences overseas.
'I was surprised and humbled to receive this and would like to thank the Association and my colleagues because it is a peer nominated award. I am very grateful for the support and recognition from my peers,' she told Optometry Australia.
'It's very humbling especially when you look at the list of previous winners as they have made huge contributions. I am delighted for the recognition and visibility, and for female researchers to have this visibility.
'Australia has many women in research in optometry who are making a valuable contribution to the profession and research.
'The representation in academia by women is very strong. Universities are trying to encourage more women to advance to higher levels, leadership roles and take those next steps.
'A big part of my role is mentoring and supporting students. The prize-money will support post-graduate students to help fund their research and travel to overseas conferences.'
Contact lens research
Professor Stapleton received the medal for her extensive research on contact lens-related infection, specifically corneal infection. Many of her 224 publications in journals have covered this field and in 2015 she received the British Contact Lens Association medal for her research in the area.
She has also recently been awarded the Donald R Korb Award for Excellence from the American Optometric Association Contact Lens and Cornea Section council.
She has lead international collaborations on contact lens and corneal infection, working with researchers from Australia, the UK and New Zealand to determine the risks of contact lens associated disease and associated health outcomes, community costs of eye infections, visual loss and morbidity.
Professor Stapleton has conducted large scale epidemiological studies that have established risks associated with contemporary lens wear modalities and has conducted studies of virulence characteristics of causative organisms.
She has also studied disease outcomes and developed an understanding of host factors in corneal infections.
Born in the United Kingdom, she studied optometry in the UK and was fortunate to work at the world renowned Moorfields Eye Hospital.
'In the UK optometrists are embedded in the hospital system and I worked in the contact lens department at Moorfields where there were eye infection wards,' she said.
'Half of these patients were young people who were there because they wore contact lenses. The remainder were in hospital because of trauma, prior surgery or diseases of the surface of the eye.
'I did my PhD on contact lens infection in 1991 and have stayed with that area of research ever since and it is one of my main areas of research. It has opened other doors in research including risk factors for microbial and host genetics.
'We can't get rid of these infections but we can help lessen the severity of disease and better understand risk factors including which organisms cause disease so we can understand how to better treat them and make the wearing of contact lenses safer for everyone.'
Her most recent area of study is in Asia where there are many contact lens infections from cosmetic coloured contact lenses or circle contact lenses which make eyes appear larger but are obtained from unregistered sources.
'More than half of the contact lens infections in some countries in Asia are caused by these decorative lenses which are mainly worn by young females,' Professor Stapleton said. 'They are obtained from people who are not registered health professionals so wearers aren't receiving proper advice or after care from a practitioner and are therefore more likely to get infections.
'We are trying to help reduce risks, increase awareness and influence regulation of these products.'
Dry eye is another area of interest for Professor Stapleton and she is on the steering committee and four other sub-committees of the Dry Eye Workshop II (DEWS II).
Migration to Australia
Professor Stapleton came to Australia in 1995 when the late Professor Brien Holden recruited her to work at the Cooperative Research Centre for Eye Research and Technology.
In 2004 she moved to the School of Optometry and Vision Science at the University of New South Wales and continued to work as a senior research associate at Brien Holden Vision Institute. In 2007 she was made Head of the School of Optometry and Vision Science at UNSW, becoming the first female to head an optometry school in the nation.
Professor Stapleton is also a mother and her advice to women who are juggling motherhood and optometry is: 'Don't be too hard on yourself, you're going to drop a lot of balls.
'I am fortunate to have a very supportive employer and helpful and understanding colleagues.'
Collin Medal
Emeritus Professor H Barry Collin AM, a distinguished optometrist, academic and researcher, became editor of Clinical and Experimental Optometry in 1993 and retired as Editor-in-Chief 24 years later in 2018 aged 85.
He was an academic teacher and researcher at the University of Melbourne, Head of the School of Optometry at UNSW and is Professor Emeritus at UNSW and a Professorial Fellow at the University of Melbourne.
Professor Collin had a distinguished career, published more than 130 papers in peer-reviewed journals, also held appointments at universities overseas, and was awarded many prestigious prizes and awards.
Collin medal recipients
H Barry Collin AM, 1977
Brien A Holden OAM, 1988
Gerald Westheimer AM, 2009
John D Pettigrew, 2010
Anthony J Adams, 2011
Donald E Mitchell, 2012
Robert Hess, 2013
David Atchison, 2014
Nathan Efron AC, 2015
Shaun Collin, 2016
Mark Willcox, 2017
Fiona Stapleton, 2018
Filed in category:
Members & member initiatives
,
National & State initiatives
Tagged as:
Clinical & Experimental Optometry (CXO)