Read time:

1:30min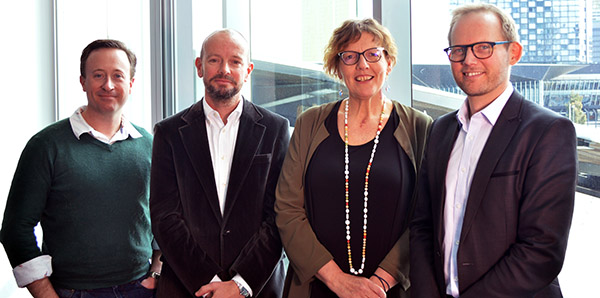 Teammates… L-R, Optometry South Australia President Kurt Larsen, Optometry Victoria CEO Pete Haydon, Optometry South Australia CEO Libby Boschen and Optometry Victoria President Murray Smith.
_____________________________
By Rosanne Michie
Acting Communications Manager
Optometry Australia has welcomed last night's historic decision of two of its federated organisations to amalgamate.
CEO Lyn Brodie said the vote represented the largest number of members to ever vote for any constitutional change in each of the organisations' history.
'The more than 95 per cent yes vote is an emphatic endorsement for unity.
'Importantly, the decision by the boards to consider merging both organisations was made with members' interests being top of mind.
'The union of these two proud and long-standing organisations marks an evolution in keeping with our Optometry 2040 project – which is about taking control of, and shaping optometry's future over the next 20 years.
'Members in Victoria and South Australia have clearly identified the efficiencies which will result from the merger and how these will enhance the services they receive and the opportunities they bring to advance optometry.
'We look forward to continuing our collaborative and interdependent work as the professional body dedicated to leading, engaging and promoting optometry, optometrists and community eye health,' Ms Brodie said.
States welcome move
Optometry Victoria President Murray Smith welcomed the result.
'This is a resounding show of support for our shared vision,' Mr Smith said. 'For us, the substantive work must continue – it is now up to us to live up to the mandate from our membership.
'We must continue to show leadership within the federation and demonstrate that collaboration and collegiality is the way forward, for the profession and the association alike.'
Optometry South Australia President Kurt Larsen said the organisation was looking forward to working closely with other states to benefit all members.
'We were hoping that our proposal would get over the line, but 97 per cent saying yes of more than half of our members who voted, is staggering.
'It clearly demonstrates that members are ready for the innovation and changes required to keep our organisation strong. We are excited and look forward to the road ahead which we will now travel with our colleagues in Victoria.'
_____________________________
Filed in category:
Members & member initiatives
,
National & State initiatives
Tagged as:
Member services