Read time:

1:30min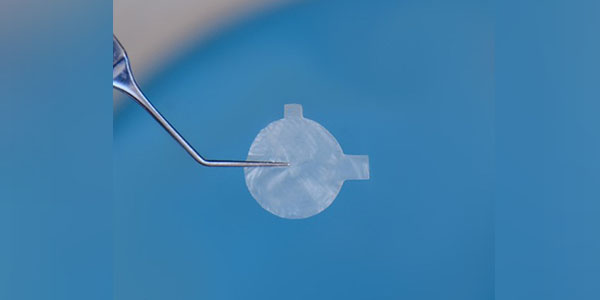 The AmnioTek graft
By Helen Carter
Journalist
Australian optometrists and ophthalmologists can use amniotic membrane grafts as regenerative therapy for a variety of ocular surface disease diagnoses including dry eye under a special access TGA scheme.
Processed human amniotic membrane AmnioTek allograft transplant for the ocular surface is now available in Australia. The product is sutureless with no adhesive and is placed on the site with a bandage contact lens then placed over the transplant to keep it firmly in place.
The product contains amniotic membrane taken from donor placentas after Caesarean deliveries. It is dissected from the inner lining of the placental sac which interfaces with amniotic fluid for the pregnancy duration.
Optometry Australia's Chief Clinical Officer Luke Arundel said he was pleased to see amniotic membrane use become a viable option for Australian optometrists and noted Optometry Australia would be rolling out CPD in this area in 2021 through its Institute of Excellence.
Founder and Managing Director of ISP Surgical which manufactures the product, Jay Tardugno, said that as regenerative therapy for the corneal epithelium, indications for the optometry market include dry eye, superficial filamentary keratitis and corneal abrasions.
'In these mild to medium cases, no corneal debridement is needed before placing the graft on the cornea, as per a bandage contact lens,' Mr Tardugno told Optometry Australia. 'These are the most typical cases that optometrists would use the graft for.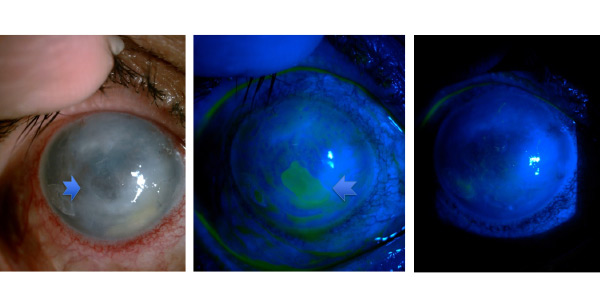 Left, persistent epithelial defect pre graft, and centre and right, post graft.  Images, Dr Harvey Uy  
'The only time corneal debridement is essential is for neurotrophic ulcers, non-healing persistent epithelial defects (PEDs), post-infectious keratitis scarring and severe cases of filamentary keratitis.
'Debridement should only be done on corneas that either have deep scarring or loose necrotic epithelium. This needs to be removed with the dry weck-cell sponge (debridement) or by doing a weck-cell keratectomy. The weck-cell sponges come in the kit. For mild to medium cases of dry eye, corneal abrasions and filamentary keratitis no debridement is typically necessary.'
Mr Tardugno said therapeutically endorsed optometrists who could also prescribe antibiotics or non-steroidal pharmacological eye-drops could apply the therapy for neurotropic ulcers, non-healing persistent epithelial defects, post-infectious keratitis and chemical burns. Optometrists who cannot prescribe can refer patients with these conditions to therapeutically endorsed colleagues or an ophthalmologist for use, he said.
He said AmnioTek could also be used for healing of corneal ulcerations, non-healing epithelial defects and neurotrophic ulcers, supplementing areas of conjunctival defects, healing of glaucoma tube erosions and tube over-lay graft in glaucoma drainage devices surgery, rehabilitation of ocular surface patients with problems due to glaucoma medication use, pterygium surgery, wound repair, managing epithelial defects and poor ocular surface problems.
'AMT provides high amounts of angiogenin, IGF-binding proteins-1, -2, and -3, serine protease inhibitor E1, and TIMP-1,' he said.
'Until now damaged dry corneas have been treated with eye lubricant drops, punctal plugs, collagen shields and bandage contact lenses – all treatment modalities of managing rather than healing regenerative therapy.'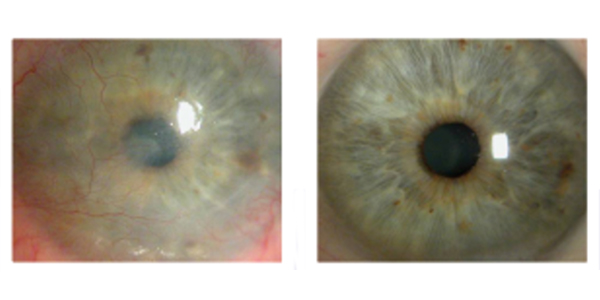 Corneal scar before, left, and after treatment with AmnioTek
He said dry Amniotic Membrane Therapy (dAMT) had been used overseas for a decade in more than 100,000 cases including in South East Asia, the Middle East, Africa, Europe, New Zealand, South America and Mexico.
Transplantation of amniotic membrane as a temporary graft promotes corneal epithelial wound healing, exerts anti-inflammatory and anti-scarring effects on the ocular surface, reduces vascularisation and has analgesic properties, he said.
'It insulates the surgical site/cornea from the host environment and these actions render the amniotic membrane a unique niche capable of expanding epithelial and mesenchymal progenitor cells, while maintaining their normal cell phenotypes,' he said. 'Over 700 peer-reviewed studies have investigated AMT and proved the exact molecular mechanism by which the amniotic membrane works in reconstructing and bio-engineering ocular tissues in the burgeoning field of regenerative medicine.'
Optometrists apply to TGA's SAS for each patient use
Designs For Vision has been appointed as the Australian supplier and Cameron Loveless, Designs For Vision Optometry Product Manager – South (Vic/Tas/SA/WA) said AmnioTek was now available in Australia under the Therapeutic Goods Administration's Special Access Scheme (SAS) which allows certain health practitioners to access therapeutic goods for a single patient including medicines, medical devices or biologicals that are not included in the Australian Register of Therapeutic Goods.
Therapeutic goods that are not included in the register (and are not otherwise exempt from being in the register) are described as 'unapproved.'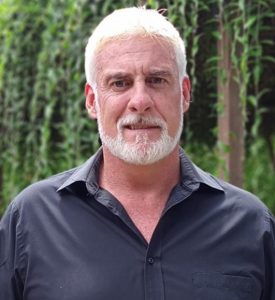 Jay Tardugno
Mr Loveless told Optometry Australia: 'AmnioTek is now available through the SAS as Category C access for ophthalmologists, where they can keep amnion in their rooms ready to use on patients. They can create an online account with the TGA and have AmnioTek "on the shelf" ready to use on patients which is obviously convenient, then they need to fill in an online form on the TGA website to advise of its use within 28 days.
'For optometry, it is a little more restrictive, as optometrists have access under SAS Category B which means no stock can be held in the optometry clinic ready to use, instead they need to create an account with the TGA online then apply, explaining why they want/need to use amnion for each case. They need to explain why in their considered opinion amnion membrane is necessary or beneficial to the patient.
'Once the form is complete and the TGA sends back e-notification of approval, within two to three days, they can order AmnioTek from DFV, we request a copy of the SAS approval for record keeping and we can send one unit for use on the specified patient.'
Australian kit
Mr Tardugno said ISP Surgical was not bringing all its products to Australia just yet but was starting with its AmnioTek-C kit which includes the amniotic membrane, a bandage contact lens, a sterile forceps for placement of the membrane, and five sterile weck spears.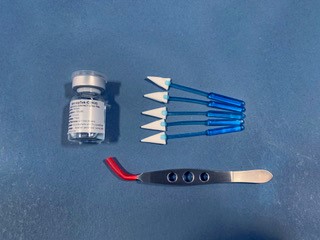 Queensland optometrist Jason Holland used amniotic membrane therapy as part of a trial this year on two patients with non-healing corneal ulcers and said he had good outcomes.
Mr Holland, a former board member of Optometry Australia and Optometry Queensland/Northern Territory, does pre-operative assessments with ophthalmologist Dr Andrew Apel and post-operative assessments at his glaucoma and advanced dry eye optometry clinic.
'One patient needed two membranes post-operatively on a non-healing corneal ulcer,' Mr Holland said. 'It improved comfort and there was almost complete resolution with the first membrane. After the second membrane – success. A traditional bandage contact lens and viscous lubricants had been unsuccessful. The second case was a corneal ulcer and also had good outcomes.
'I think it would be most useful for non-healing corneal ulcers, and ocular surface rehabilitation where dexterity limits topical application of eye drops.'
Mr Holland said that while he was therapeutically endorsed, 'in theory you would not need to be endorsed as the membrane does all of the hard work.'
'If you (optometrists) can insert and remove a contact lens you can use this product,' he said. 'Apart from debridement of the epithelium, it is very easy to learn.
'You use forceps to place the thin membrane onto the cornea, position it centrally and then place the bandage contact lens on top. Done. Review in a week to remove the contact lens.'
Mr Tardugno worked with IOP Ophthalmics in America from 2004 to 2014 and promoted "AmnioDry" dehydrated Amniotic Membrane Therapy (AMT.) It was the world's first commercially sold dry amniotic membrane graft.
'AmnioTek has a three-year shelf life from time of manufacture, can travel by regular freight in temperatures 5-30 degrees C and then sit on a regular shelf unrefrigerated. I was one of the first representatives in the USA to have a physician apply it to a cornea with a bandage contact lens in 2011 in-office with Dr Helen Wu, New England Medical Centre/Tufts, Boston, MA, USA.
'It was first developed to use in-office by BioTissue (ProKera cryopreserved AMT) in 2000 as a regenerative therapy for the ocular surface for various corneal dystrophies. Before this methodology a bandage contact lens or trip to the operating theatre was unavoidable for more serious conditions.
'AmnioTek-C kit was invented by myself, ISP Surgical, in 2014 in Asia to assist the optometrist/ophthalmologist in treating in-office conditions like severe dry eye, filamentary keratitis and corneal abrasions.
'The more significant diagnosis of neurotrophic ulcers, non-healing persistent epithelial defects and chemical burns are typically handled by the corneal specialist or therapeutically endorsed optometrists who can prescribe antibiotics or non-steroidal pharmacological drops.'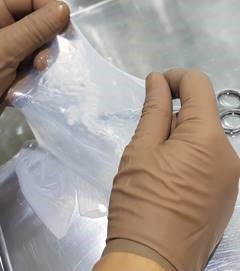 Raw amniotic membrane before processing and sterilisation
'We also created large grafts to be used as a tissue substitute for the huge ptergyium problem in the high UV radiation areas of the tropical parts of the world. In South East Asia, pterygium is only second to cataract surgery in cases along with ocular surface disease. One in 10 Australians will also develop a pterygium and there are resulting high rates of ocular surface disease.
'We are CE Marked and ISO 13485 certified and maintain the highest standards of sterilisation.'
Designs For Vision has already supplied some kits to ophthalmologists in Australia and is receiving inquiries from optometrists.
Videos on the ISP Surgical website assist training and Mr Tardugno will do Zoom calls with interested optometrists to assist with training/understanding.
Read also:
More information on the AmnioTek website
ISP Surgical newsletter detailing a history of AMT and its role in changing the treatment paradigm for dry eye.
Filed in category:
Patient care & management
Tagged as:
Dry eye
,
Other eye diseases
,
Patient management