Read time:

1:30min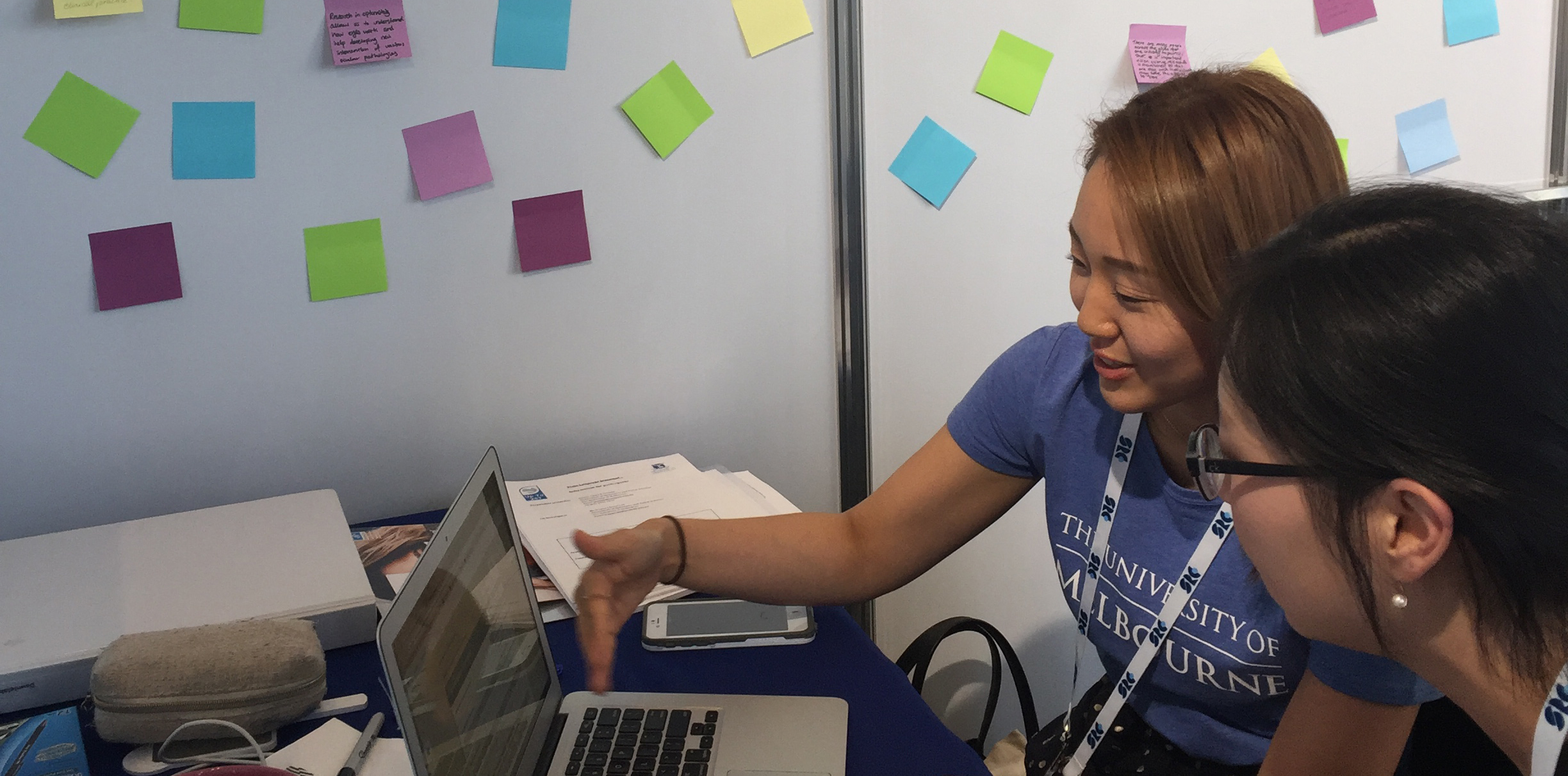 Research optometrist in the Downie Laboratory, Anna Lee, left, demonstrating how to use the MaD-CCAT in the University of Melbourne Practice Tools booth at SRC 2018.
_____________________________
By Helen Carter
Journalist
Melbourne researchers have developed a free online clinical audit tool to help optometrists assess the quality of eye care they provide people with age-related macular degeneration.
The Macular Degeneration Clinical Care Audit Tool (MaD-CCAT), launched at SRC 2018, assists optometrists in providing up to date diagnosis and management of AMD by enabling them to self-evaluate the clinical care practices they provide to AMD patients, relative to current evidence-based standards and guidelines.
'This process enables the identification of any potential areas for practice improvement, to enhance the quality and outcomes of optometric patient care to people with AMD,' principal developer, optometrist Dr Laura Downie told Optometry Australia.
'The tool uses a free, online platform, to enable an audit to be easily completed using a computer, laptop or smartphone.
'It is now available to Australian optometrists, and enables streamlined auditing of multiple dimensions of AMD care, including the identification of modifiable risk factors including smoking and diet for AMD development and progression, accuracy of diagnosis, rate/timeliness of ophthalmologic referrals, referral accuracy and quality of record keeping.'
Dr Downie, a University of Melbourne senior lecturer in the Department of Optometry and Vision Sciences, said clinicians are guided through the audit process with step-by-step instructions.
'Data are captured using a check-box system, for rapid entry. For ease of data analysis, a summary statistics worksheet automatically populates key information comparing the practitioner's current practices with current best-practice guidelines for the diagnosis and management of AMD,' she said.
'As audit data are progressively added, the summary statistics highlight areas of relative strength and potential areas for practice improvement. The practitioner can then identify key areas to change in their own practice, and develop strategies for implementing these improvements.'
The tool was developed using a Macular Disease Foundation Australia grant received in 2015.
Dr Downie, principal investigator, in association with fellow University of Melbourne collaborators Professor Robyn Guymer, Associate Professor Peter Keller, Dr Lauren Ayton and Professor Algis Vingrys developed the tool after identifying a lack of available audit tools for optometrists.
Dr Downie launched the MaD-CCAT at Optometry Victoria's Southern Regional Congress in Melbourne on 26 May. She also presented an invited lecture on optometric management of earlier stages of AMD and translating research into practice.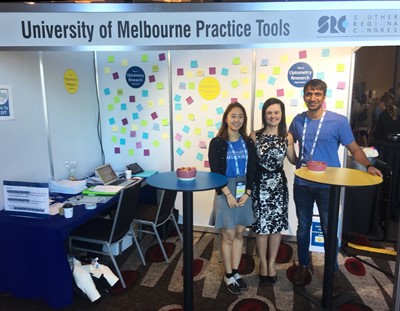 In the University of Melbourne Practice Tools booth at SRC 2018 are, L-R, research optometrist in the university's Downie Laboratory Ji-hyun (Anna) Lee, Dr Laura Downie and PhD student in the laboratory Sumeer Singh who provided optometrists with a demonstration of the MaD-CCAT tool and information about a pilot program to engage optometrists in using the tool.
A University of Melbourne booth in the SRC trade exhibition enabled optometrists to register to use the MaD-CCAT, and provided them with a demonstration of the system.
Dr Downie said that in all fields of health care, a key component of evidence-based practice was clinical audit, defined as a "quality improvement process that seeks to improve patient care and outcomes through systematic review against explicit criteria and the implementation of change."
'Clinical audit involves finding out whether current care practices are appropriate, and identifying any potential shortfalls in patient care. It allows clinicians to assess whether they are adopting best practice, as defined by high-quality clinical research. The ultimate aim of a clinical audit is to improve the provision of patient care,' she added.
Practitioner participation in a pilot program of the MaD-CCAT will attract up to 25 therapeutic continuing professional development (CPD) points. For further information or to register to participate in the pilot program, please contact Laura Downie, ldownie@unimelb.edu.au or Ji-hyun (Anna) Lee, ji-hyun.lee@unimelb.edu.au, at the University of Melbourne.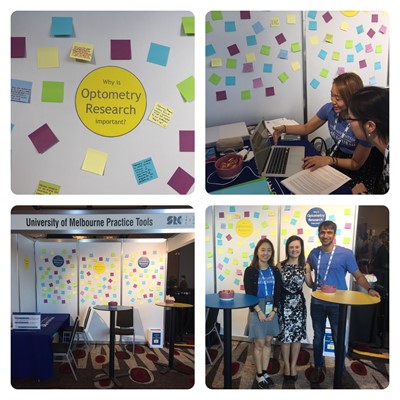 Filed in category:
Patient care & management
Tagged as:
AMD
,
Patient management