Read time:

1:30min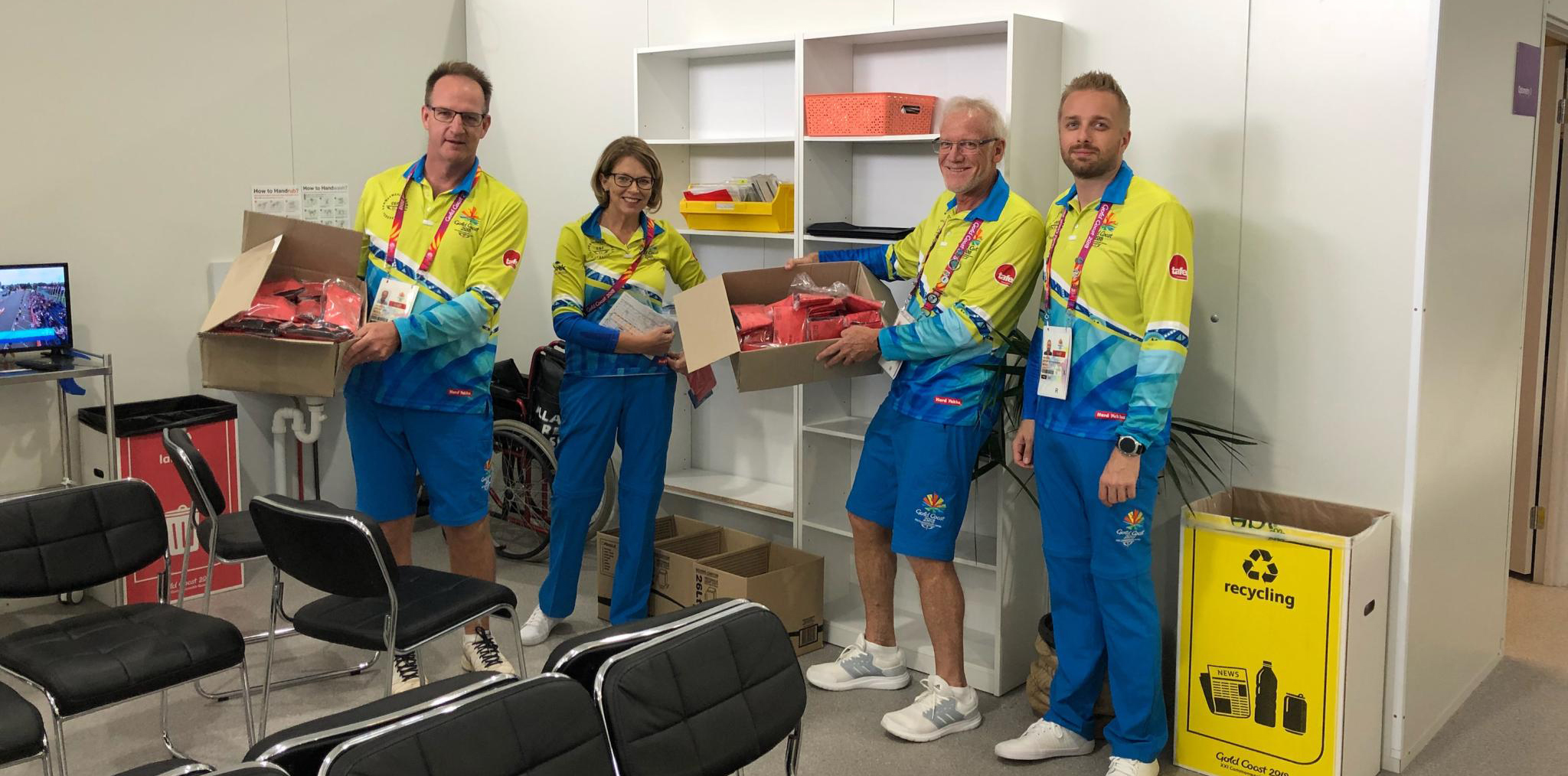 Optometry volunteers (L-R): Dom Kelly, Lesley Stanich, Michael Hare and Neil Hayes
_____________________________
By Rhiannon Riches
Communications Manager
A team of nine volunteer optometrists with support from BOC and industry suppliers examined about 420 athletes and officials at the Commonwealth Games on the Gold Coast in April.
Michael Hare, an optometrist on the Gold Coast, was Director of Optometry services at the optometry clinic.
'The optometry clinic was part of a polyclinic at the Athletes Village for 6,600 athletes and officials at the Games. The polyclinic included services offered by sports medicine, dentistry and physiotherapy,' Michael said.
'It was a great opportunity for optometry to mix with other specialities.'
Volunteers in the optometry clinic provided more than three weeks of health services for about 420 athletes and officials, Michael said.
The optometry clinic was free and was staffed by nine volunteer optometrists, an optical technician and a dispenser, Michael said.
Alongside Michael, the volunteer optometrists were Brian Schaffer, Jonathan McCorriston, Celia Bloxsom, Dom Kelly, Lesley Stanich, Andrew Gospos, Huy Ho and Bradley Kirkwood, plus optical dispenser Neil Hayes and optical technician Patrick Hare.
Athletes and officials received a comprehensive eye examination, just as they would have if they visited an optometry practice.
'We operated a full normal consultation, using two dedicated clinical rooms in the Athletes Village,' he said.
'BOC fitted out the rooms. They installed all the equipment, made sure it was operational, and dismantled all the equipment after the Games was over. Their support especially went beyond the call, and provided a superb clinical environment that greatly enhanced the quality of optometry services provided,' Michael said.
Tony Cosentino, CEO of BOC, also provided equipment and support for the optometry clinic at the Commonwealth Games held in Melbourne in 2006.
Alcon supplied contact lenses, donating them free of charge to athletes who required them. Novartis provided dry eye supplies and Essilor provided spectacles in an arrangement similar to that offered to patients seen through the Queensland public hospital system, Michael said.
'All the visitors to the clinic – the athletes and officials – were in awe of the clinical sophistication of the optometry services and left delighted and thankful for the eye care and eyewear services delivered.'
Michael was asked if he'd act as voluntary clinical director by former Optometry Australia National, and Optometry Queensland/NT State, President Kate Gifford.
'She tapped me on the shoulder a couple of years ago. While it involved a significant time away from normal optometry practice, it was certainly a hugely rewarding experience. It's not often you get to examine someone's eyes and see them perform several hours later in front of millions of viewers,' Michael said.
Michael owns two practices, Vision Michael Hare Eyecare Plus Optometrist in Southport and Benowa.
_____________________________
Filed in category:
Members & member initiatives
Tagged as:
Patient management