Read time:

1:30min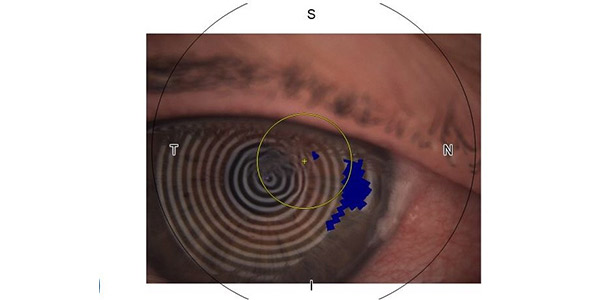 Mrs C's red, sore eye. She is very photosensitive and struggles to keep her eye open. Image supplied by Tommy Cleary
By Helen Carter
Journalist
Brisbane optometrist Tommy Cleary's quick thinking and actions helped a patient to a full recovery after she sustained a large corneal abrasion when stabbed by a spiky plant while gardening.
Many people have been indulging in more gardening during COVID-19 home isolation, and 'Mrs C', one of Mr Cleary's long-term patients aged in her 60s, was no exception.
Ironically the optometrist's own mother had the day before sustained a corneal abrasion also while gardening and had called him from a NSW hospital emergency department, where he was able to confer with the doctor's treatment plan.
The two injuries on consecutive days led to an interesting time for optometry students from QUT on clinical placement at the practice where Mr Cleary works part-time, Rita Thurston Optometrist.
The students learnt how to deal with a critical care incident and learnt about personal protective equipment (PPE) as the incidents occurred during the coronavirus pandemic so they were aware of all the precautions required. They learnt about the benefits of corneal topography in corneal injuries and even a bit about how widespread use of telehealth optometry might work in the very near future.
'Rita's practice is a large practice and we were open the Monday before Easter even though coronavirus had arrived, because we're involved in a lot of critical care and have varied equipment,' Mr Cleary said.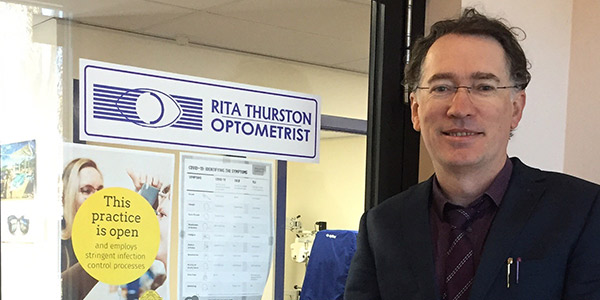 Optometrist Tommy Cleary at Rita Thurston Optometrist 
'Mrs C sustained a corneal abrasion when her eye was stabbed by the plant on the Sunday before Easter. She had been weeding and the top of the plant spiked her eye.
'She flushed it with water but woke on Monday feeling worse and arrived at the practice in a lot of pain, with photophobia and a very watery eye.'
Mr Cleary's previous work in aged care created an awareness from nurses of the importance of personal protective equipment and hand-washing for health care workers.
He had been advising the students of this, particularly because of the coronavirus pandemic and they had all completed the Australian Health Department's 30 minute online training module, COVID-19 infection control training, including competence in PPE. Optometry Australia had alerted members to the training via an email.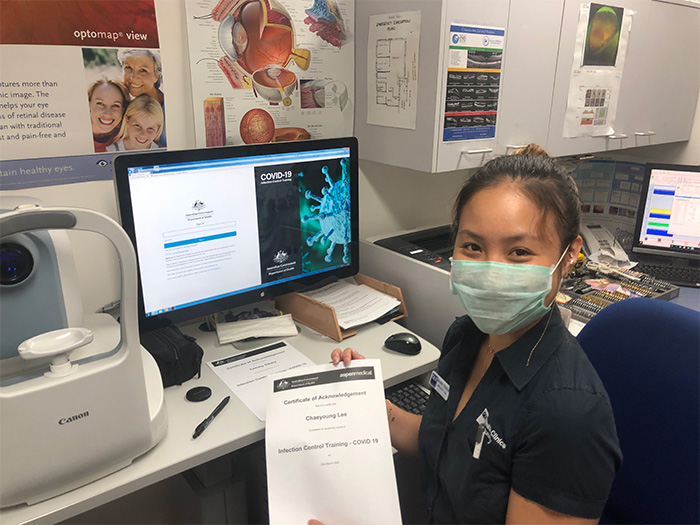 QUT optometry student Michelle Lee doing the Health Department's COVID-19 online infection control certificate during placement at Rita Thurston Optometrist. Michelle also reviewed Mrs C's corneal injury and gathered clinically useful information from Mr Cleary's mother
Mr Cleary thought it was an ideal time to put into practise what they had just learnt.
'We used corneal topography to examine her blurry and very photophobic eye,' he said. 'We were all kitted out in PPE for infection control. because of the coronavirus pandemic. Mrs C had watery eyes and nose but no other COVID19 signs or symptoms, however this was good practise for the students.
'Mrs C had reduced vision and I wanted to determine if it was just vision that was affected or there was a corneal injury. Corneal topography showed there was a corneal scrape.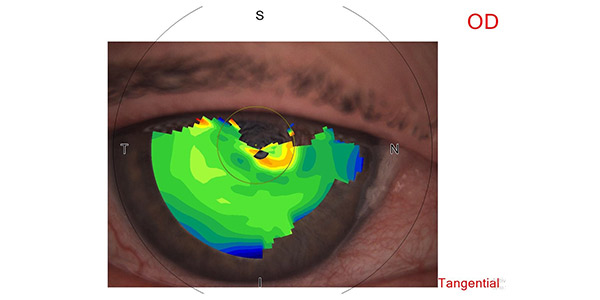 The keratoscope is not the usual way to examine an injured cornea but it proved safe and effective. Image supplied by Tommy Cleary
'The keratoscope is not the usual way to examine an injured cornea but it proved to be safe and effective in this case and allowed a detailed examination at a more casual working distance.
'With a garden injury there is often infection, so because there was a risk of bacterial or fungal keratitis, I referred her immediately for an urgent referral to a Brisbane ophthalmologist who specialises in corneal work, Dr James McAlister. Interestingly, he had lectured on the cornea to optometry students at QUT.
'He saw her that day and applied a bandage contact lens to stabilise the cornea until it healed and antibiotic eye-drops.'
Mr Cleary gained informed consent from Mrs C to later call to check she attended the ophthalmologist, monitor her progress and check for symptoms of recurrent erosion.
'I explained to the students that for follow up telehealth calls it is important you gain informed consent before you make the calls and note this in patient records, so the patient knows that if you are calling back to check progress of symptoms this can be a form of consultation and they can be privately charged.
'In this instance I did not bill her for these phone calls but the students know how it would work now. I have followed-up again this week and am happy to say she has made a full recovery.'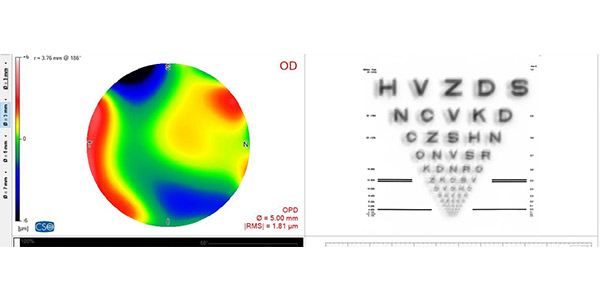 Mrs C has blurred vision due to the corneal injury. Image supplied by Tommy Cleary
In the case of his mother calling from emergency, she put the doctor on the phone and the doctor described the injury to Mr Cleary and his treatment plan.
While he of course did not privately bill his mother either for this 'consultation,' he did get one of the students to call his mum the next day to record details of the case.
'This was good 'telehealth consultation experience for the student,' he said.
The saying that things often happen in threes certainly occurred with a cluster of corneal injuries happening during coronavirus-lockdown gardening. TV personality and vet Dr Chris Brown also recently sustained a nasty corneal injury while gardening during COVID-19 home isolation.
Dr Brown was pruning when a highly toxic cactus broke off at the stem and squirted sap into his eye, ulcerating the cornea and he ended up in a hospital emergency department with an ulcerated eye.
Read this Good vision for life story about eye safety tips when doing jobs around the home and garden.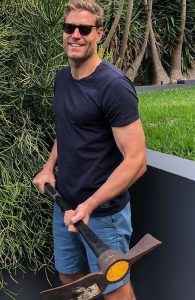 Dr Chris Brown. Photo, News.com.au from Instagram
Filed in category:
ECOs & students
,
Members & member initiatives
,
Patient care & management
,
Practice equipment
Tagged as:
Patient management
,
Practice equipment
,
Students