Read time:

1:30min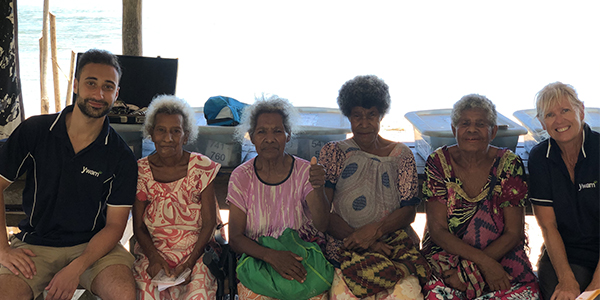 Optometrist John De Francesco and ophthalmic nurse Robyn Thomas with some PNG patients
By John De Francesco
Optometrist
Earlier this year, Youth With A Mission (YWAM) Papua New Guinea medical ship set sail to bring comprehensive health care including eye care and health education to remote communities of PNG.
YWAM is an international movement of volunteers with shared values, operating in more than 180 countries. It is completely not for profit with no centralised headquarters or funding and all personnel on board are self-funded.
I was inspired to join this outreach by the passion and selfless acts of many optometrists working in developing nations. The opportunity to enhance my clinical skills and aid those communities less fortunate in Papua New Guinea proved an attractive adventure.
This trip gave me exposure to many topical eye issues and diseases, often unseen in Australian practice. Medical ships are also a great way to reach isolated communities that would otherwise go without modern eye care.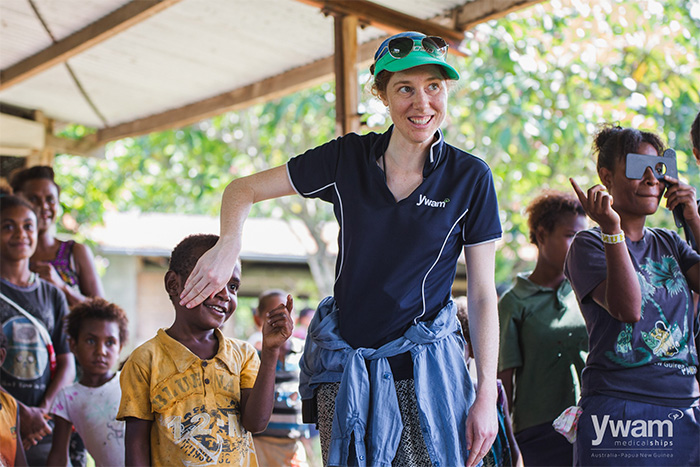 Optometrist Emma Robinson, who developed the YWAM PNG optometry team, assessing visual acuity. Photo, YWAM
Makeshift clinics were set up almost anywhere, from local houses to outside under the shade of a large fig tree. Some patients travelled far and wide to reach our clinics; hiking through rainforest and canoeing along the coastline for days to be seen. A smaller team was assembled to perform home visits for the elderly and disabled, unable to reach the main clinic.
Papua New Guinea is one of the poorest countries in the Pacific region. Nearly 40 per cent of Papua New Guineans live below the national poverty line with around 75 per cent practising subsistence farming. Optometry care is often not financially feasible for many and a permanent optometric presence is effectively non-existent in rural regions.
The YWAM Australia branch is based in Townsville and this outreach focused on Milne Bay and Central provinces. On board was a dedicated team of over 100 medical personnel and crew with 19 different nationalities represented.
Services provided to the villages included general medical, nursing, midwifery, dental, optometry, physiotherapy and laboratory and community engagement (health education and development.) Teams also participated in community social and traditional activities.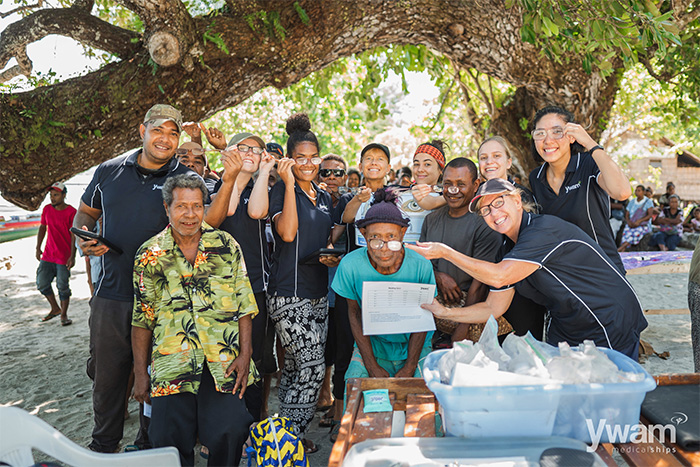 Some of the optometry team, volunteers and patients. Photo, YWAM
The optometry team consisted of seven volunteers, one ophthalmic nurse Robyn Thomas and two optometrists – myself (from Victoria)  and Emma Robinson. Emma has done a great deal of work to develop the optometry team and will stay on as team leader for an initial period of two years. Emma is from Queensland originally but she is currently living at the Australian YWAM base in Townsville and volunteers full time on the ship.
The general volunteers were trained in optical dispensing and optometric triage by optometrists on the team. Our team was fully equipped with all the necessary items for optometry land outreaches, from slit lamps to trial lens kits. All equipment and medications were stored on board and would be loaded on tender boats every morning before the journey into each village.
At the close of operation, 831 patients had been triaged and provided comprehensive optometric examination, across 14 remote villages. Over 900 pairs of near, distance and tinted prescription spectacles were distributed among those in need – all provided generously by YWAM's network of donors.
A number of other ocular diseases were treated including infections and inflammatory conditions. The team also ventured into schools across the region and screened 558 children. As well, 82 patients were referred for onboard surgical ophthalmology services.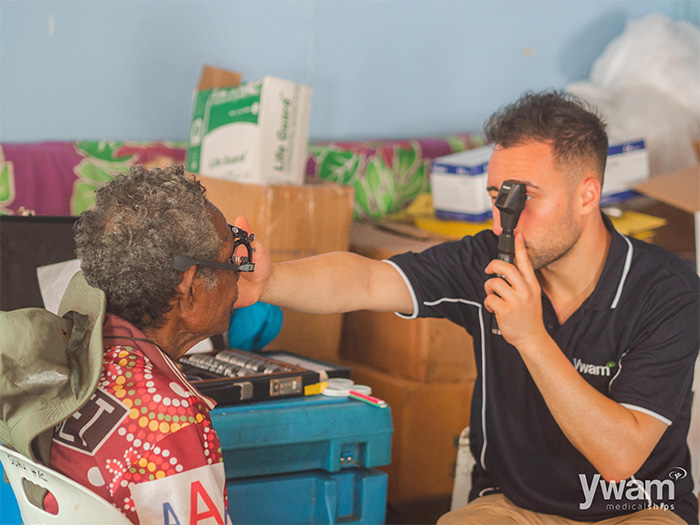 Optometrist John De Francesco performing retinoscopy. Photo, YWAM
Papua New Guinea, just north of Australia, is our closest international neighbour, with only six kilometres separating Boigu Island, Queensland's northern most tip, and mainland PNG.
Poor governance and institutional/department fragmentation have caused the health system to deteriorate in recent years. Critically low numbers of medical staff per capita and crude facilities, inhibit the ailing health infrastructure from reaching more than 85 per cent of the population who live in rural or unurbanized areas.
YWAM Medical Ships – Australia and PNG have been operating and providing training and health care services to remote villages in PNG since 2010. Operations commenced on a smaller vessel, the MV Pacific Link.
In 2015, YWAM MS acquired a larger vessel, the MV YWAM PNG to enable an increased breadth of training and service and aptly named to signify the commitment and partnership with the people of Papua New Guinea.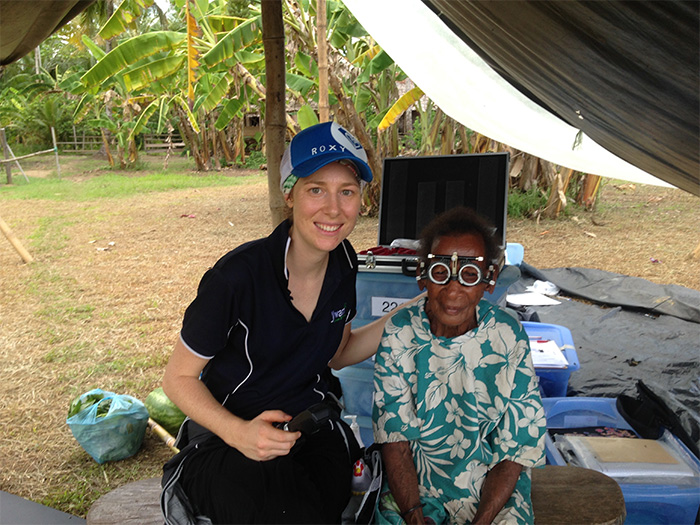 Optometrist Emma Robinson helps a villager in a makeshift optometry clinic
The MV YWAM PNG services seven provinces of Papua New Guinea including Morobe, Oro, Gulf, Western, Central, Milne Bay and NCD (National Capital District) on a revolving schedule. Returning to villages allows for consistency in the care provided and for patient follow-up.
YWAM MS also works closely in partnership with national, provincial and district health authorities. In 2019 YWAM MS officially became a registered health facility in Papua New Guinea, and offers multiple outreaches over 10 months of each year.
A tremendous attribute of these outreaches is their integrated and collaborative care arrangement. Volunteers work closely with local leaders to build strong relationships, which aid the penetration of medical treatment and education throughout the rest of the community.
Villages are always aware in advance of the ships' arrival. Working side by side other medical professionals also allowed us to bring holistic health care to these patients. Furthermore, it built a great sense of camaraderie between volunteers of different medical fields, and enabled all to learn from one another.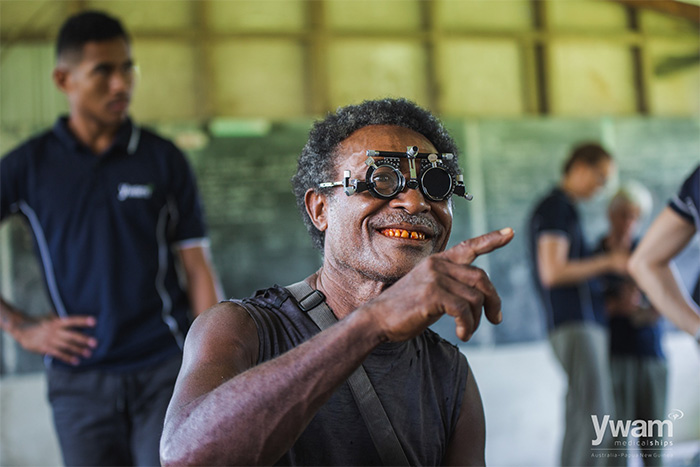 A local man happy to be able to see. Photo, YWAM
Papua New Guinea abounds in pristine natural beauty, boasting some of the world's rarest flora and fauna. Dense jungle canopies coat sloping mountain peaks and crystal blue water washes gently ashore the beaches, much of which is still uncharted.
Native cultural traditions are just as vibrant and diverse as the landscape. Locals are welcoming and volunteers are always greeted with the cheerful smiles of curious children. Some of us were even lucky enough to leave with some extra special gifts of fresh produce and jewellery.
A day in the clinic can be emotionally and physically demanding, however rewarding beyond measure. It was an honour and privilege to be of service to the people who opened their hearts and homes to our team.
As we all know, good health and vision gives people the foundations they need to succeed in all other aspects of life. I am overwhelmingly proud of all that we were able to achieve to support healthy communities now, and into the future. There was never a dull moment on site, leaving me with many new friends and lasting memories of a truly humbling experience.
I would encourage any young optometrist seeking to enhance their optometric skills and challenge their clinical endurance to come aboard. All those interested in joining the team, sponsorship or simply wanting more information, can apply directly through the volunteering link on the YWAM website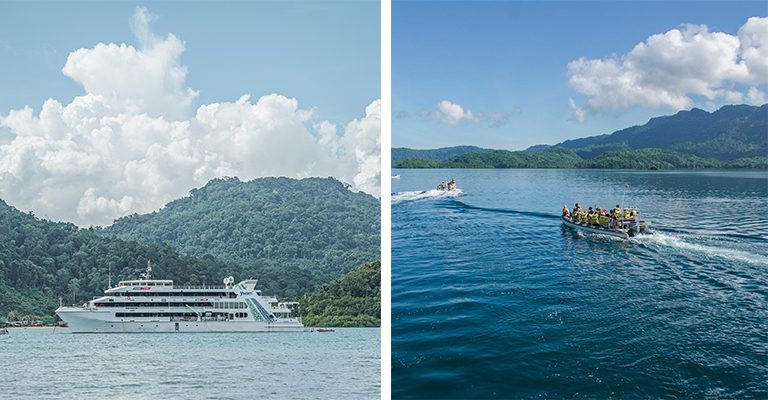 L-R: The medical ship anchored off the coast of Milne Bay Province, PNG, and tender boats taking teams to villages in Central province, Papua New Guinea. Photos, YWAM
Filed in category:
ECOs & students
,
Members & member initiatives
Tagged as:
ECOs
,
International
,
Remote & rural optometry