Read time:

1:30min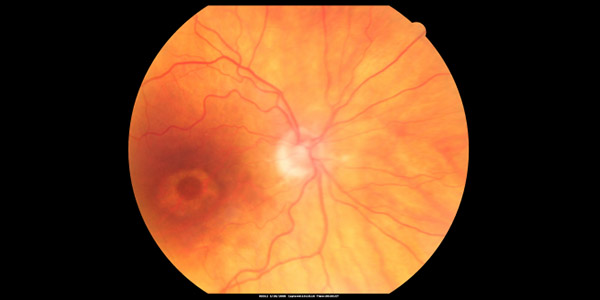 Plaquenil toxicity – Bulls eye maculopathy in a woman, 70, with systemic lupus erythematosus and clotting problems, on Plaquenil for about eight years then off it for the next eight because she developed macular toxicity. Visual acuity: OD 20/60, OS 20/100. IOP: OD 18. OS 19. Image, Retina Gallery
By Helen Carter
Journalist
There could be more than 2,000 cases of hydroxychloroquine (Plaquenil) retinopathy in Australia, according to experts who say long-term users are at greater risk of permanent vision loss than once thought, and Australian screening guidelines are needed.
Writing in the Medical Journal of Australia, they state previous research underestimated the prevalence of hydroxychloroquine retinopathy at between 0.5 and 2.0 per cent, but more recent studies suggest this is "a large underestimation," and prevalence is closer to 7.5 per cent.
The said that in 2015, about 28,300 people (0.12 per cent of all Australians) used the anti-rheumatologic medication hydroxychloroquine (Plaquenil) daily. It is used to treat skin and inflammatory disorders such as lupus, rheumatoid arthritis and Sjogren's syndrome, and has a developing role in oncology.
'Given this estimated number of users and the 7.5 per cent prevalence rate, there could be more than 2000 potential cases of hydroxychloroquine retinopathy in Australia,' they wrote.
Hydroxychloroquine retinopathy can cause permanent vision loss.
Sunshine Coast University Hospital ophthalmologist Dr Kris Rallah-Baker, Liverpool Hospital dermatologist Monisha Gupta from Sydney and UNSW medical intern Marisse Sonido said there was no recommended consensus on screening for the condition in Australia which may lead to inconsistent screening and missed cases.
'Owing to its efficacy in treating a variety of inflammatory and dermatological conditions (eg, systemic lupus erythematous), cost-effectiveness and relatively good safety profile, hydroxychloroquine is widely used by many Australians long term,' they wrote.
Two main guidelines exist for hydroxychloroquine retinopathy – one from the US, and one from the UK.
'Both recommend that patients who fall within the high-risk category should commence screening earlier than the general population, who are screened starting from five years of taking hydroxychloroquine,' they wrote.
'However, there is some disagreement on which risk factors warrant classification into the high-risk category. Recommendations also vary regarding the frequency of screening in high-risk patients.
'There are also small differences in the investigations recommended by each set of guidelines. For example, the UK guidelines recommend fundus autofluorescence as an additional standard screening investigation.'
Australian guidelines are important because "compared with the US and the UK, Australia has a significantly larger proportion of residents identifying as Asian in ancestry."
'Due to the more peripheral pattern of damage from hydroxychloroquine sometimes seen in Asian populations, there are recommendations that a wider 24-2 or 30-2 visual field test should be performed for such patients, in addition to the recommended 10-2 visual field test in the US and UK guidelines,' the researchers wrote.
'Another factor to consider is whether Australia's public health system can support ophthalmology screening at the frequency recommended by the US and UK guidelines. Already, waiting times for non-urgent appointments for ophthalmologists in the public system can reach years.'
They said more research was needed on prevalence and detection rates of hydroxychloroquine retinopathy in Australia before guidelines could be established.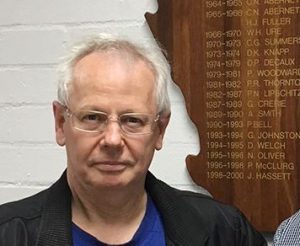 Dr Rob Howie, above, expands on Plaquenil retinopathy in Optometry Connection's May 2021 edition
Recommendations for optometrists
Optometry Australia has published recommendations to assist optometrists.
A Centre for Eye Health/Optometry NSW/ACT Chair-side reference: Screening for ocular toxicity of selected drugs, included in our June 2020 Pharma magazine, advises that Bull's eye maculopathy can develop after years of using hydroxychloroquine or the anti-malarial drug Chloroquine (Nivaquine, Avlocor.)
It says signs and symptoms are paracentral scotoma, nyctalopia, focal thinning of photoreceptors and RPE abnormality (early), vision loss and Bull's eye maculopathy (later.)
Recommended clinical examination includes CFP, OCT and visual fields (10-2 for all, 30-2 (if FAF abnormal.)
The screening recommendation is baseline evaluation within the first year and yearly screenings after five years, sooner if risk factors (high dosage HCQ>5.0mg/kg real weight, CQ>2.3mg/kg real weight, long duration>5 years, renal disease, tamoxifen use, concomitant macula disease) are present.
Members can also read more about Plaquenil retinopathy in the upcoming May edition of our Optometry Connection magazine where Perth optometrist Dr Rob Howie says the use of Plaquenil is increasing since it is an effective medication with few systemic side effects.
'Appropriate screening, effective communication with referring specialists, GPs and patients will enable early detection of Plaquenil retinal toxicity and minimise functional vision losses,' he writes.
He said optometry and ophthalmology also had a role in preventing Bull's eye maculopathy by alerting rheumatology when there is reasonable suspicion it may be developing.
Dr Howie writes: 'At the recommended doses of Plaquenil, the risk of toxicity is under one per cent up to five years of treatment and under two per cent up to 10 years of treatment. It increases to nearly 20 per cent after 20 years of treatment. After 20 years, the chance of developing toxicity in the next year is four per cent.'
Filed in category:
Patient care & management
Tagged as:
Other eye diseases
,
Patient management
,
Pharma