Read time:

1:30min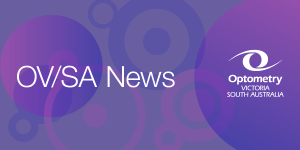 This story was produced by Optometry Victoria South Australia.
Optometry Victoria South Australia (OV/SA) is embracing a fresh way to communicate with its members via the new fortnightly digital masthead OV/SA News.
OV/SA News will replace Scope and eWink, publications which each offered members a unique perspective from Victoria and South Australia respectively.
The organisation has been reviewing the best way to communicate effectively with members, with the aim of keeping resourcing efficient and distribution swift to best serve the time-poor nature of optometrists.
CEO Ilsa Hampton said the organisation has a strong and proud tradition of staying in touch with members to keep them informed and connected with OV/SA and with each other.
'When Optometry Victoria merged with Optometry South Australia in 2019, we decided to keep the consistency of our separate, respective publications in place at the time,' she said.
'Now that the merged organisation is firmly in place, we feel the time is right to refresh our member communication channels while maintaining the delivery of news that is relevant and timely, and that keeps members informed of opportunities to get involved and stay connected.
'We know that Scope and eWink were well-regarded by many members, and we will bring the best of each of them together into the new digital publication OV/SA News. We will continue to acknowledge the great work of our members and provide updates on our advocacy efforts, details of events, and changes in regulation or legislation relevant to Victoria and South Australia.'
The first issue of OV/SA News will be distributed via email tomorrow, Tuesday 15 November, and will continue to be issued every second Tuesday to the inboxes of Victorian and South Australian members.
Ilsa concluded, 'We are open to suggestions from members, and if there is anything you would like us to include that isn't there, let us know.'
Filed in category:
General news
,
Publications & podcasts
Tagged as:
ewink
,
news
,
newsletter
,
OV/SA
,
scope