Read time:

1:30min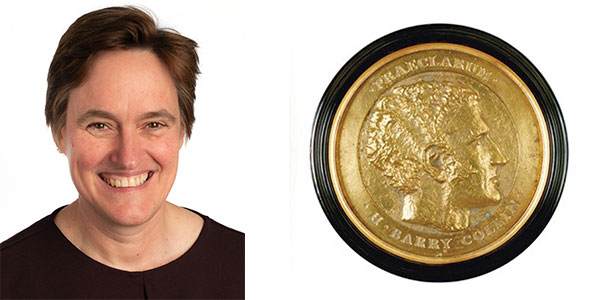 By Helen Carter
Journalist
Melbourne optometrist and neuroscientist Professor Erica Fletcher is the second woman in the 41-year history of the prestigious H Barry Collin Research Medal to take out the award.
Optometry Australia announced this week that Professor Fletcher will be the 2019 recipient for her outstanding career research on age related macular degeneration (AMD) and diabetic retinopathy.
She joins a stellar cast of 12 previous winners, including Professor Fiona Stapleton who was last year the first female recipient.
The medal is named after Professor H Barry Collin, long-serving former Editor-in-Chief of the organisation's journal, Clinical and Experimental Optometry.
It recognises outstanding contributions to the advancement of knowledge in optics, vision science or clinical optometry by a person who is an Australian citizen or a graduate of an Australian optometry school, or who has done a significant part of his or her research in an Australian institution.
'It's incredibly exciting and a great honour,' she said. 'I know Barry Collin and the people who have won these awards and it's fantastic and very humbling to be now included in a group of people whom I have looked up to for most of my career .
'I enjoy my work. We are taking basic fundamental research to the bedside, and aiming to make a difference in people's lives.'
Professor Fletcher, from the Department of Anatomy and Neuroscience at The University of Melbourne, co-ordinates neuroscience teaching in the department and teaches medical students about the eye.
As head of the Visual Neuroscience Laboratory, she studies mechanisms underlying diabetic retinopathy and age related macular degeneration.
Her research has primarily focused on understanding the causes of retinal diseases, and has featured in 127 publications throughout her career.
The main focuses of her laboratory are the mechanisms of disease in diabetic retinopathy and AMD, and treatments.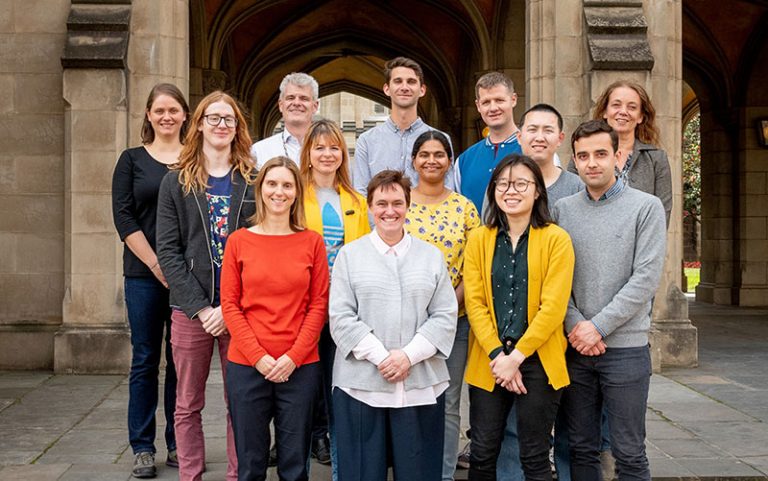 Team Fletcher! Staff of the Visual Neuroscience Laboratory including PhD students, postdoctoral fellows and research assistants, behind Professor Fletcher at front centre
'In recent years I have been working on novel treatments for AMD to reduce progression from early to late stage AMD and looking at the disease at a basic fundamental level,' she said.
'One interesting finding with relevance to the development of early stages of diabetic retinopathy has been the involvement of immune cells and support cells in changing the vasculature. We hope by studying immune cells that we can identify new treatment targets and ways of detecting those most at risk of rapid progression."
Professor Fletcher is also developing a blood test to detect those at high risk of AMD progression. This work may lead to novel ways for treating early stage disease, as well as being a biomarker for disease progression and the need for treatment with a new laser.
Her laboratory was also a contributor to the large Australian government funded consortium to develop an electronic retinal implant.
The medal is accompanied by a monetary prize of $5,000 and the recipient submits a paper for publication in Clinical and Experimental Optometry and receives the medal at an optometry conference.
The H Barry Collin Research Medal
Emeritus Professor H Barry Collin AM, a distinguished optometrist, academic and researcher, became editor of Clinical and Experimental Optometry in 1993 and retired as Editor-in-Chief 24 years later in 2018 aged 85.
He was an academic teacher and researcher at the University of Melbourne, Head of the School of Optometry at UNSW and is Professor Emeritus at UNSW and a Professorial Fellow at the University of Melbourne.
Professor Collin had a distinguished career, published more than 130 papers in peer-reviewed journals, held appointments at universities overseas, and was awarded many prestigious prizes and awards.
Collin medal recipients
H Barry Collin AM, 1977
Brien A Holden OAM, 1988
Gerald Westheimer AM, 2009
John D Pettigrew, 2010
Anthony J Adams, 2011
Donald E Mitchell, 2012
Robert Hess, 2013
David Atchison, 2014
Nathan Efron AC, 2015
Shaun Collin, 2016
Mark Willcox, 2017
Fiona Stapleton, 2018
Erica Fletcher, 2019
Filed in category:
Members & member initiatives
,
Research & surveys
Tagged as:
AMD
,
Awards - honours - grants-bursaries
,
Clinical & Experimental Optometry (CXO)
,
Diabetes
,
Universities