Read time:

1:30min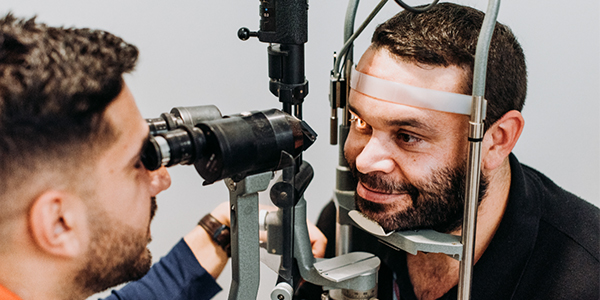 Optometrist Jose Estevez, left. Photo courtesy of SAHMRI
By Helen Carter
Journalist
Adelaide optometrist José Estevez is part of a team granted $1.4 million government funding to improve detection, screening and treatment of diabetic retinopathy (DR) in Indigenous Australians.
The project aims to achieve more widespread early detection, improved screening rates and better treatment options and eye health outcomes by co-designing, implementing and evaluating a culturally appropriate model of eye care in partnership with Aboriginal communities and organisations.
Diabetes-related blindness is three times more likely to impact Indigenous Australians compared with the rest of the population, affecting nearly one in five Aboriginal Australian adults with type two diabetes despite being a preventable condition with early detection and timely treatment.
Medical researchers and clinicians from Flinders University and the South Australian Health and Medical Research Institute (SAHMRI) will spearhead the research aiming for transformative change across the DR management continuum in urban, regional and remote Aboriginal communities.
It will include risk identification, screening, clinical care and service delivery co-designed with, and of direct relevance to Aboriginal people, communities and organisations.
Federal Minister for Health Greg Hunt and Minister for Indigenous Australians Ken Wyatt announced $35 million in Indigenous health projects last week including $1.4 million to help end avoidable Indigenous blindness.
Nine projects under the Medical Research Future Fund will run for three years from 2019-20, and include $1,436,870 to the Flinders University team to improve treatment for diabetic retinopathy as a leading cause of blindness among Aboriginal Australians.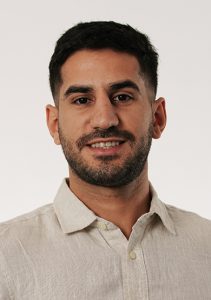 José Estevez
Mr Estevez works as an optometrist in Flinders University's Ophthalmology Department and is Associate Research Fellow, SAHMRI, Aboriginal Health Equity Theme. He is also a member of Optometry Australia's Aboriginal and Torres Strait Islander eye health advisory group.
To address Aboriginal eye health inequities, he said the research team would co-design a culturally appropriate model of care that:
identifies and addresses unmet eye health needs
better understands social, clinical and biological risk factors for DR
tailors eye care delivery to meet the needs of Aboriginal people at greatest risk
detects DR earlier through embedding advanced imaging and personalised screening
increases DR screening and treatment coverage rates
strengthens workforce and service system capabilities in eye health care.
'The unique aspect of this model of care is that it is driven by the community, for the community, but also takes into consideration area level gaps and needs,' Mr Estevez said.
Personalised screening and risk stratification
'We also seek to undertake personalised screening for diabetic retinopathy, as opposed to blanket screening of everyone and anyone.
'Personalised screening will systematically identify individuals with sub-optimal risk factor control enabling risk stratification, tailored screening intervals, as well as concurrent health promotion and risk factor management.
'We seek a better holistic understanding on what is driving high rates of diabetes-related blindness.
'The project spans urban, regional and rural areas as we understand that geographical contexts differ substantially in eye care. The design and implementation of the project will be different across regions to take these considerations into account.'
Mr Estevez said premature onset of diabetic retinopathy, aggressive disease phenotypes, low screening and treatment rates and fragile pathways to treatment were some reasons for higher rates of diabetic retinopathy in Aboriginal Australians.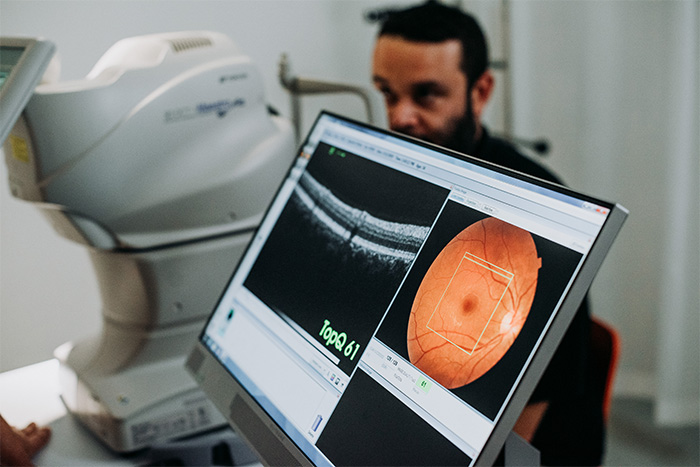 Photo, SAHMRI
Unique understanding of epidemiology and underlying risk factors would build on previous work at Flinders' Ophthalmology Department and SAHMRI's Aboriginal Health Equity and expand the evidence-base for preventing DR blindness.
'Our Aboriginal health research platform, the 'Predicting Renal, Ophthalmic and Heart Events in the Aboriginal Community (PROPHECY)' study of 1342 people is the largest and most comprehensively 'pheno-typed' longitudinal cohort of Aboriginal Australian adults,' he said.
'It generated unique pilot data that informed this proposal, providing opportunity to explore novel understandings on social, clinical and biological DR risk factors and inform tailored DR prevention initiatives to high-risk population groups.'
Landmark exploration of diabetic retinopathy risk
Clinical lead researcher and Academic Head of Ophthalmology at Flinders University Professor Jamie Craig said the increasing prevalence of type 2 diabetes in Aboriginal communities was linked with the rapid progression of blindness, and highlighted the importance of improving current screening rates and treatment access.
'We have established a consortium of leaders in Aboriginal ophthalmic disease, epidemiological and health services research, artificial intelligence, eye health service delivery, health policy and knowledge translation with a shared societal ambition – to prevent avoidable diabetes-related blindness,' Professor Craig said.
'This program represents an unparalleled opportunity to establish a landmark exploration of DR risk and develop a model of eye health care that leverages partnerships between Aboriginal people and communities, inter-disciplinary researchers, policymakers and health care systems.'
Other members of the team are Associate Professor John Landers and Dr Stewart Lake from Flinders University, Ms Kerri Reilly and Mr Kurt Towers from SA Health, Tim Henderson from Alice Springs Hospital, and Dr Natasha Howard, Assistant Professor Johan Verjans and Dr Kootsy Canuto from SAHMRI.
Filed in category:
Members & member initiatives
,
Patient care & management
,
Research & surveys
Tagged as:
Diabetes
,
Indigenous eye health
,
Patient management
,
Universities