Read time:

1:30min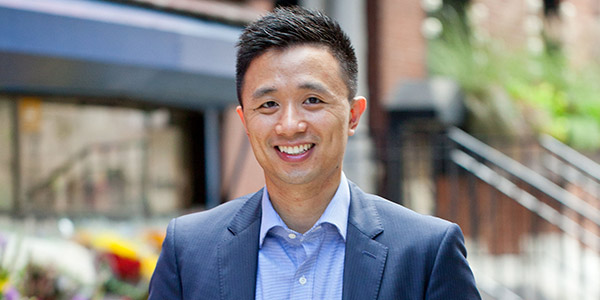 Dr Jason Charng
By Helen Carter
Journalist
An Ophthalmic Research Institute of Australia grant is helping Perth early career optometrist Dr Jason Charng explore new frontiers in retinal gene therapy.
Dr Charng, who worked on one of the first human retinal gene therapy trials in the USA, was this year awarded a grant of $47,800 to develop a machine learning platform to analyse retinal images in preparation for future treatment.
He aims to develop a platform to analyse thousands of images more efficiently than if human observers analysed each image individually.
Its first use will be evaluating longitudinal scans of patients with retinitis pigmentosa (RP) – which affects one in 3000 people – to improve our understanding of disease progression.
Dr Charng is a Postdoctoral Fellow at Lions Eye Institute where he works with ophthalmologists Associate Professor Fred Chen and Professor David Mackey on gene therapy to treat people with inherited retinal degenerations. The Optometry Western Australia member is also a senior lecturer in the inaugural Discipline of Optometry in the University of Western Australia.
'Currently there are more than 250 genes implicated in inherited retinal degeneration so treatments are gene specific,' he told Optometry Australia. 'Pharmaceutical companies and research groups are developing novel treatment strategies targetting specific mutations.
'The overall aim of therapy is to halt disease progression. In some patients, visual symptoms develop by mid-teens and disease progression can be very fast – to legally blind before age 30 so the aim is to treat early in order to halt or slow progression.'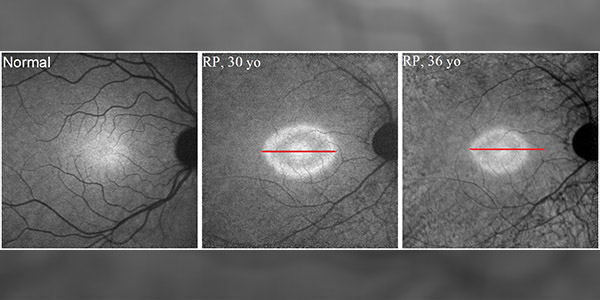 Left, fundus autofluorescence (FAF) image in a normal eye. Middle, FAF in an eye with retinitis pigmentosa. The bright, hyperautofluorescent ring in the middle indicates area of retained vision. Right, The same retinitis pigmentosa eye six years later. Red lines denote the horizontal extent of the hyperautofluorescent region at the earlier visit. Images, Dr Jason Charng
'One important aspect in gene therapy clinical trials is to employ appropriate outcome measures to determine patient eligibility and assess treatment efficacy. Using the machine learning algorithm, we can determine if the retina has any structures left which can be saved, or if it is at the end stage of the disease and have no structures left to save,' Dr Charng said.
'Later if different treatment options become available, there will be a clinical need to quickly guide and triage treatment options and the machine learning platform will be able to assist with this.
'We have thousands of images taken over years which need to be analysed,' he said. 'A machine learning based platform would be more time efficient and accurate than if a team of human observers analysed them.
'This algorithm would not be subject to human bias, could analyse large number of images over a short period of time and generate more data to better understand the disease mechanism such as the rate of vision loss.'
The work is a collaboration with computer scientist Dr David Alonso-Caneiro from QUT's School of Optometry and Vision Science.
Jason graduated in optometry and completed his Masters and PhD at the University of Melbourne before travelling to America in 2015 to undertake a fellowship at the Center for Hereditary Retinal Degenerations in the University of Pennsylvania.
The highlight of his time in the USA was working on one of the first human clinical trials in Leber congenital amaurosis which causes childhood blindness.
'It was very rewarding work because I was working with children with severe vision loss and we were able to use gene therapy to improve their vision,' Dr Charng said.
'The paper was the culmination of years of hard work and I was very lucky to be part of the team. It was a team effort and I was involved in setting up the trial as well as performing and analysing the specialised techniques described in the paper.'
The study by researchers in the USA, UK and Belgium was published in Nature Medicine and showed vision improvement following gene therapy.
Look out for more about retinal gene therapy in the upcoming second edition of Optometry Australia's new magazine, Optometry Connection, due out in March.
Filed in category:
ECOs & students
,
Members & member initiatives
,
Research & surveys
,
Scope of practice
Tagged as:
Awards - honours - grants-bursaries
,
ECOs
,
Future
,
International
,
Other eye diseases