Read time:

1:30min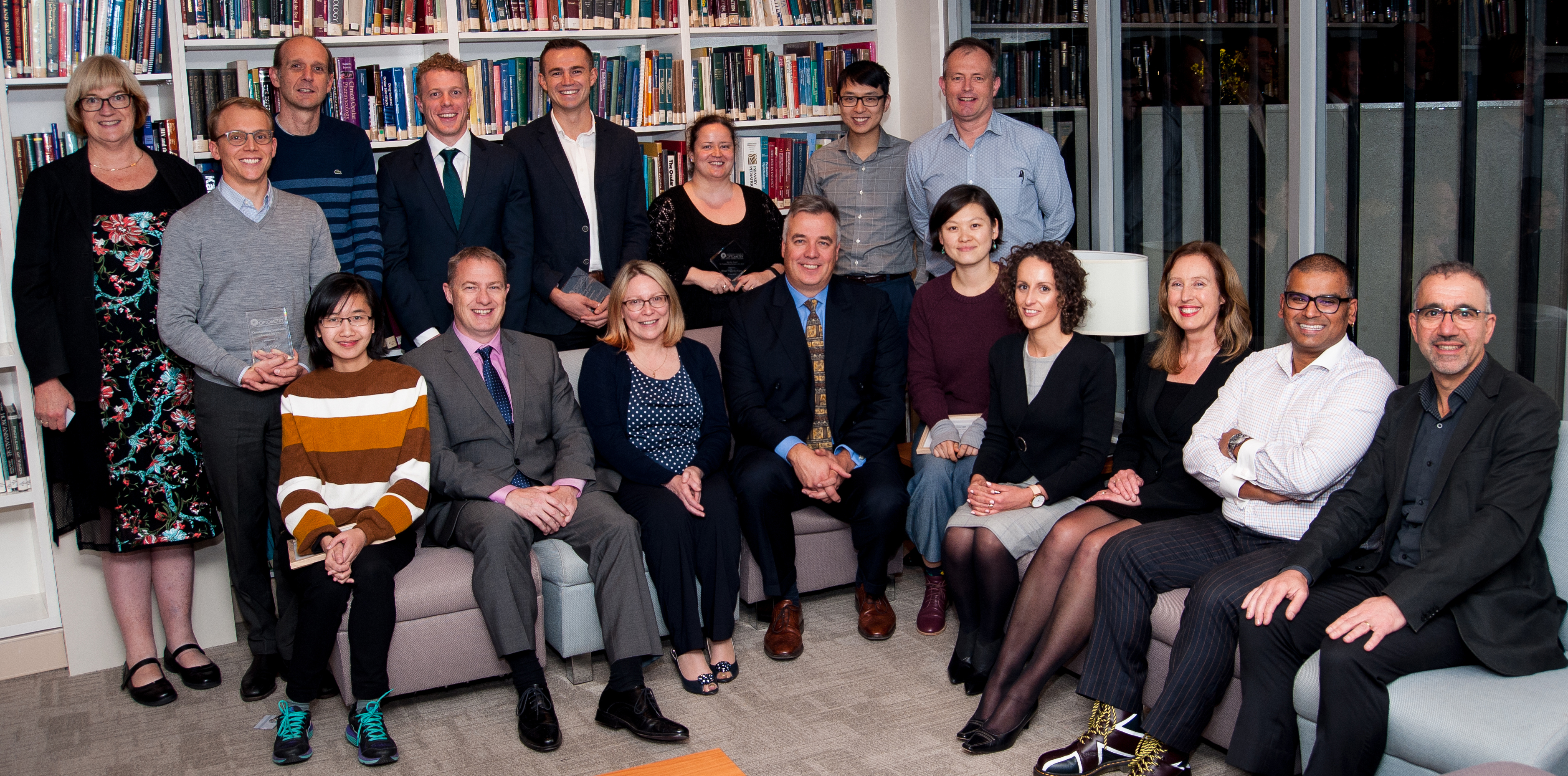 Australian College of Optometry award winners and presenters with President Konrad Pesudovs (seated centre). Image: ACO
_____________________________
By Rhiannon Riches
Communications Manager
Three new faces have joined the Australian College of Optometry council, announced at its Annual General Meeting on 30 May.
The new council members are Ben Hamlyn, Rodney Hodge and Sophie Koh, National Professional Services Advisor at Optometry Australia.
As there were no more nominations than the three vacant positions available, an election was not required and the three nominees were appointed for a term of two years.
Staff, members and fellows of the Australian College of Optometry were also recognised and celebrated at their AGM.
Honorary life membership was awarded to Emeritus Professor Nathan Efron, Editor of Optometry Australia's peer-reviewed journal Clinical and Experimental Optometry, and Margaret Banks.
Aiden Deane and Danielle Raiti have been recognised for contributing more than 20 years of service to the organisation.
Five outstanding optometry graduates, nominated by their respective universities, were recognised alongside an outstanding graduate in the ACO's Certificate in Ocular Therapeutics 2017 course, Sonia Bostjancic.
Full list of award winners
Nicola Family Travel Grant
A fund supporting young professionals as they begin their career in vision research.
Awarded to Dr Wei Tong
L.E.W. Carty Charitable Fund & Victorian Lions Foundation Research Fellowship
The L.E.W. Carty Charitable Fund and the Victorian Lions Foundation joined forces to fund a three year post-doctoral fellowship position at the National Vision Research Institute.
Ongoing recognition to Dr Molis Yunzab
ACO Outstanding University Graduate Award
Australian Universities are invited to nominate their most outstanding optometry graduate.
Awarded to:
•    Amanda Edgar, Deakin University
•    Alek Sims, Flinders University
•    Gregory Hindmarsh, Queensland University of Technology
•    Alex Kaye, University of Melbourne
•    Nicholas Stanley, University of New South Wales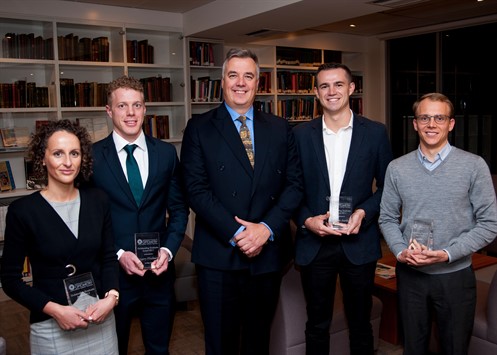 L-R: ACO Outstanding University Graduate Award winners Amanda Edgar, Gregory Hindmarsh, ACO President Konrad Pesudovs, Nicholas Stanley and Alex Kaye. Image: ACO
ACO Outstanding Graduate Award for ACO Certificate in Ocular Therapeutics 2017
This award is granted in recognition of the candidate who has achieved the highest score across all assessments for their graduating year of the ACO Certificate in Ocular Therapeutics.
Awarded to Sonia Bostjancic
Staff Service Awards
Recognising staff members who have contributed more than 20 years of service to the organisation. Awarded to Aiden Deane and Danielle Raiti
Clinical Residency Program Completion
The clinical residency program extends over a period of two years and is designed to strengthen clinical, academic and professional development of newly graduated optometrists.
Awarded to Michael Li
Honorary Life Membership
The most prestigious award presented to someone who has
•    provided distinguished and meritorious service, such as to the College or to the Profession;
•    are held in high esteem for their work and contributions in and outside of the College;
•    have served the Council in a leadership position for a lengthy period of time;
•    have been instrumental in bringing about positive change in terms of the College's achievements; and
•    have been influential in the community, having earned the respect and recognition of their colleagues.
Awarded to Emeritus Professor Nathan Efron (AC FACO) and Mrs Margaret Banks (OAM FACO)
ACO Fellowship
Awarded to ACO members who have been a member for the last three years and made significant contributions to the practice and profession of optometry and to the community.
Awarded to Associate Professor James Armitage
ACO Member Award for Outstanding Service
Members who have contributed actively to the governance of the ACO, either on a Committee and/or Council, consistently and generously provided support, time and advice beyond the expectations of a Committee/Council.
Awarded to Elisse Higginbotham
National Vision Research Institute Fellowship
Researchers who have made a significant contribution to the practice and profession of vision science and are held in high esteem.
Awarded to Professor Rachel Wong
_____________________________
Filed in category:
General news
,
Sector news
Tagged as:
Stakeholders & partners