Read time:

1:30min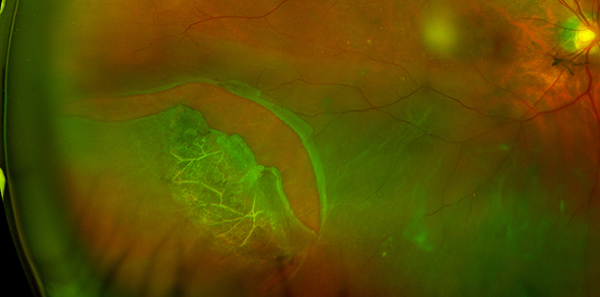 Optos image of lattice and retinal detachment
______________________________
By Dr Abhishek Sharma
Brisbane Retina
Queensland Eye Institute
Optometrists will be in the front line as we face an onslaught of high myopia retinal complications in the coming decade.
Last week I operated on a young TAFE student with a giant retinal tear, a retinal detachment with half of his retina off. His prescription was -10 dioptres. Checking his other eye, there was extensive lattice degeneration, a detachment waiting to happen in a high myope with a history of detachment in one eye already.
Gaining his consent for surgery was not easy. There was the general anaesthetic and major eye surgery, the week-long immobility of keeping his head in a particular position, future laser in the other eye and in his particular case, a buckle and a vitrectomy with oil, needing further surgery in a few months to remove the oil.
These were my concerns. What were his concerns?
The month off his part-time work, his studies and exams affected. More time off from everyday life in a few months. The potential pain, the worry about driving with one eye until recovery, his peripheral vision affected. The worry that his central vision might never enable him to read well or with his dominant eye.
There was also the thought that for the remaining 80 years of his life, he will need to be on constant alert for new floaters and think about every flashing light, and shadows that come across his vision will cause him goose bumps, so he will have to ensure it isn't another detachment.
I'm pretty sure his concerns outweigh mine. The 'myopia epidemic' affects the lives real people and their everyday lives.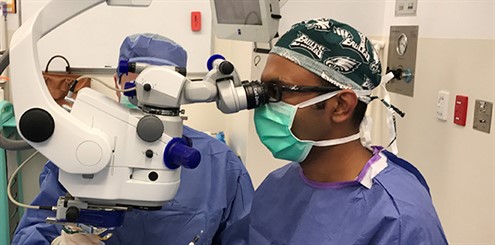 Dr Abhishek Sharma
As a clinician scientist, I have been studying myopia for more than a decade, beginning with several years in China and the United Kingdom. Now as an ophthalmologist and vitreoretinal surgeon, I'm in the privileged position of treating retinal conditions of myopic patients.
The 'myopia boom' is directly reflected in my daily surgical practice, and the future raises concerns. While diabetes and macular degeneration have been getting the main attention in wealthy countries, we will soon start feeling the burden of the world-wide myopia epidemic, especially in particular populations.
There is good reason to be concerned as this silent but life-changing condition progresses at a population level. High myopia (worse than -6 D) and pathological myopia (high myopia with characteristic retinal changes) cause a whole host of problems in the long term, from glaucoma and early cataracts, to retinal tears, retinal detachments and a type of macular degeneration.
When even a small percentage of our current millennial generation youth start having these complications of myopia that prematurely affects their vision and capability to work, it will also affect the work force and the economy. This is why countries with a high East-Asian origin population, which has the highest prevalence, are investing so heavily in managing myopia.
It is difficult to convince both health professionals and public health officers about these issues when the common perception is the problem can be fixed by spectacles or laser refractive surgery.
In the coming decade we will start having an onslaught of high myopia retinal complications. However, I'm heartened that in our management of chronic disease over the past century, we have overcome many conditions once we came to understand them. We have improved outcomes in chronic cardiovascular conditions by both managing the causative problems early and managing the complications better.
We are on the cusp of having solid research on slowing the myopia progression. We have early proven solutions available which are long term and often require lifestyle changes. This includes daily atropine, orthokeratology with close monitoring by the optometrist, and near work activity.
The eye health community is realising our role in informing parents and the community. The front line is optometrists because of their accessibility and better involvement with their community.
While some of the above solutions are too late for my student patient, I know that with good education about symptoms, long-term follow-up and management of any problem that arises, he should be OK for the next 80 years. For sure, he won't miss his next appointment with his optometrist.
Filed in category:
General news
,
Sector news
Tagged as:
Myopia