Read time:

1:30min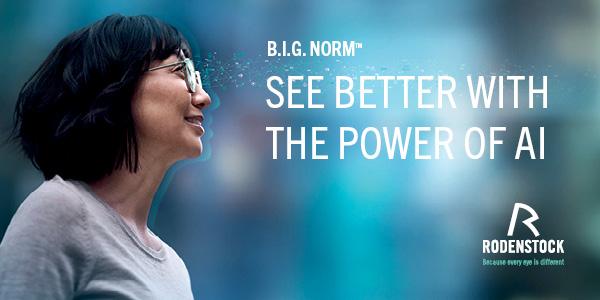 With the introduction of their new philosophy BIG Vision for All in 2020 Rodenstock changed the way lenses were calculated. By using the individual eyes biometry, measured with the DNEye scanner, rather than a standard reduced eye model, a spectacle lens can now be calculated as part of a complex lens system.  In this instance the retina forms the image plain rather than relying on the vertex sphere. This has resulted in lenses of exceptional clarity with wide fields of view and ease of adaptation. These lenses are referred to as B.I.G. Exact.
But what happens when the DNEye measurement is not available? The challenge was to calculate a biometric lens model based purely on the standard prescription values of sphere, cylinder, axis and add.
Thanks to B.I.G. Exact, Rodenstock has been able to gather the data of more than 500,000 individual biometric eye scans. Based on this large dataset, they analysed correlations and connections between anatomical and optical values that characterise individual eyes. From this they were able to construct a biometric model eye, with limited input data. Using AI, the individual correlations and connections could be merged into a multi-dimensional correlation model. This mathematical model could then be used to create an approximate biometric eye model based on the standard prescription only.
To really understand what is being done we can consider the example of the eye's axial length. In the old calculation method using the standard reduced eye model, the same axial eye length is used for each lens calculation, despite its well-known variation among individuals. The relationship between spherical equivalent and axial length is well documented,(1) but it is well known and understood using just this direct correlation is far from sufficient to generate a reliable and accurate eye model. This means that other correlations and connections are required to improve the model. For example, pupil size tends to get smaller with increasing addition, and lens thickness tends to increase with increasing addition. Integrating as many of these correlations as possible, the AI algorithms can reveal multi-dimensional correlations, leading to the creation of an approximate biometric eye model. This approximate biometric eye model can then be used for the calculation of the lenses for a particular customer.
As occurs for B.I.G. Exact lenses, the imaging properties of these lenses are calculated at the image plane – the retina – however, with an estimation of the biometric parameters instead of measured ones. As this has created a 'new normal' in the way lenses are calculated these lenses are referred to as B.I.G. Norm.
Because B.I.G. Norm is based on predictions instead of actual measurements, this model doesn't quite reach the biometric accuracy of B.I.G. Exact. Still, it is extremely successful in surpassing the old norm. Not only does the theoretical performance of the lens outclass the lenses calculated with the old norm, wearers, in a trial conducted at the University of Applied Science in Munich reported better vision with B.I.G. Norm lenses, across a range of parameters such as width of zones, aberration and swim.
All categories of lenses from Rodenstock can now be ordered with B.I.G Norm.
Optometry Queensland Northern Territory are delighted to welcome Rodenstock as a Platinum Sponsor of Australian Vision Convention 2022.
References.
W. Oyster: The Human Eye: Structure and Function. Sinauer Associates (imprint of Oxford University Press), 1999.
Filed in category:
Sector news
Tagged as:
Practice equipment