Read time:

1:30min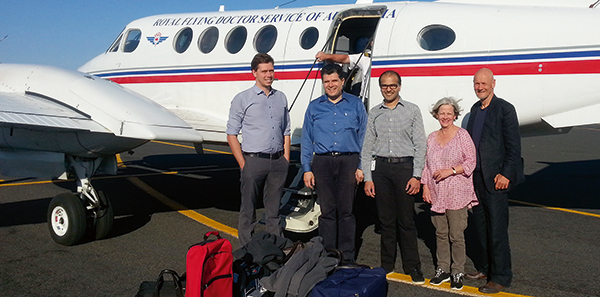 Image caption: The multidisciplinary team flies to Walgett: (L-R) orthoptist Ben Whitham, optometrist Kyriacos Mavrolefteros, eye registrar Parth Shah, ophthalmic nurse Joanna Barton and ophthalmologist Chris Brown.
Maroubra optometrist Kyriacos Mavrolefteros has one of the more far-flung patient bases in Australia, working in the outback.
Together with his wife, Katerina, he has operated a family practice at Maroubra for the past two decades. It is a typical suburban practice but 80 days a year he leaves it all behind, serving the optometric needs of communities across remote New South Wales.
He works in close collaboration with the Prince of Wales Hospital's Outback Eye Service, managed by Joanna Barton and headed by Professor Minas Coroneo.
The contrast between the city and rural settings can be stark and the challenges of working out back o' Bourke are numerous, but for 10 years he has persevered and with Visiting Optometrists Scheme (VOS) assistance, it has been commercially viable.
At nearly all locations, Mr Mavrolefteros has direct access to his practice database and patient records can be accessed live, including scans of ophthalmologist reports, GP referrals and consultation notes. He finds this system very helpful when patients move from one town to another.
'It all started for me when a dispenser I knew in Sydney asked me to cover for him on a trip he was doing with the Outback Eye Service Team from Prince of Wales Hospital, flying out with the Royal Flying Doctors Service,' he said.
'I started doing refractions working alongside "the Team"– ophthalmologist, registrar, ophthalmic nurses and an orthoptist.
'Four years later, I applied for VOS assistance and I have been doing that since, advertising our visiting service and working alongside the other services in the area, always looking for ways of extending eye care reach.
'With appropriate co-ordination between optometrists, ophthalmologists, GPs, ophthalmic nurses, orthoptists, optical dispensers, diabetic educators and Aboriginal eye health co-ordinators, a good system develops and it enables each profession to do what it does best. It's a best practice model targeted at maximising patient benefit.'
Mr Mavrolefteros says building relationships with the local communities, with special focus on the Aboriginal population and existing health service providers, plays a vital part in a visiting optometrist's role.
Co-ordination
He emphasises that VOS requires co-ordination between visiting optometrists and ophthalmologists.
'As eye-care professions, we have come a long way since 1970 when Fred Hollows started treating active trachoma in New South Wales outback communities, travelling with his team in small convoys with medical and camping equipment on board,' he said.
'Since those days, all of the Prince of Wales ophthalmology registrars have to spend a significant period of their training in the outback and quite a number continue serving the outback communities in their sub-speciality.
'On the optometry side, there's Doug McConaghy travelling in his van serving outback New South Wales for more than three decades and of course, there are many optometrists visiting and serving outback communities,' he says.
He adds that continuity and collaboration between the different eye-care providers is essential for optimum patient outcomes. 'To service a community best, you have to take into account all the different cultural elements and work closely with existing health services.'
Mr Mavrolefteros regularly visits or co-ordinates optometric clinics at Bourke, Brewarrina,
Cobar, Enngonia, Lightning Ridge, Menindee, Walgett and Wilcannia.
In addition, Manilla optometrist Dr Philip Anderton collaborates with a dispenser from the Mavrolefteros' Maroubra practice to visit the most remote outback locations in his home-built aircraft, traversing the 1,000 kilometres to Broken Hill in three hours.
All his clinics are based in Aboriginal Medical Service facilities, hospitals, allied health centres or whatever facilities are available.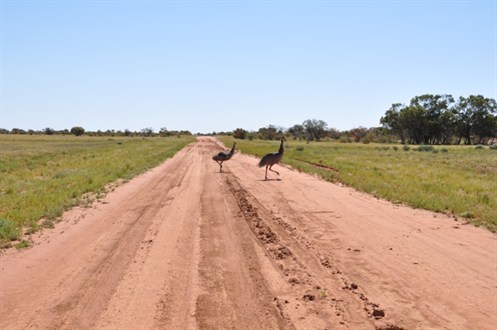 Craddock Back of Bourke
Satisfaction
Why does he do it? While he says his visiting service is commercially viable these days, he finds a deep sense of satisfaction in helping to bring good-quality eye care to remote communities.
'I enjoy it, sure, but I feel we have to do it. As a profession we have an indispensable part to play in the provision of eye care.'
Mr Mavrolefteros emphasises that the Outback Eye Service team model of an optometrist having very close collaboration with other health care workers and administrative staff is essential for efficient eye-care work in the outback.
Central co-ordination with ophthalmologists by Outback Eye Service manager Joanna Barton enables over 2,000 patients to be triaged every year from different outback locations, including 100 operations for cataracts, pterygia and lid surgery at Bourke Hospital.
With the back-up of a major teaching hospital complex at Prince of Wales Hospital, patients with associated medical conditions can be managed in a co-ordinated fashion, assisted by telemedicine.
Mr Mavrolefteros describes himself good-naturedly as a 'workhorse', adding that one needs to carefully work fast and adapt quickly and caringly in the challenging conditions.
'Having the best wife and our kids being a bit older now, it's easier to get away and I am gifted in sleeping fast when I board a plane. What I do is nothing compared to what our fellow optometrists Rowan Churchill and my classmate Margie O'Neil do and have done.'
– Miriam Brown
Filed in category:
Uncategorised