Read time:

1:30min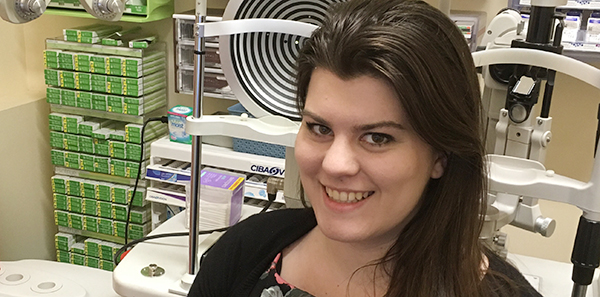 Cassandra Haines
______________________________
By Ashleigh McMillan
Journalist
South Australian optometrist Cassandra Haines wants to make it easier for other optometrists to get involved in advocacy, following her participation in the Early Career Optometrists advocacy summit in Canberra last week.
Early career optometrists from each state attended an ECO Think Tank on 13 September, where they discussed making materials on recent advocacy campaigns more accessible to members.
Cassandra practises at Eyes and Vision Optometry in Unley. She says it's important for Optometry Australia members to know that advocacy for the profession can be effective on an individual level, and to be well-armed to explain the importance of optometry to the community.
'The Medicare freeze is taking away chair time from preventative health care, and it's making it harder for optometrists to continue being those great community health-care providers that we are,' she said.
'It's important that optometrists who may not have necessarily been involved in advocacy in the past understand these issues that are affecting them directly, and know that they can spread this message to their local community, local MPs and their patients so that everybody knows it's a significant issue.
'We're hoping that we can make materials more easily available to both early career optometrists and other optometrists to distribute, and have resources of their own, so that's one of the initiatives that has come out of the Early Career Optometry meeting.'
Cassandra says Members of Parliament Tim Wilson and Andrew Wilkie reiterated at the Canberra advocacy summit the need for optometrists to reach out to their local MPs.
'It was great meeting with MPs Tim Wilson and Andrew Wilkie, who are clearly both such wonderful supporters of optometry, and they gave us some fantastic insights on how to spread the message.
'Importantly, they reinforced that as part of the optometry profession, we each need to explain that we're valuable health-care providers to the community, and that through preventative health care, we will save the health budget money in the future,' Cassandra said.
'It's been inspiring that at a grassroots level we can take what we've learned back to our communities, and I'm very lucky that my local state MP David Pisoni has been supportive of us in the past.
'This was the first time that I've been involved with Optometry Australia on an advocacy level, and it was fantastic how easy it was to get involved.
'I was also pleased to learn just how much Optometry Australia is doing in parliament, in policy-making, and how easy it was for me as a regular member to get involved, have my say, and take this message back to my local community,' she said.
Filed in category:
Uncategorised