Read time:

1:30min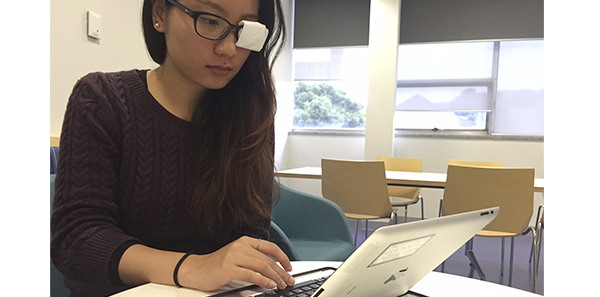 An optometry student tries the iPad perimeter. She has occluded the non-tested eye.   Photo: University of Melbourne Department of Optometry and Vision Sciences
______________________________
By Helen Carter
Journalist
Melbourne researchers have developed a portable perimeter in the form of an iPad app to measure visual fields away from an optometry practice.
The Melbourne Rapid Fields app was highlighted at the annual meeting of the Association for Research into Vision and Ophthalmology (ARVO) in Seattle, USA on 3 May.
ARVO's program committee selected it as a 'hot topic,' representing the newest and most innovative research, a distinction awarded to just two per cent of the meeting's abstracts. 
The software is designed to assess the user's visual field and detect abnormalities in both central and peripheral locations. It can be used by glaucoma patients to monitor their visual fields at home so they can present to optometrists earlier when disease starts to progress.
The app was the brainchild of optometrist and vision scientist Professor Vingrys from the University of Melbourne's Department of Optometry and Vision Sciences, and Dr George Kong from the Royal Victorian Eye and Ear Hospital, an ophthalmologist specialising in glaucoma who is a versed computer programmer.
'The app can be used to measure visual fields for glaucoma, AMD, diabetes, retinal disease, optic neuropathies and neurological conditions,' Professor Vingrys said.
'For some time I have wanted to develop a method of testing visual fields because it is a very important test for optometry and ophthalmology,' Professor Vingrys told Australian Optometry.
'I wanted something portable and easy to use so that patients could monitor their eye condition at home. If people use it once a week they can detect early progression which their optometrist can confirm and choose to refer for early surgery which is less complicated with better outcomes.
'Home monitoring needs involvement and supervision by the patient's optometrist who would teach the patient how to do their visual fields at home using this test. The patient would then send the data to the optometrist by broadband and they will monitor them in this way.
'If the home monitoring fails to give sensible data, the patient would have to go to the optometry practice for regular check-ups,' Professor Vingrys said.
'Another use of the iPad would be in remote areas where the equipment is not available due to cost or distance. In these situations a trained assistant or GP could administer the test.'
Professor Vingrys said novel design features made it robust to environmental factors that might be encountered outside an eye clinic. Other features made it easy to use with minimal training and its results are simple to interpret by practitioners.
Quick, simple
An optimised test pattern can be implemented as a full-field test suitable for all patients and especially those with glaucoma (three to four minutes), a central test can be used for patients with advanced glaucoma or diabetic retinopathy (two to three minutes) and a macula test can be chosen for patients with AMD or other causes of macula disease (about two minutes.)
Professor Vingrys led a team of researchers from the department and the Centre for Eye Research Australia in evaluating the perimeter, and he detailed the findings at ARVO. The study tested 21 patients with glaucoma-related visual field loss and 20 age-similar participants with normal visual fields. It found the tablet perimeter performed well compared to the Humphrey Field Analyzer.
He said the portable perimeter would not replace the Humphrey or Medmont in optometry practices but would complement them.
'Its innovative approach gets very fast and reliable outcomes. Perimetry is expensive and patients dislike it because it takes so long. This test is quick, typically taking 90 seconds in screening mode and 3.5 minutes for a full threshold,' he said.
'Many advances in perimetry over the past 30 years have been incorporated into the new design.
'Ambient light needs to be turned down so that reflections are avoided from the iPad screen. The app can be used at a patient's bedside or in the waiting room and can be administered by anyone after minimal training.'
To download the software on your iPad search on Apple AppStore for 'MRF Free' or follow this link.
Filed in category:
Uncategorised