Read time:

1:30min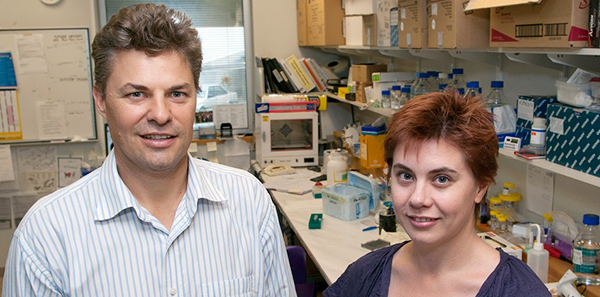 Professor Jamie Craig, from Flinders University's Ophthalmology Department, and Associate Professor Kathryn Burdon, now from the University of Tasmania, were members of the diabetic vitrectomy audit team   Photo: Flinders University
______________________________
By Helen Carter
Journalist
Indigenous Australians account for nearly one-quarter of patients requiring diabetic vitrectomy in South Australia and the Northern Territory, despite comprising only 5.8 per cent of the population, an audit shows.
Results of the five-year audit of diabetic vitrectomies in SA and the NT were presented at the Annual Meeting of the Association for Research in Vision and Ophthalmology (ARVO) in the USA this week.
ARVO 2016 in Seattle on 1-5 May was the largest gathering of eye and vision researchers in the world, attracting 11,000 attendees from more than 75 countries.
The Australian researchers said theirs was the first population-based study to capture all patients with end-stage diabetic retinopathy undergoing diabetic vitrectomy in the two states.
They found that younger age of diabetes onset, Indigenous Australian ethnicity and lack of previous laser treatment were independently associated with earlier vitrectomy.
Of 495 diabetic vitrectomies in 335 patients in public and private hospitals in SA and NT between 2007 and 2011, 23 per cent (77) were in Indigenous patients. For those with type 2 diabetes mellitus, average age of diabetes diagnosis was lower in Indigenous patients (37 years) compared with non-Indigenous (44 years.)
The researchers said in their abstract that the findings reflected a large burden of disease secondary to end-stage diabetic retinopathy in the Indigenous Australian population, and that multiple factors including earlier age of diabetes onset and lack of previous laser treatment predisposed to earlier vitrectomy.
One-quarter of Indigenous patients had had an amputation and one-third was on dialysis at the time of vitrectomy.
Flinders University PhD student Georgia Kaidonis gave an oral presentation at ARVO on the research, which was funded by The Eye Surgeons' Foundation.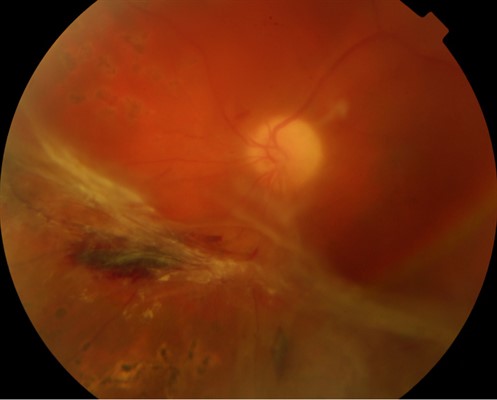 Diabetic retinopathy   Photo: Flinders University
Other presentations were given by Australians at ARVO.
Stroke and visual processing
A study showed that many stroke patients have undetected abnormalities of higher visual processing.
University of Western Australia psychology lecturer Jason Bell studied 26 patients who had recovered from stroke and compared them with 29 age-matched controls. Ophthalmological causes of visual loss were excluded.
Mr Bell's poster stated that damage to specific areas outside the primary visual cortex could cause selective deficits of higher visual processing. Patients with stroke may have undetected abnormalities of higher visual processing because these are not routinely assessed. If present, these could impact significantly on recovery and residual function, he said.
Bioptic telescopes
A small study showed that people with central visual impairment can identify traffic signs at 2.7 times longer distances when wearing bioptic telescopes.
In the study, 11 people with central visual impairment sat in the front passenger seats of cars and reported all signs, traffic lights and hazards they saw. While the percentage of signs, traffic lights and hazards correctly identified was not significantly affected by wearing bioptic telescopes, traffic signs were identified further away.
'This confirms that bioptic telescopes have a positive impact on the visual recognition of objects within the driving scene,' optometrists Sharon Oberstein, Dr Mei-Ying Bon, Byoung Sun Chu and Professor Joanne Wood reported.
GCA genes
A study of 162 giant cell arteritis (GCA) patients and 702 Australian controls has provided 'firm evidence for genetic association with GCA.'
GCA is the most common systemic inflammatory vasculitis in people aged over 50 years, predominantly affects people of Northern European descent, and women more than men. It is an ophthalmic emergency but timely diagnosis may prevent significant visual morbidity.
Researchers said that previously little had been known about the patho-aetiology of GCA because although there was clear evidence for a role of genetic factors in GCA, genetic studies had been limited.
They said ongoing work using a large multi-centre international GCA cohort from Australasia and Europe was now being undertaken.
Visit the ARVO website
Filed in category:
Uncategorised