Read time:

1:30min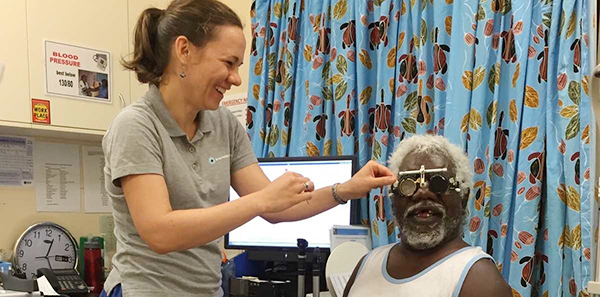 Anna Morse and patient Russell   Photo: Brien Holden Vision Institute
______________________________
By Ashleigh McMillan
Journalist
The first Northern Territory Indigenous Eye Care Conference will take place on 14-15 June, with a focus on co-ordinating and improving eye health outcomes for Indigenous patients.
The event is being funded by the Australian Government through the Department of Health's Coordination of Indigenous Eye Health (NT) project, and co-ordinated by the Brien Holden Vision Institute (the Institute).
Some of the conference sessions include Aboriginal Health Services presenting a round-up of eye-care programs in each of the five NT regions o, and discussions on how the Visiting Optometrists Scheme (VOS) and outreach optometry, ophthalmology and trachoma programs are contributing to eye health in NT.
The Institute's Australia programs manager Anna Morse says the conference has been created to share ideas across regions, programs, organisations and sectors. It will also foster outside the box thinking by showcasing examples of other approaches from interstate that are helping to improve Indigenous eye care access.
'In the past, we have run some training workshops for regional eye health co-ordinators who we partner with to provide outreach optometry services, but this is taking a much bigger focus. We're connecting with the eye care sector, but also people from the general primary health care, such as Aboriginal Medical Services, the NT Department of Health and remote health providers,' she said.
'We're hoping that we'll come up with some really practical action items and things we can do to make Indigenous eye health work even better, for example, in terms of how we're linked with primary care and how patients get outcomes for eye care.
'The fact that it's bringing a really wide audience of people and perspectives together on the one topic is fantastic, because you always achieve more when you have a broad array of views in one room.
'The wide-ranging involvement in the conference indicates that there's quite a level of engagement and interest in eye care, beyond just the eye care sector in the NT,' Ms Morse said.
The Northern Territory is the only state or territory in the federal Department of Health's Coordination of Indigenous Eye Health project to host a conference as part of their work toward improving vision for Indigenous Australians.
Ms Morse says the consultative nature of the Institute and position in public health optometry is what drove the idea of creating an Indigenous eye health conference for the NT. 
'It took us six months to get momentum on this project because we wanted to ask enough people for input and ideas before we started doing anything. Similar to most other non-governmental organisations, we're big on collaboration and being truly consultative in the approach we take.
'As optometrists, we're well-positioned between primary care and ophthalmology for this kind of undertaking, because we understand the dynamics of how eye care links practically on the ground in primary care, and then what you need for patients to get outcomes at the ophthalmology end,' she said.
Filed in category:
Uncategorised