Read time:

1:30min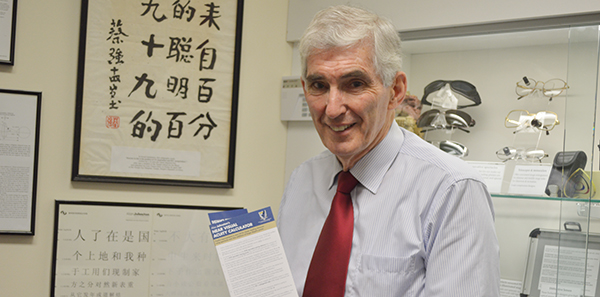 Dr Alan Johnston
______________________________
By Helen Carter
Melbourne optometrist and low vision consultant Dr Alan Johnston has developed a new version of his logMAR visual acuity calculator.
Dr Johnston, from East Melbourne Optometry and Low Vision Centre, updated the calculator for logMAR visual acuity measurements by incorporating the Early Treatment of Diabetic Retinopathy Study Chart.
He took 50 of the updated calculators to give to ophthalmic educators from around the world at an ophthalmic educators meeting in China on 31 March. The meeting was held in conjunction with the Congress of the Chinese Ophthalmological Society in Guangzhou in April.
Dr Johnston previously took several hundred of the calculators to give to optometrists when he lectured at the American Academy of Optometry conference, held in Denver in November 2014.
'The calculator was well received by a small audience in Denver. I handed out many copies to foreign teachers who seemed especially interested,' he said.
The sliding scale card has been circulated to practitioners twice over the past 25 years, after its first appearance in 1984 in the Australian Journal of Optometry,* the predecessor to Clinical and Experimental Optometry.
On one side, it transforms non-standard test distances into more conventional six metres or 20 feet visual acuity numerators as well as their logMAR equivalents.
'This allows us to specify low vision precisely, well beyond the 6/60 "legal blindness" limit,' Dr Johnston said.
On the other side, new near spectacle addition powers and their closer viewing distances can be determined for required improvement in near vision.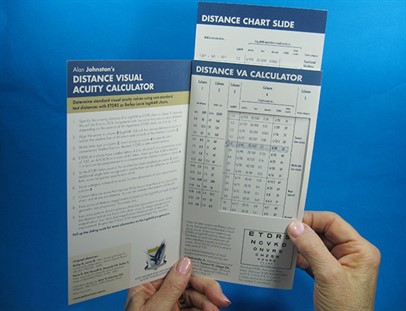 'The near calculator simplifies our judgements on magnification or enlargement ratio needed to obtain a target near visual acuity, using either 25 cm (+4.0 Ds) or 40 cm (+2.5 Ds) reference distances,' he said.
Dr Johnston knew the calculator was a useful teaching aid when University of Melbourne students asked him whether they could bring it into clinical examinations.
'This new version is necessary because the Early Treatment of Diabetic Retinopathy Study (ETDRS) now specifies visual acuity in terms of individual letters identified correctly,' he said.
'The ETDRS chart is designed for viewing at four metres. ETDRS visual acuity of 4/2 is pegged at 100 letters correct, with five letters being deducted for every complete line of letters not seen beyond that level.
'Visual acuity of 4/4 (our equivalent 6/6) is 85 letters seen correctly, and beyond 4/40 visual acuity the chart is used at one metre and recalibrated appropriately.
'Our retinal surgeons use ETDRS letter counts to more accurately specify any visual acuity improvement following anti-VEGF injections,' he said.
The new calculator is small enough to fit into a student's clinical jacket pocket, but has an explanatory card attached that can be removed, once its users understand the principles.
It can be used by anyone who measures vision including optometrists, ophthalmologists and orthoptists who monitor vision changes with AMD, as well as GPs and nurses in general practices.
A Chinese text version is being considered for production by the World Health Organization's Prevention of Blindness Office at Beijing's Tongren Hospital Eye Centre and an app for the calculator is being developed and is expected to be available by November.
Calculators are available for purchase, phone 03 9654 1331
03 9654 1331.
* Aust J Optom 1984; 67: 2: 75-76
Filed in category:
Uncategorised