Read time:

1:30min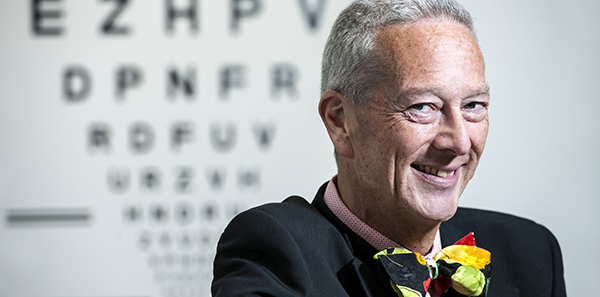 Professor Nathan Efron AC
______________________________
By Sandra Shaw
Professor Nathan Efron has been made a Companion in the General Division of the Order of Australia in the 2015 Queen's Birthday Australian honours list announced today.
This is a significant accolade because Companion of the Order is the highest level of the award aside from Knights and Dames.
Professor Efron is a Queensland-based academic optometrist and the first optometrist to have been accorded this significant honour.
The citation issued by the Office of the Governor General stipulates that Professor Efron has received this award 'For eminent service to medicine in the field of clinical optometry, particularly to vision correction and corneal physiology, as an academic, researcher and author, to the treatment of juvenile diabetes, and through executive roles with national and international professional organisations'.
Professor Efron said he felt privileged to serve as the flag-bearer for a further elevation of optometry as a recognised profession that stands tall among all key professions in this country.
'Although I lived in the UK for 16 years, I am a fiercely proud Australian and I feel very humbled and honoured to have received this national award,' he said.
'I am also intensely proud of my optometric heritage and was delighted to see that the award citation specifically refers to my contributions to clinical optometry, and in particular vision correction and corneal physiology.'
Professor Efron completed his BScOptom and PhD at the University of Melbourne in 1981. Following two years of post-doctoral studies at the University of California, Berkeley and UNSW, he returned to Melbourne, becoming senior lecturer responsible for contact lens education.
In 1990 he took up the foundation Chair of Clinical Optometry at the University of Manchester, England, and established a contact lens research and consultancy unit known as Eurolens Research.
Professor Efron returned to Australia in 2006 and joined the School of Optometry and Vision Science, and the Institute of Health and Biomedical Innovation at the Queensland University of Technology.
At QUT he established the Anterior Eye Laboratory where, as well as continuing his contact lens research, he has been exploring a range of novel ophthalmic markers of diabetic neuropathy.
The full article on Professor Nathan Efron and awards of the Order of Australia made to optometrists will be published in the July 2015 issue of Australian Optometry.
Filed in category:
Uncategorised