Read time:

1:30min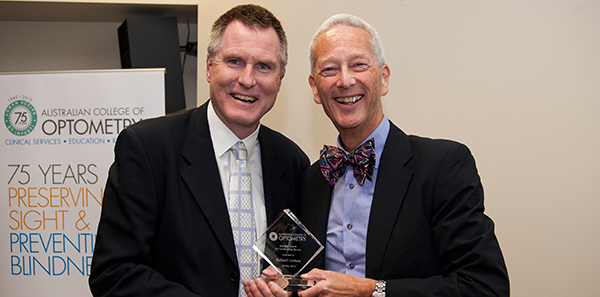 Richard Lindsay (L) receives the ACO Member Award for Outstanding Service 2014 from ACO president Professor Nathan Efron  
Photo: ACO
______________________________
By Rhiannon Riches
The Australian College of Optometry has looked to the future and the past, announcing four Most Outstanding Graduate Awards while celebrating its 75 years of operations.
At an event held on 20 May to mark the ACO's milestone anniversary, CEO Maureen O'Keefe recognised the academic excellence of optometry graduates Homma Ebrahimi from University of New South Wales, Luke Higgins from Flinders University, Dr Ritika Kataria from the University of Melbourne and Ronald Nguyen from Queensland University of Technology.
'In 2011 the Australian College of Optometry introduced awards to recognise outstanding graduating students of optometry courses around Australia. The selection criteria for the award are based on a combined evaluation of academic excellence and professional commitment,' Ms O'Keefe said.
Australian universities are invited to nominate their most outstanding optometry graduate. Recipients each receive a plaque, a two-year ACO membership and $250.
Deakin University was not represented in the awards as the first cohort of optometry students is yet to graduate.
Ms O'Keefe also used the 75th anniversary occasion to award ACO Fellowship to 10 of its members: Jessica Chi, Joseph Choi, Jennifer Currie, Michael Hare, Glenn Howell, Ian Kent, Stephen Vincent, Harry Weisinger, Anne Weymouth and Josephine Li.
Volunteer
ACO Fellow Richard Lindsay was presented with the ACO Member Award for Outstanding Service 2014.
The award, established in 2011, recognises the valuable contribution of ACO members who support the college in a voluntary capacity.
'Through this award the college wishes to acknowledge the exceptional contributions of specific members, serving on a committee or council or both; providing support, time and advice; promoting the principles and practices of the college in a positive and beneficial light; and the high regard of peers of the awardee, often over a lengthy period of time,' Ms O'Keefe said.
Mr Lindsay has been an ACO member since 1984, a Fellow since 1986 and an NVRI member since 1988. He has served on the NVRI Board of Administration since 2007.
A graduate of the University of Melbourne in 1984, Mr Lindsay completed an MBA in 1991 and a post-graduate course in Ocular Therapeutics in 2005.
Among the positions he has held are head of Contact Lens Clinics at the Victorian College of Optometry from 1989 to 1998, senior fellow in the Department of Optometry and Vision Sciences at the University of Melbourne from 1992 to 2007, and visiting lecturer in the School of Optometry at the University of New South Wales.
'Richard is renowned internationally as an expert in the field of contact lenses. He has presented over 100 lectures at conferences and scientific meetings both in Australia and overseas, and he has published over 30 papers related to contact lens practice in scientific and clinical journals. He has also written chapters for many contact lens textbooks.
'Richard is a Diplomate of the Cornea and Contact Lens Section of the American Academy of Optometry and he is a past-president and a founding fellow of the Cornea and Contact Lens Society of Australia. He is also a member of the editorial board of Clinical and Experimental Optometry,' Ms O'Keefe said.
Travel
Dr Hamish Meffin, a senior research fellow at the National Vision Research Institute, has received the inaugural Nicola Family Fund Award.
The fund has been set up to support young researchers as they begin their career in vision research.
Ms O'Keefe said Dr Meffin was awarded a travel grant, which he will use to attend and present at a major international scientific conference in Europe this year.
'Dr Meffin's research at the NVRI involves two main themes: combining theoretical and experimental approaches to understanding how neural circuits in the brain give rise to visual perception, and the development of a bionic eye to restore vision to people with degenerate diseases of the retina,' Ms O'Keefe said.
Professor Michael Ibbotson, director of the NVRI, will be attending the same conference as Dr Meffin.
Filed in category:
Uncategorised