Read time:

1:30min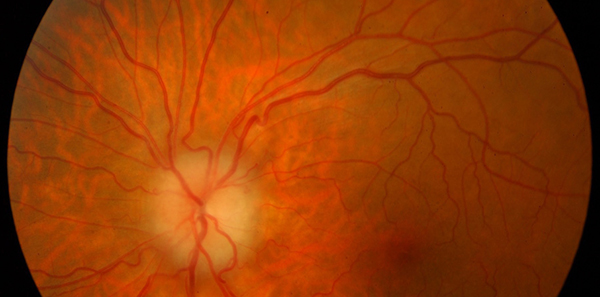 Papilloedema
Photo: Medical Photographic Imaging Centre, The Royal Victorian Eye and Ear Hospital
______________________________
By Helen Carter
Journalist
A London optometrist convicted of gross negligence manslaughter following the death of a patient has received a suspended sentence after the boy's parents called for leniency in her sentencing.
The judge said the parents of Vincent 'Vinnie' Barker, who died of hydrocephalus, had not wanted optometrist Honey Rose's three children to suffer as a result of their mother going to gaol, according to press reports including the Daily Mail Australia.
Rose, the first optometrist in the United Kingdom charged over a patient's death, now faces a Fitness to Practise hearing before the General Optical Council.
Rose was convicted of gross negligence manslaughter in July 2016 at Ipswich crown court.
The court heard that during a routine eye test when working as a locum at Boots in Ipswich, Rose had failed to notice that Vinnie had bilateral papilloedema, a symptom of hydrocephalus.
She had not looked at retinal photos taken by a colleague and failed to conduct an examination of the posterior of Vinnie's eyes with an ophthalmoscope, the court heard. He died five months later in July 2012, aged eight years.
The Guardian reported that Judge Jeremy Stuart-Smith said this single lapse was a breach of duty so serious that it was criminal. On 26 August he gave Rose a two-year prison sentence suspended for 24 months and ordered her to complete 200 hours of unpaid work.
The judge praised Ian and Joanne Barker, the boy's parents, for calling for leniency in sentencing.
The Guardian reported that Judge Stuart-Smith said an immediate custodial sentence was not required to bring home the importance of optometrists properly discharging their duty to patients as the case had been highly publicised and had already caused great concern to the optometry profession.
'The loss of that vocation, which will undoubtedly happen when she comes before a fitness-to-practise panel, will affect her self-respect as someone who worked so hard to obtain those qualifications,' Rose's QC Ian Stern was reported in The Guardian to have said.
Fitness to Practise hearing
The Association of Optometrists (AOP) said in a statement on Friday: 'This tragic case has had devastating consequences for all involved. The case, a criminal one involving an optometrist on clinical matters, is the first of its kind in the UK.
'There are millions of sight tests undertaken in the UK each year. Optometrists adhere to strict standards of practice set out by the regulatory body, the General Optical Council (GOC). 
'The AOP can confirm that a leave of appeal is being sought by Ms Rose. Due to the ongoing Fitness to Practise hearing that Ms Rose faces before the GOC we are unable to comment further at this time.'
A statement from the Barker family, reported in the Daily Mail, said: 'Our main concern has always been the accountability of those we entrust with our own health and the health of those we love. It is the responsibility of individuals and the organisation they work for to perform their duties to the expected levels of good practice without exception.
'Our intention is not to damage the reputation of optometrists but actually to raise awareness and promote the health benefits and value of good optometry. Because, we believe without doubt that if our son had received the duty of care he was owed on 15th February 2012, he would still be with us today.'
Senior investigating officer Detective Superintendent Tonya Antonis said in the Daily Mail: 'If this case makes the optometry profession reflect on their practices and review their policies to prevent it happening to anyone again, or encourages other parents to take their children to get their eyes tested with the knowledge that any serious issues would be picked up, then it will be worthwhile.'
Australian optometrists: take notes
Optometry Australia national professional services manager Luke Arundel said members had been requesting additional information following the case.
'Optometrists in Australian can be charged for negligent manslaughter; however, successful cases against medical professionals are very few in number,' he said. 'Cases have been brought against doctors, dentists and even naturopaths, with one of the most high profile cases being against Dr Jayant Patel who was sentenced to seven years gaol before having his sentence overturned by the High Court.
'The standards a health practitioner is measured against differ from jurisdiction to jurisdiction. The likely standard of care a practitioner will be measured against is likely to be that used in the Victorian Supreme Court in Nydam.'
This case said: 'In order to establish manslaughter by criminal negligence, it is sufficient if the prosecution shows that the act which caused the death was done by the accused consciously and voluntarily, without any intention of causing death or grievous bodily harm but in circumstances which involved such a great falling short of the standard of care which a reasonable man would have exercised and which involved such a high risk that death or grievous bodily harm would follow that the doing of the act merited criminal punishment.'
Mr Arundel said the following three elements are likely to have to be proved to obtain a conviction for medical manslaughter: proof of causation, where the victim was already suffering from a serious illness; that the mistreatment was negligent in terms of it being a breach of a duty of care; and that the degree of negligence was so gross or culpable as to warrant criminal conviction and punishment.
Best defence
Mr Arundel reminded practitioners that their best form of defence is to:
Record all results, including negative and adverse results
Diligently follow up patients with adverse results
If in doubt, seek a further opinion
If approached by the police seek legal advice before responding (members: via Avant)
Maintain the best professional indemnity insurance possible.
The Optometry Australia policy covers members for civil cases as well as defending or responding to a criminal inquiry, investigation or proceeding; or a coronial inquiry or inquest, and gives the practitioner unlimited retroactivity on claims, meaning that even if a case takes 10 years to surface, it will be covered.
Filed in category:
Uncategorised