Read time:

1:30min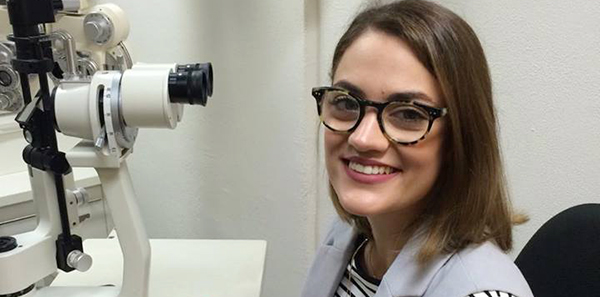 Jillian Campbell
______________________________
By Ashleigh McMillan
Journalist
Early career optometrist Jillian Campbell will present unique contact lens case studies at the Australian Vision Convention on 22-23 April.
After graduating from QUT in 2013, Ms Campbell completed a two-year clinical residency at the Australian College of Optometry. She now works at Richard Lindsay & Associates in East Melbourne, with one day a fortnight spent at the Australian College of Optometry.
The case of a 22-year-old female patient who was diagnosed with ocular myasthenia gravis and Grave's disease will be presented during Ms Campbell's lecture.
'As a result of her condition, she had a large esotropia which was causing her to have double vision, so she wasn't able to drive or function normally,' Ms Campbell said. 'She had essentially stopped working, the double vision had really impacted on her life and she couldn't tolerate any steroids.
'We fitted her with a prosthetic contact lens with a black pupil, to essentially occlude that eye. Now she's able to drive and is back working. It's really changed her life.
'She will eventually have surgery to correct the tropia, but because it is currently fluctuating and not stable, they are unable to do that. For now, she is able to continue living her life because we fitted her with a lens.'
Ms Campbell will be discussing cases outside of the usual scope of practice for an optometrist, including reports on patients with Marfan's syndrome and ptosis.
'My patient with Marfan's syndrome had subluxated lenses, so we fitted the patient with BioFinity toric. I will be talking about the benefits of that, because these patients are likely to have large shifts in their refractive error over short periods of time. The benefit of fitting them with a soft disposable lens is that it is quite easy to change it as their prescription changes.
'I'm particularly looking forward to discussing how fitting soft lenses on a graft will occasionally give you surprisingly large improvements in vision.
'When you look at the maps of a patient, sometimes you think that the cornea is so irregular, it's necessary to jump to a hard lens, but actually, we should all be trying a low-modulus lens, because sometimes we get really good visually acuity outcomes.
'Hopefully, the case reports will be interesting to other optometrists and show different ways that contact lenses can be used in practice, other than just the usual correcting of refractive error and correcting keratoconis,' Ms Campbell said.
Ms Campbell will also present a lecture on paediatric aphakic contact lens fitting, as part of a session which also features Dr Lionel Kowal discussing surgical treatment of childhood strabismus.
She will discuss how children with congenital cataracts are managed within the practice, and the necessity of regular patient contact as children's eyes grow rapidly.
'The lens we put on children is always chosen empirically on the known average, and then we assess that on the eye and make appropriate changes. The fit of the lens is assessed with fluorescein in the light, and then you do retinoscopy.
'I'll be talking about both the rewarding aspects and the stressful side of fitting aphakic children, because if you get something wrong it can drastically affect someone's vision for the rest of their life.
'You're seeing the patient pretty much weekly when you first fit them, because the eye rapidly grows in the first 18 months. You build a really good rapport with the family and the child, and the fact that you really get to know these patients is one of the most rewarding aspects of it,' Ms Campbell said.
It's your AVC
AVC 2017 will be held at the Marriott Resort and Spa in Surfer's Paradise, with the program incorporating 25 speakers, giving registrants the opportunity to gain 43 CPD points. A carnivale-themed dinner will take place at Warner Bros. Movie World on the Saturday evening.
Highlights of the program include interactive posterior segment clinical cases presented by Dr David Hilford, a practising vitreo-retinal surgeon from Brisbane, as well as six other interactive workshops covering topics such as foreign body removal.  
Clinician-scientist Dr Lauren Ayton will present two lectures, one on the future of vision restoration using bionic eyes, stem cells and gene therapy, and another on OCT in retinal disease. Dr Ayton was recently profiled in Australian Optometry about her work on the scientific journal Clinical and Experimental Optometry.
AVC will also conduct a CASA refresher course prior to the conference on 21 April, between 1 pm and 5 pm. To register, contact Rosy Dolan-Murphy on 03 9668 8552 or email r.dolan-murphy@optometry.org.au.
Filed in category:
Uncategorised