Read time:

1:30min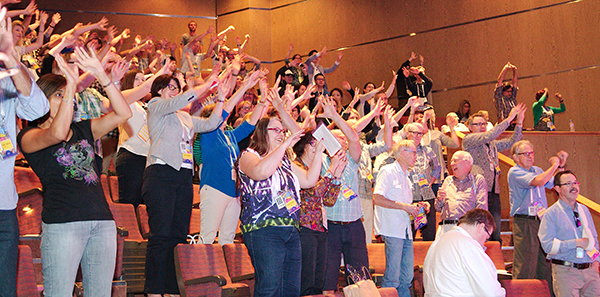 The audience exercises during a presentation at SA Blue Sky
______________________________
By Rhiannon Riches
Assistant Editor
A 30-year-old man walks into your practice and tells a member of staff that he was working under his car and some debris has fallen in his eyes.
What would you want your optical dispenser to ask him?
International speaker Dr Blair Lonsberry will be guiding dispensers and other practice staff through scenarios like this as part of his 'Triaging urgencies and emergencies' presentation at SA Blue Sky congress in November.
The two-day congress organised by Optometry South Australia has dual education streams; one for optometrists and one for dispensers, with some joint sessions and a trade exhibition.
CEO Libby Boschen says many more practices are accepting ocular urgencies and emergencies now that increasing numbers of optometrists are therapeutically endorsed: 48 per cent according to the latest statistics from the Optometry Board of Australia.
She says Optometry Australia's public awareness campaigns and government policy changes are attempting to divert ocular emergencies from hospitals and GPs to optometrists.
'Optometry practices and front-line staff need to be prepared for this,' she said.
Dr Lonsberry agrees. 'A critical aspect of any optometric practice is the ability of the staff to confidently and accurately handle patient questions either on the phone or in person,' he said.
'Questions that staff may have to address range from dry eye to what to do in the case of an ocular emergency. In the triaging ocular emergencies presentation, participants will review the more common ocular emergencies that patients may present with, including red eye, flashes and floaters, or blunt trauma as a result of a fall or ball, and how they should triage the patient.'
Dr Lonsberry will present varying scenarios of patients walking in unscheduled, listing a variety of visible and non-visible symptoms, which a dispenser would need to identify through questioning and then prioritise treatment accordingly.
'What would you ask the 30-year-old man who has been working under his car? What information do you think would be important to ask the patient about his eyes and this experience?' he said.
'Does he think that he got any debris in the eye? Did he flush his eyes after? Has he experienced any pain or discomfort? Any redness? Any changes in vision? Any discharge? Has he put anything in his eyes to help, such as artificial tears or prescription eye-drops? When exactly did this happen? Was he wearing any eye protection at the time?
'All these questions provide important information to determine if the young man might have a retained foreign body that would have to be removed by the optometrist. This information will help triage this emergency patient and help guide the optometrist in his or her exam and help reassure the patient that he is in professional and capable hands,' Dr Lonsberry said.
Dr Lonsberry's presentation is geared towards dispensers learning the most appropriate questions to ask patients to identify the seriousness of the presentation and how to accurately prioritise the patient for timely assessment by the optometrist.
He will also present to dispensers a lecture on dry eye titled 'Eye of the Desert'.
'In my presentation, the participants will review the basics of dry eye disease, its impact on daily living and the more common treatment options available to better prepare them to carry on an informed discussion with patients,' he said.
'Patients regularly ask dispensers for their recommendation on dry eye. It might be when they collect their contact lenses or spectacles, or they may just walk in off the street to ask the "optometrist". As a result, dispensers would benefit from understanding more about dry eye including being able to describe the symptoms, discuss possible causes and the potential manifestations of unresolved or undiagnosed underlying causes,' he said.
The dispensers education program is run in parallel streams to allow delegates to select the topic and level most relevant to them. The topics include:
Productive sales conversations
State and federal legislation relevant to optical dispensing
Contact lens fundamentals
Taking accurate measurements
Handling customer complaints and conflict.
For the first time, the trade area will house The Knowledge Bank, a fully-fitted dispensing workshop where delegates can seek answers from experts and tailored coaching on particular skills.
SA Blue Sky Congress, 25- 26 November, Adelaide Hills Convention Centre, 40 CPD (25T)
Information
Register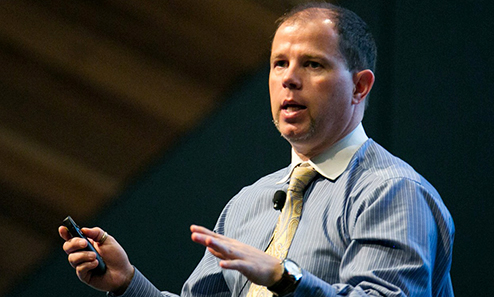 Dr Blair Lonsberry
Filed in category:
Uncategorised