Read time:

1:30min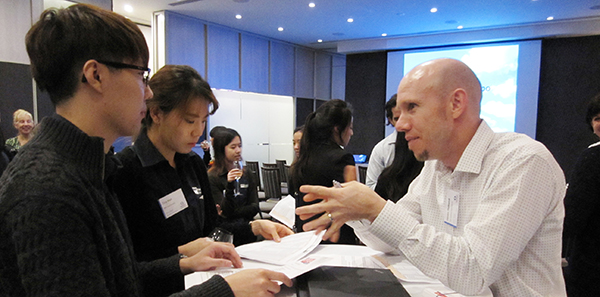 Jason Holland from Optical Superstore chats to students at the Queensland expo
______________________________
By Helen Carter
Graduate optometrist Leanne Le delivered at an employment expo an insightful presentation into starting a career interstate or in rural areas, talking about her experiences after university and encouraging students to 'give it a go'.
Her talk captured students' attention because the vast majority of positions available to graduating students are in regional areas.
The employment expo was organised by Optometry Queensland Northern Territory and held on 18 May.
The 39 final-year students and nine fourth-year students from Queensland University of Technology met employers from Optical Superstore, Luxottica, EyeQ, ProVision, Westfund Eye Care and Chas Sankey Fraser Optometrist. Positions were offered from all over Australia.
Apart from networking opportunities, there was an educational component.
Reny Frighetto from ProVision spoke about contract negotiation and restraint clauses.
He outlined the importance of checking contracts thoroughly, pointed out several key areas to be aware of and gave an overview of restraint clauses and how they could affect an employee when they resigned.
Optometry QLD/NT CEO Cathryn Baker said the lecture component rounded out the event nicely, thanks to Reny and Leanne.
Optometrist Cameron McMaster from Chas Sankey Fraser Optometrist in Toowoomba said he had spoken to about 10 students and several were interested in a position at his Emerald practice.
'The employment expos are good and I recommend them if you are looking for an optometrist,' he said.
'This was the third we had attended. We employed two graduates from the first one after I gave a job notice to QUT. QUT emailed it to the students personally, and then students came and met me at the expo.'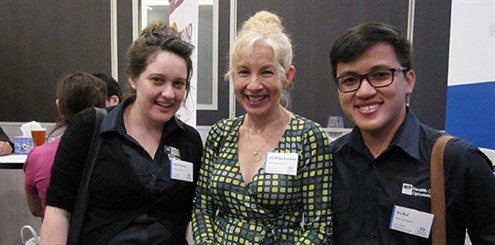 Lily Wegrzynowski with students Emily Henry and Vu Bui
Filed in category:
Uncategorised