Read time:

1:30min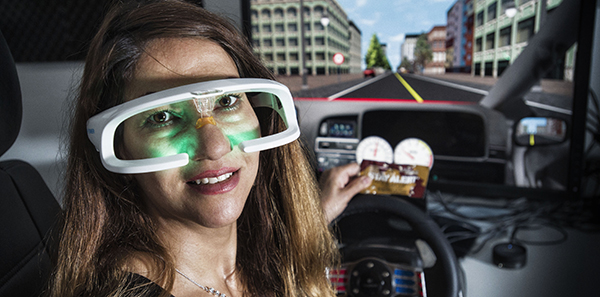 Shamsi Sekari wearing light glasses during the light and caffeine study    Image: QUT
______________________________
By Helen Carter
Journalist
Bright light and caffeine
Bright light and caffeine improve driver alertness, according to a Queensland University of Technology study.
Shamsi Shekari from QUT's Centre for Accident Research and Road Safety found that caffeine and blue-green light have significant effects on improving the driving performance of chronically sleep-deprived young people.
She said in a QUT media release that the study tested the use of bright light using commercially available light glasses that emit a shortwave blue-green light and caffeinated chewing gum.
Drivers given caffeine alone or with the light glasses had decreased side to side movement of the steering wheel and vehicle, indicating better control and higher alertness when using a driving simulator.
Twilight vision
American scientists have discovered a neural circuit in the mouse retina which involves rod and cone cells and allows mammals to see in low light conditions.
This colour vision circuit allows both rod and cone cells to function at the same time so mice can see colours even in dim moonlight.
The scientists said in a California Institute of Technology media release that the same circuit exists in human eyes. Their paper in Nature said the circuit's presence in the human eye could help explain specific perceptions of colour such as the tendency to see blue colours at low illumination levels such as during twilight.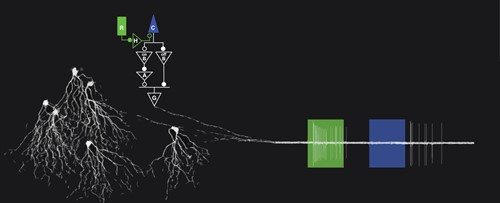 Neural cells    Image: Markus Meister, California Institute of Technology
Gersbeck to leave Vision 2020
The CEO of Vision 2020 Australia, Jennifer Gersbeck, is leaving the organisation on 6 May after 11 years in the role.
Ms Gersbeck oversaw the commencement of AusAID's Avoidable Blindness Initiative and her leadership has helped transform Vision 2020 Australia from an aspiring peak body to a respected and successful organisation with a reputation as an international leader in the eye health and vision care sector. 
She will be joining The Fred Hollows Foundation as director of global partnerships and advocacy.
Chief scientist prizes
Researchers have just three weeks to nominate for the Prime Minister's Science Prizes which offer substantial prize money.
Australia's chief scientist Dr Alan Finkel said that this year the prizes included a new award for New Innovators, celebrating early career researchers putting knowledge to work in the community.
The prizes recognise the significant advancement of knowledge through scientific research, innovation and teaching.
Glaucoma stem cell method
Researchers have made retinal ganglion cells from stem cells derived from human skin cells.
The Indiana University-Purdue University Indianapolis researchers said the method may help improve glaucoma treatments, lead to personalised medicine and help to study the underlying mechanism of glaucoma.
They reported in Stem Cells that they took skin cells from patients with an inherited form of glaucoma and healthy people without glaucoma, and genetically reprogrammed them into pluripotent stem cells, cells which can become almost any cell type.
Bakaraju at the Academy
Dr Ravi Bakaraju will talk about the future of optical interventions and how contact lenses can provide value-added benefits beyond vision correction, at the American Academy of Optometry's annual meeting in Anaheim on 9-12 November.
Dr Bakaraju is an optics and vision scientist and project leader of Vision Innovations Science Technology and Applications (VISTA) at the Brien Holden Vision Institute. He received the Irvin M and Beatrice Borish Award at last year's meeting.
Flu vaccine available 
A new four-strain flu vaccine protecting against the Brisbane virus is being made available for at-risk Australians free from April, to help them build immunity before the peak influenza season in August.
Health Minister Sussan Ley said in a media release that the Australian Government had started rolling out the vaccine with $31.3 million available for up to 4.48 million free doses of the new flu booster.
Barry Cole history talk
Professor Barry Cole will present a lecture on his book, A History of Australian Optometry on 26 April from 6:15 pm to 7:15 pm at the Ian Potter Auditorium, Ground Floor, Kenneth Myer Building, University of Melbourne.
HESTA awards
The 2016 HESTA Community Sector Awards are now open to recognise those making exceptional contributions to social justice in Australia and to recognise the work people do to improve the lives of people and communities, often over a long period of time and in difficult circumstances.
People can nominate an individual or organisation working in the community sector. Nominations close on 19 August.
Filed in category:
Uncategorised