Read time:

1:30min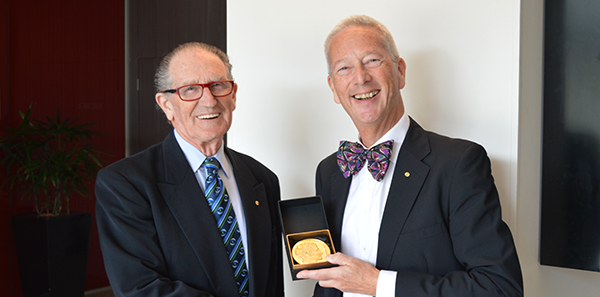 Professor Barry Collin (L) and Professor Nathan Efron
______________________________
By Sandra Shaw
National Communications Manager
Nathan Efron's pleasure at receiving the H Barry Collin Research Medal at the Southern Regional Congress on the weekend was palpable and shared by members of his family in the audience.
Professor Barry Collin presented the eponymous medal following a lecture Professor Efron gave to mark the occasion. The two men's friendship goes back to when Professor Efron was a promising optometry student and then completed his PhD in 1981 at the University of Melbourne.
Professor Efron is a research professor in the School of Optometry and Vision Science, and the Institute of Health Biomedical Innovation at Queensland University of Technology. His current research involves an investigation of novel non-invasive ophthalmic markers of diabetic neuropathy.
In accepting the award, he acknowledged Professor Barry Cole and Professor Leo Carney whom he described as career mentors, and individually listed 385 co-authors with whom he had published work over his career.
Professor Efron demonstrated in his lecture that uncomplicated contact lens wear is intrinsically inflammatory but that low-grade, sub-clinical inflammation of the anterior eye during contact lens wear is positive and protective.
His paper, Contact lens wear is inflammatory, will be published in Clinical and Experimental Optometry in 2016. Professor Collin is the editor of the journal.
Over the two days of the SRC, more than 870 registrants, including 100 students, filled the two lecture theatres. Up to 49.5 CPD points were offered across two streams of concurrent lectures.
A lecture on the Medicare Benefits Schedule and the under-utilisation of some item numbers drew questions from the audience.
Optometry Australia president Kate Gifford attended the lecture.
'Optometrists Luke Arundel and Simon Hanna, part of our Optometry Australia team in Melbourne, have given colleagues at SRC the detail on the impact of the 2015 Medicare changes to rebates to our patients,' Ms Gifford posted on Facebook after the lecture.
' … The decreased accessibility to 10910 rebates for those under 65 has seen this code billed 20 per cent less, and consequential increases in 912/3/4 by 15 to 75 per cent, as you'd expect.'
Avant's senior claims manager and medical advisor, Dr Owen Bradfield, gave a presentation on social media and the legal issues for optometrists, which drew questions from delegates on data privacy restrictions.
Some lectures drew capacity audiences, including the rapid fire session on anterior eye presented by US guest speaker Dr Nate Lighthizer and Associate Professor Mark Roth, and Dr Peter Shaw's presentation on iseikonic lenses.
A panel of five recent graduates shared their experiences of transitioning from study to the workforce, and fielded questions from students from the University of Melbourne and Deakin University.
SRC is the annual conference of Optometry Victoria. It was held at the Pullman Mercure Hotel in Albert Park, Melbourne on 5-6 March.
Filed in category:
Uncategorised