Read time:

1:30min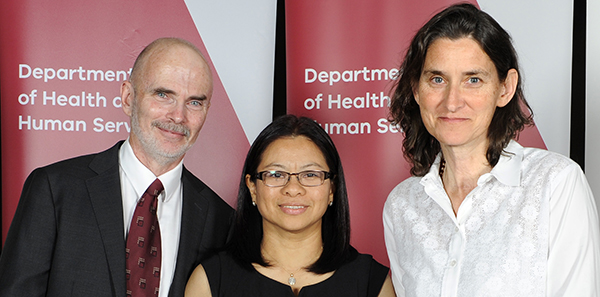 (L-R) RVEEH CEO Mark Petty, with Emergency Department staff members Deborah Digman and Dr Carmel Crock at the presentation
______________________________
By Helen Carter
Journalist
Major award for eye hospital
The Royal Victorian Eye and Ear Hospital won the Secretary's Award for Improving Hospital Performance at the 2016 Victorian Public Healthcare Awards on 12 December.
A program featuring more than a dozen innovations reduced waiting times, improved patient flow into wards and theatres, improved access to emergency and surgical care, and freed staff to fully concentrate on the 40,000 patients seen in the emergency department annually.
CEO Mark Petty thanked all staff members who had worked hard to create efficiencies within the department, making it safer, more patient centred and focused.
Faster access to sight-saving treatment
A procedural change announced by the Pharmaceutical Benefits Advisory Committee on 17 December will reduce bureaucracy and allow faster access to sight-saving treatment for macular diseases.
The previous time-consuming process to obtain PBS approval for use of the drugs was managed by a treating specialist ophthalmologist, who may have only one day a month in a particular location, which could impact the time available to treat patients.
The new process allows another clinician, such as a junior registrar working with the specialist, to manage the administrative tasks, freeing the ophthalmologist's time.
CEO of Macular Disease Foundation Australia, Julie Heraghty, said people living in rural and remote areas needing sight-saving treatment for wet age-related macular degeneration, diabetic macular oedema and similar conditions would especially benefit.
Low vision devices and rehabilitation
Basic low-vision services are sufficient for most patients with low vision who have mild visual impairment, according to a trial comparing low vision devices alone with low vision device use and rehabilitation.
The randomised clinical Veterans Affairs Low Vision Intervention Trial II, published online in JAMA Ophthalmology on 15 December, found basic low vision devices alone or combined with low vision rehabilitation were effective treatments for veterans with macular disease and best corrected distance visual acuity in their better eye between 20/50 and 20/200.
Adding low vision rehabilitation including therapy and homework to teach device use and environment modification increased the treatment effect only for patients with best corrected distance visual acuity in their better eye worse than 20/63.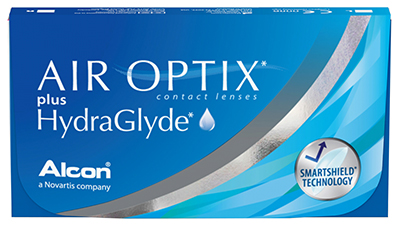 New monthly replacement contact lenses
Alcon's new Air Optix plus HydraGlyde monthly replacement contact lenses are expected to be available in Australia in late February 2017.
The company will hold dinner events in February and March to enable eye-care professionals to learn about the lenses, which will be available with a power range of +8.00 to -12.00 dioptres.
According to Alcon, the lenses incorporate an ultra-thin protective shield that helps the lens resist lipid deposits and delivers outstanding wettability, and a wetting agent for silicone hydrogel lenses that attracts lens surface moisture and retains lens surface hydration.
Bacteria and dry eye connection
Lower meibum quality and function are associated with higher numbers of commensal bacteria on the eyelids, contributing to dry eye, according to new research from the Brien Holden Vision Institute.
Researchers found that those with severe meibomian gland dysfunction had higher numbers of microbial colonies, and men, especially older men, had higher counts of commensal bacteria.
Women on the verge of menopause had higher numbers of bacteria than younger women, which correlates with worsening meibomian gland function around menopause.
The researchers undertook genetic profiling and found no genes associated with meibomian gland dysfunction.
Dyslexic people process sight differently
A basic mechanism underlying sensory perception is deficient in people with dyslexia, according to a study published on 21 December in Neuron.
American researchers said the brain typically adapts rapidly to sensory input including images to make processing more efficient but found that in people with dyslexia, adaptation was on average about half that of those without the disorder.
They examined adaptation to images of written words, faces and objects in people with and without dyslexia and saw much less adaptation in those with dyslexia.
Filed in category:
Uncategorised