Read time:

1:30min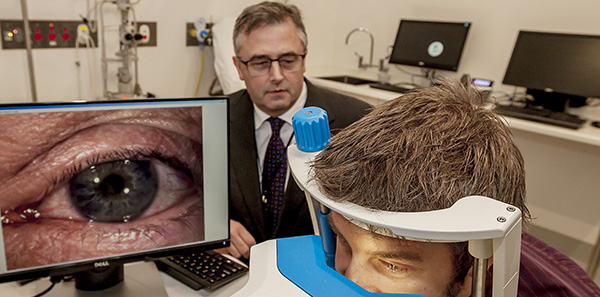 The eyeConnect device at Frankston Hospital   Photo: Peninsula Health
______________________________
By Helen Carter
Journalist
World first saves patient travel
A world first telemedicine system which collects patient data and eye images is being used at Frankston Hospital emergency department to help prevent unnecessary trips to the Royal Victorian Eye and Ear Hospital.
The revolutionary eyeConnect device collects patient data, visual information and eye images complemented by the eyePressure device, a disposable tonometer that indicates the zone of a patient's eye pressure.
The data package is sent to the Eye and Ear's emergency department for review by a specialist doctor who can then provide advice on whether the patient should go to Melbourne for treatment or be treated at Frankston.
In 2014, 2,700 people travelled from the Mornington Peninsula to the Eye and Ear, about 50 kilometres away, for urgent treatment.
The system will help Peninsula Health's emergency department doctors who are not ophthalmic specialists to locally manage patients with eye injuries or conditions, with the help of a remote Eye and Ear specialist where required.
It was developed by local medical technology manufacturer Ingeneus and the Eye and Ear, with Victorian Government funding.
Asia at risk of Zika outbreaks
Various Asian countries are at high risk of Zika outbreaks due to their climate and local mosquito populations, scientists have predicted in a paper published online on 1 September in The Lancet Infectious Diseases journal.
They concluded many countries across Asia-Pacific and Africa were vulnerable to Zika virus.
The scientists used computer models to determine which countries in Asia-Pacific and Africa were at highest risk. They found that countries at highest risk are those with many visitors from areas where Zika is already present, suitable climates for the virus to flourish, and local populations of the mosquito that spreads Zika. In particular, these countries are India, China, the Philippines, Indonesia, Vietnam, Pakistan, Bangladesh and Nigeria.
Optometry Australia warned last month that with the Australian Department of Health confirming 43 cases of Zika virus infections in Australia in 2016, local optometrists were concerned about research linking ocular problems in Zika-infected infants.
An article to be published in the September issue of Pharma next week highlights severe eye impairment in some Zika virus-infected microcephaly infants.
Techno tools for glaucoma
Technological tools to predict and prevent glaucoma blindness is the topic of the 2016 Annual Gerard Crock Lecture on 19 October.
Ophthalmologist and artist Emeritus Professor Doug Coster will deliver the lecture. He spent more than 40 years as a clinician-scientist in eye research and ophthalmology. Professor Coster was appointed to the Chair of Ophthalmology at Flinders University in 1979 and held this position until retiring in 2011.
He remained interested in corneal transplantation and has been involved in large-scale clinical research such as the Australian Corneal Graft Registry, the world's largest collection of data on corneal transplantation.
The Centre for Eye Research Australia public lecture honours the memory and contribution of ophthalmologist the late Professor Gerard Crock. 
Registration is at 5:15 pm and the lecture starts at 6:30 pm in the Kwong Lee Dow building, room 230, University of Melbourne, 234 Queensberry Street, Carlton.  Places can be booked by 14 October by emailing cera-rsvp@unimelb.edu.au or phoning 03 9929 8360.
Liverpool referrals still closed
The eye clinic at Liverpool Hospital in Sydney is still not accepting referrals from optometrists despite a reduction in waiting times for an ophthalmology appointment.
Hospital general manager Robynne Cooke said the hospital had developed a project to improve patient referrals and access to ophthalmology services. This included the Ophthalmology Unit developing strategies to address extended waiting times, which included a centralised referral form and triage guidelines.
She said the average waiting time for an outpatient appointment before the project had been 2.5 years but since completion of the project it had remained less than 10 months.
Ms Cooke said Liverpool Eye Clinic had not accepted referrals from optometrists since January 2009, and this remained unchanged.
CooperVision to launch cAir
CooperVision plans to replace its Avaira contact lens with a new lens called cAir, which is to be launched shortly.
A CooperVision spokesperson said the company would not be launching in Australia the Avaira Vitality monthly silicone contact lenses, which had been launched in the United Kingdom, as the market in Australia and New Zealand had moved to one-day replacement lenses.
Filed in category:
Uncategorised