Read time:

1:30min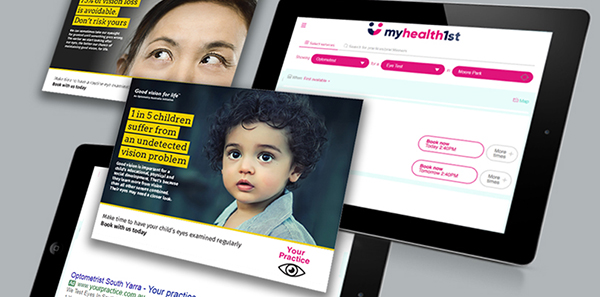 By Rhiannon Riches
Assistant Editor
Optometry Australia is encouraging MyHealth1st membership with an incentive promotion, to highlight its partnership with the online appointment bookings, patient recall and feedback service specialist.
To launch this new partnership, Optometry Australia is offering an incentive to members to sign up to MyHealth1st's online appointment booking service.
'Our goal is to build the go-to consumer hub for eye health, as well as deliver real and direct results to our members via appointment bookings,' national marketing and brand manager Kerry I'Anson said.
MyHealth1st was formerly known as 1st Available. The company's CEO and managing director Klaus Bartosch says the new name conveys that the consumer-centric health portal and related apps deliver a simple connection to better health and well-being.
Consumers can use MyHealth1st to book appointments with a range of health-care providers, including optometrists.
'MyHealth1st's solution enables consumers to view appointment availability and then to book an appointment with the optometrist of their choice, at a location and time that meets their needs. In today's digital world, being able to book an appointment online is increasingly expected by consumers and this technology is becoming progressively vital to remain competitive,' Ms I'Anson said.
'We believe our partnership with MyHealth1st will deliver strong value for the optometry sector, which is why we are behind it and encouraging our members to join via a promotional launch campaign.'
Incentive campaign
The launch campaign comprises the following benefits for members:
Optometry Australia will deliver a tailored Good vision for life advertising package to early members who take out a 12-month subscription to the MyHealth1st Online Booking solution service from 15 February.
The advertising packages will promote each of the first 36 metropolitan optometry practices and the first 12 town or rural optometry practices that subscribe.
The packages will comprise digital and print advertising, depending on where the practice is based.
The total combined value of all packages to be distributed as part of the launch campaign is $90,000.
Each advertisement created as part of the package will be aligned to the Good vision for life campaign creative umbrella.
Read the terms and conditions for details of the packages.
For information and to register your interest in MyHealth1st online appointment booking solution and its patient recall and feedback service, go to the MyHealth1st website.
Filed in category:
Uncategorised