Read time:

1:30min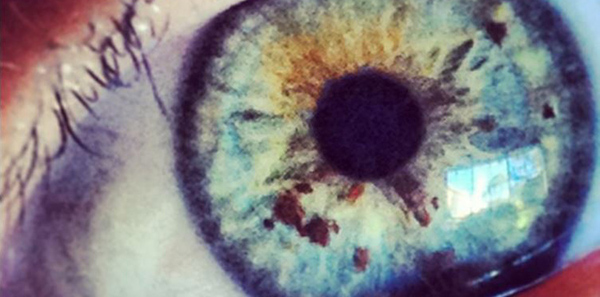 As light hits the hydrogel, gold nanoparticles absorb the light and turn it into heat which softens the hydrogel matrix and accelerates the release of pre-loaded therapeutics that retain their biological activity   Image: CSIRO
______________________________
By Helen Carter
Journalist
Gold may help AMD
Hydrogel infused with gold nanoparticles has released pre-loaded therapeutics when exposed to light and may lead to a reduction in the number of injections required to treat AMD.
A team of CSIRO and Chinese scientists who developed the drug delivery system described the patented method in the international edition of Angewandte Chemie.
CSIRO researcher Dr Johan Basuki said the system might reduce injections by controlling dosing using external light. Gold absorbs light at specific wavelengths then releases it as heat, enabling the polymer matrix to soften, increasing the diffusion of drugs.
In the study the biological activity of the released drug bevacizumab was highly retained.
'Many effective biomacromolecule therapeutics are currently available to patients with AMD, but due to their susceptibility to biodegradation they are required to be administered via an ongoing monthly injection into the eye,' he said in a media release.
'Our system can control the release of drugs though exposure to light, which means a higher concentration can be injected, with the drug release activated monthly using light.'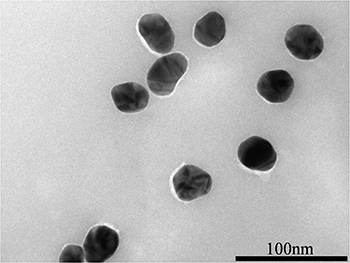 Electron microscopy image of the gold nanoparticles. The white 'cloud' surrounding the particles is the polymer coating (stained)   Image: CSIRO
Medicare cheques stop
Medicare benefit customer cheques have ended and patients instead receive their benefit paid into their nominated bank account.
The Department of Human Services has advised health professionals to tell patients that they must have their nominated bank account details registered with Medicare in order to receive their benefit by EFT within three to five business days. 
Staff can still lodge patient claims online, even if the claimant does not have their bank details registered but instead of receiving a cheque they will receive a letter advising that Medicare owes them money and how they can get their benefit.
Patients can register bank account details by going to the myGov website, using the Express Plus Medicare mobile app, going to the Australian Department of Human Services website to download the MS013 bank account details collection form or calling 132 011.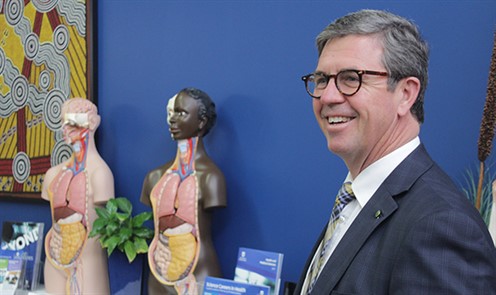 Dr David Gillespie
Health workforce scholarships
Nursing and allied health scholarships will be offered for 2017 through existing scholarship administrators, the Assistant Minister for Rural Health, Dr David Gillespie has announced.
He has agreed to interim scholarship arrangements ahead of the launch of the new Health Workforce Scholarship Program early next year which will increase health workforce participation and promote a better distribution of the health workforce, particularly in rural and remote communities.
A limited round of nursing and allied health scholarships, covering a 12-month period, will be offered for 2017 through the existing scholarship administrators, the Australian College of Nursing, and Services for Australian Rural and Remote Allied Health.
The government has also committed to the continuation of Aboriginal and Torres Strait Islander scholarship programs and is working with the Australian College of Nursing and Australian Rotary Health towards a new round of scholarships in 2017, under the Puggy Hunter Memorial Scholarship and the Indigenous Health Scholarship Schemes respectively.
Cannabis affects retinal processing
Regular marijuana use could change the way eyes work by affecting retinal processing, a small study suggests.
French researchers examined whether regular use of cannabis could alter the function of retinal ganglion cells by using pattern electroretinography to measure electrical signals in the eyes of 28 regular dope smokers and 24 non-smokers.
The study found that in regular smokers, retinal ganglion cells responded 10 milliseconds slower in changes that may impact driving and work.
'As this signal is transmitted along the visual pathway via the optic nerve and lateral geniculate nucleus to the visual cortex, this anomaly might account for altered vision in regular cannabis users,' the authors said in JAMA Ophthalmology.
'Future studies may shed light on the potential consequences of these retinal dysfunctions for visual cortical processing and whether these dysfunctions are permanent or disappear after cannabis withdrawal.'
Optometry access for Indigenous people lowest
Aboriginal and Torres Strait Islander people are more likely than non-Indigenous Australians to live in areas with the least access to optometrists, a new report shows.
The Australian Institute of Health and Welfare report found that about 13 per cent of Indigenous Australians or about 85,000 people, and one per cent of non-Indigenous Australians or 173,000 people, live in areas with access to low rates of full-time optometrists.
The report said this indicated an optometrist workforce supply challenge, and that these Indigenous people also have poor access to services and live in areas which are large and sparsely populated.
Study limitations include that if an optometrist works at more than one location, all of the hours that they report working are assigned to that location. Secondary and visiting practices are not accounted for so the report may have overestimated time at their main practice, and underestimated how many outreach services they provide.
The report was released on 9 December.
Spatial distribution of the supply of the clinical health workforce 2014, Relationship to the distribution of the Indigenous population
Filed in category:
Uncategorised