Read time:

1:30min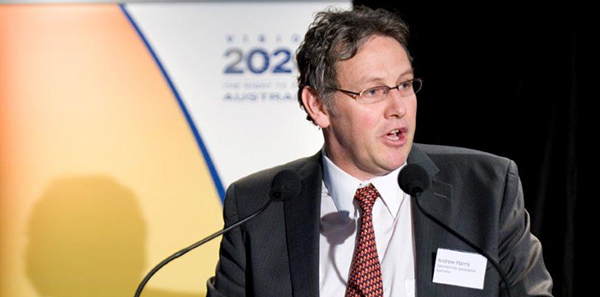 Andrew Harris
______________________________
By Helen Carter
Journalist
Andrew Harris has been elected to the board of Vision 2020 Australia. He is a former president of Optometry Australia, Optometry Victoria and the Australian College of Optometry.
Mr Harris was elected at the annual general meeting of Vision 2020 Australia on 29 November at the Royal Australasian College of Surgeons council rooms in East Melbourne.
Optometry Australia CEO Genevieve Quilty said: 'We were pleased to nominate Andrew given his experience as a clinical optometrist, and his leadership and advocacy experience gained as a director of Optometry Victoria and Optometry Australia.'
Mr Harris was national president of Optometry Australia twice, from 2007 to 2010 and from 2011 to 2014, president of Optometry Victoria from 2001 to 2005, and Australian College of Optometry president from 2010 to 2011. He was also a member of the National Vision Research Institute board from 2006 to 2010.
'Vision 2020 is all about improving public eye health outcomes by working to prevent avoidable vision impairment and blindness in the community. This is achieved through advocacy and by working with everyone in the sector,' Mr Harris told Australian Optometry.
'It makes sense to have different voices around the table. Being on the board will use skills that I have. The experience I have with the association, the college and in Canberra will hopefully fit and I can make some positive contributions.'
Two Vision 2020 board directors, Sydney optometrist Professor Brian Layland and Sydney ophthalmologist Dr Iain Dunlop had completed three, three-year terms so were ineligible for re-election.
Six people nominated for the two positions vacated by them. Elected to the positions were Mr Harris and Newcastle ophthalmologist Dr Anthony Bennett Hall, a vitreo-retinal surgeon and conjoint senior lecturer in ophthalmology at the University of Newcastle.
Returning directors were Australian College of Optometry CEO Maureen O'Keefe, Guide Dogs Victoria CEO Karen Hayes and solicitor John Howie.
Continuing directors not standing for election included the chair Amanda Vanstone, deputy chair Professor Hugh Taylor, Amanda Davis, Jane Edge, Dr Jessica Gallagher and Justin Mohamed.
Fourteen member organisations attended the meeting, including Optometry Australia, represented by national policy manager Kirsty Machon, and a further 20 members were represented by proxy, comprising 89 per cent of voting members.
Every member can nominate someone whom they consider appropriate for the board but the person, if elected, does not represent on the board the nominating organisation.
Ms Vanstone presented the 2015-2016 annual general report and the directors' and auditor reports, including financial documents for the year ending 30 June 2016. Vision 2020 Australia CEO, Carla Northam, presented an outline of the organisation's future direction.
Vision 2020 Australia is a national body working in partnership to prevent avoidable blindness and improve vision care. Its role is to ensure that eye health and vision care remain high on the health, disability and international development agendas of Australian governments.
Vision 2020 Australia is part of Vision 2020: The Right to Sight, an initiative of the World Health Organization and the International Agency for the Prevention of Blindness.
Filed in category:
Uncategorised