Read time:

1:30min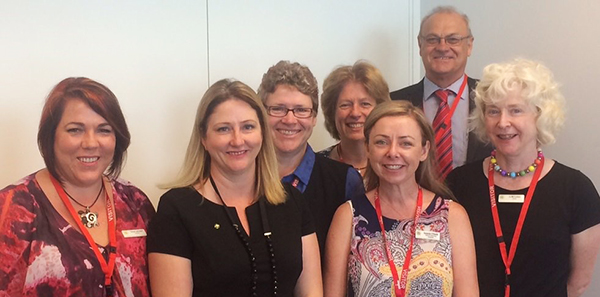 MP Rebekha Sharkie, second from left, with the NRHA council delegation (L-R) Tanya Lehmann, Anne Bousefield, Dr Jenny May, Amanda O'Keefe, Dr Philip Anderton and Jo McCubbin
______________________________
By Helen Carter
Journalist
Optometry Australia's Rural Optometry Group convenor Dr Philip Anderton met with six federal politicians in Canberra last week to help raise the profile of optometry in the bush.
Dr Anderton and other nominees on the National Rural Health Alliance council held meetings with the politicians to discuss problems in rural health and how they can be solved.
They met Assistant Minister for Rural Health, Dr David Gillespie; Assistant Minister for Social Services and Disability Services, Jane Prentice; Member for Mayo, Rebekha Sharkie; Shadow Health Minister, Catherine King; Shadow Minister for Rural and Regional Australia, Joel Fitzgibbon; and leader of the Australian Greens, Senator Richard Di Natale.
Dr Anderton represented Optometry Australia at three days of alliance meetings held on 21-23 November. The alliance has 39 member organisations representing rural health workers.
'Everyone in the alliance makes an effort to provide a unified voice on issues of agreed priority, and not to push their own agenda when interviewing politicians but in this case rural optometry had a great opportunity to inform the rural health sector of what it is doing,' Dr Anderton said.
He said the alliance felt that it was best placed to advise a rural health commissioner who is due to start next April. The new position was proposed as an election promise by the Australian Government.
Dr Anderton told an alliance round table meeting that five conditions were the main causes of blindness in Australia and that in rural areas, optometrists were the professionals who could diagnose these conditions early to stop people going blind.
He spoke about the benefits and reach of the Visiting Optometrists Scheme and how it is highly effective and cost-efficient.
An alliance council meeting discussed primary health networks and heard from Tamworth GP Dr Jenny May that the government should provide guaranteed income in rural areas for health workers.
Dr Anderton relayed a story about a patient who needed cataract surgery but because he didn't have private health insurance, had to wait 18 months for surgery. During that time, his vision deteriorated so much he lost his job as a driver.
Dr Anderton suggested changes to the public system to prioritise cases and avert such occurrences.
A proposed Health Care Homes trial was discussed, in which GPs and Aboriginal Community Controlled Health Services receive funds for looking after patients with chronic disease who attend several times a week.
Dr Anderton said GPs received a retention rate to keep these patients on their books and suggested the scheme could extend to rural optometrists for diabetic eye examinations.
He attended the NRHA annual meeting with Optometry Australia CEO Genevieve Quilty, and a National Press Club address in which five NRHA key priorities were outlined.
They include introducing workforce incentives to support the right workforce into rural and remote areas including distribution incentives, and payments that create an incentive for health professionals to move into poorly serviced areas, especially allied health professionals and nurses.
Other priorities include reducing the gap in health and wellbeing outcomes between rural and urban Australia, supporting the 15 primary health networks covering rural and remote communities, and improving health outcomes for Aboriginal and Torres Strait Islander people.
Royal Flying Doctor Service CEO Martin Laverty said the rate of type 2 diabetes in rural and remote Australia was 3.7 times higher than in the cities.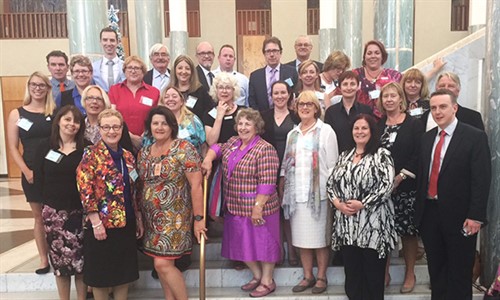 National Rural Health Alliance members in Canberra last week
Filed in category:
Uncategorised