Read time:

1:30min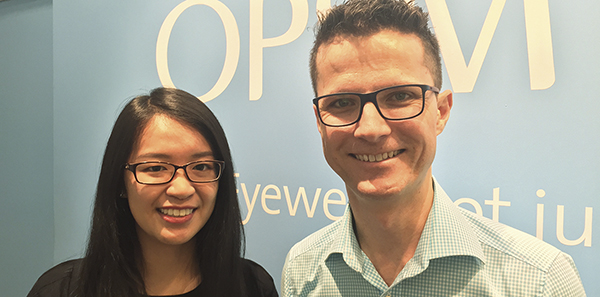 Lece Xu and Bjorn Russell
___________________________
By Helen Carter
Lece Xu, the first Flinders University optometry graduate to practise optometry in Western Australia, was delighted to return to her home state to work.
Ms Xu was one of 12 students to pass the five-year Bachelor of Medicine Science (Vision Science)/Master of Optometry double degree in December 2014 and started work in February at OPSM Gateways in the Perth suburb of Success.
Optometrist and practice owner Bjorn Russell was keen to employ Ms Xu as he has dual consulting rooms and needed another practitioner.
'The fact she is WA born and bred is awesome. It is a huge plus because it gives us stability, her family and friends are here and she knows the area,' Mr Russell said.
'She's fantastic and does a terrific job. Lece has loads of personality, is very thorough with her investigations of patients and is interested in their needs.
'Her clinical placement work means she is walking in with patient experience, which is advantageous, and she understands optometry and has seen it from different views because of the varied placements.'
Her therapeutic endorsement is also a major advantage as Mr Russell is not therapeutically endorsed.
Ms Xu said she became an optometrist because she wanted to help people and felt it would be a satisfying and intriguing career.
'It was a big jump going to Adelaide for five years but it was the optometry school nearest my home. My plans were always to return to Perth near family and friends,' she said.
'It was also a big jump because we were the first batch but having [undertaken] six clinical placements and [seen] 500 patients gave me a very good idea of what it would be like and made it easy to settle down to work.
'It has been really good. The staff is friendly and I have more freedom [than during my placement].'
Ten of Western Australia's 20 new graduate optometrists including Ms Xu gathered on 4 March at Optometry Western Australia headquarters. CEO Tony Martella welcomed them with the hope that Ms Xu would be the first of many Flinders graduates to make Western Australia their home.
'It was a welcome to Western Australia, an opportunity to meet our board, president and some existing members, and let the graduates know who we are, what we do and that we are here to support them,' Mr Martella said.
'Lece contacted Optometry Western Australia in mid-2014, saying she was interested in working in Perth and we started putting her name out there to optometrists thinking about employing a graduate.'
Mr Martella attends optometry school employment expos to represent his state and help recruit graduate optometrists. Often he can offer the students a list of potential employers.
'I am really pleased to see Western Australian students taking up optometry positions at Flinders and then see them returning to work in the west,' he said.
Filed in category:
Uncategorised