Read time:

1:30min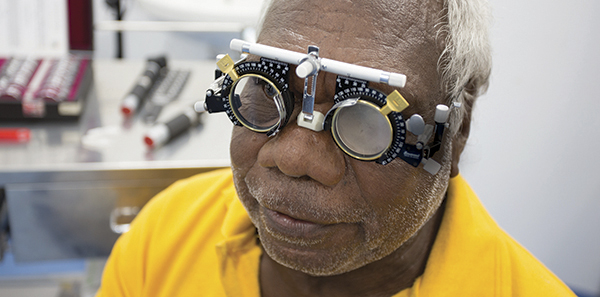 Image: Brien Holden Vision Institute
______________________________
By Ashleigh McMillan
Journalist
The Western NSW Eye Health Partnership has developed new case studies highlighting access issues for low income Aboriginal patients to the NSW Spectacles Program, following a meeting with the State Department of Health.
Optometry NSW/ACT president Christine Craigie and CEO Andrew McKinnon met with senior policy advisers for the NSW Minister of Health on 29 September to discuss access for Aboriginal and Torres Strait Islander people to the program.
To receive spectacles under the current program, recipients need to be on a full Centrelink benefit or pension without extra income, or be a low wage earner on less than the full Newstart Allowance, which is about $14,000 per year. All applicants are required to undergo asset testing. These eligibility requirements for the NSW Spectacles Program have resulted in some Aboriginal and Torres Strait Islander people not being able to access prescription spectacles.
The Western NSW Eye Health Partnership has found that outreach optometrists will prescribe spectacles in the Aboriginal Medical Service, but people may not go ahead and get those spectacle prescriptions filled because they cannot afford to have that done if they are on a low income. The case studies below demonstrate the problems that low-income Aboriginal people are experiencing getting access to prescription spectacles.
Case Study 1
Jerome* is 12 years old and needs spectacles for school. It has been a battle for his single mother, aged in her 40s, to get him spectacles as she works full time but has a low income of $42,000. She also needs spectacles herself but her son takes priority.
The optometrist who visits their community has made spectacles at cost for him, but this expense is difficult for his mother and she has to put off going to the optometrist on many occasions because she can't afford the spectacles.
Jerome has grown rapidly and has had to manage with child-sized spectacles. He gets bullied because of his size, and not having adequate spectacles to enable him to learn properly.
Jerome's mother pays for rental accommodation and needs a car to travel to work as there is no public transport. She is meeting their living costs on her own. There are other adult relatives who are invalid and homeless who need accommodation, and live at the house off and on with Jerome and his mother, which adds to their living costs.
Case Study 2
Linda* works full time. She is also the main carer for her husband and her four grandchildren who are all younger than 16 years of age and live with her. Linda is the main income source in her household.
Linda is a low income earner but her wage is over the threshold for free spectacles, which is income greater than $14,000, the annual amount received by a Newstart allowance recipient.
Covering the costs for rent, food and school fees, while looking after her husband and taking care of her grandchildren, is a strain on Linda financially. Linda wears single vision distance spectacles and even though her spectacles are needed for everyday wear, there are many other costs she must meet first that are vital to her family.
* Names have been changed to preserve anonymity 
Filed in category:
Uncategorised