Read time:

1:30min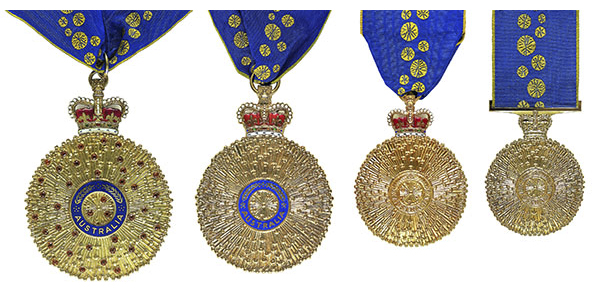 Badges of the Order of Australia for (L-R) Companion (AC), Officer (AO), Member (AM) and Medal (OAM)
Reproduced with permission from the Office of the Official Secretary to the Governor-General
______________________________
By Sandra Shaw
The Order of Australia was created 40 years ago to recognise Australian citizens for achievement or for meritorious service.
There are five award levels (Table below) and awards are made in either the General or Military Division. There have been 34 optometry-related recipients in the General Division and no optometrist has been made a Knight or Dame of the Order.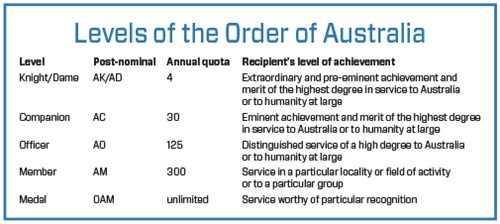 Only one award has been made at the level of Companion, to Professor Nathan Efron AC; and one at the level of Officer, to Professor Barry Cole AO. The remainder have been made at the level of Member (15 awards) and Medal (17 awards).
Two optometrists have been recognised for contributions outside optometry.
Dr Gad Trevaks AM qualified first as an optometrist and then completed a medical degree. He subsequently held senior positions in health-care administration and received his Order of Australia for those contributions.
Optometrist Geoffrey Lawson OAM was a champion international Australian cricketer and was honoured for services to that sport.
Joseph Chakman AM is the only person to be given an award for services to Optometry who is not an optometrist. He served as Chief Executive Officer of Optometry Australia for 30 years (1981–2011).
Interestingly, five citations for optometry-related recipients refer to 'service to medicine in the field of optometry' or words to that effect. This curious phraseology probably stems from the way in which award nominations are stratified by category of service, whereby 'Medicine' appears to be the general grouping for other health-related disciplines with the single exception of dentistry.
All 34 optometry-related recipients of the Order of Australia are listed in the Table below.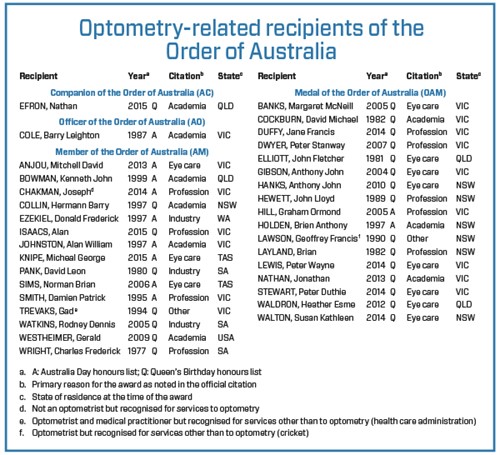 Thirty (88 per cent) recipients are males and only four (12 per cent) are female. This gender imbalance is considerably greater than that of awards as a whole, as 68 per cent of all awards made since 1997 have been to males, and is in part related to the fact that 71 per cent of nominees have been men. Of all nominations received, women have a higher success rate for receiving awards (62 per cent) than men (56 per cent).
The distribution of awards by resident state of recipients is Victoria 47 per cent, New South Wales 20 per cent, Queensland 12 per cent, South Australia nine per cent, Tasmania six per cent, Western Australia three per cent and overseas three per cent. There have been no awards to optometrists from the Australian Capital Territory or Northern Territory.
The over-representation of Victorian recipients in relation to state populations can be attributed in part to the location in that state of the head offices of three peak national optometric organisations—Optometry Australia (National Office), the Optometry Council of Australia and New Zealand, and the Australian College of Optometry. Nine awards have been linked to service to these Victoria-based organisations.
A factor that introduces a bias of awards to optometrists from the eastern mainland states is that until recent years, these states have been the exclusive location of university-based schools of optometry. All nine awards linked to academia have emanated from these states.
One recipient, Professor Gerald Westheimer AM, was originally from New South Wales but has spent almost his entire career at the University of California, Berkeley, USA, which was his primary location relating to his award.
A review of award citations reveals four broad categories of service: eye care to the community and/or disadvantaged (34 per cent of awards), professional organisations (27 per cent), academia and/or research (24 per cent) and industry (nine per cent).
Over the 40-year history of the Order of Australia, 11 (32 per cent) optometry-related awards have been announced on Australia Day and 23 (68 per cent) on the Queen's Birthday, even though an approximately equal number of awards is conferred on each occasion.
The overall number of optometry-related awards has risen considerably over time, increasing from five during the first decade of awards (1976-1985) to 15 in the most recent decade (2006-2015).
This is despite the quotas of awards and the actual number of awards made remaining relatively constant over this period.
The upward trend in optometry-related awards perhaps reflects the increasing recognition, prominence and influence of optometry in health care, academia and research in Australia over the past 40 years.
Colleagues salute energy and vision of researcher and teacher
Professor Efron's achievement in being made a Companion of the Order of Australia means a great deal to his colleagues.
Professor Emeritus Barry Cole from the Department of Optometry and Vision Sciences at University of Melbourne taught Professor Efron as a student.
'I am absolutely delighted by the recognition accorded to Professor Efron in the Queen's Birthday honours this year. It is proper recognition of his hard work, his energy and his vision in taking advantage of the opportunities offered by optometry to achieve and excel.
'I bask in a little of the reflected glory because he is a former student of mine, and a product of the Australian College of Optometry and the University of Melbourne.'
Professor Cole was made an Officer of the Order of Australia in 1987.
Heather and Colin Waldron have known Professor Efron for many years as a fellow optometrist and their paths have crossed professionally in many roles.
'Nathan's wonderful and ground-breaking research is at the pinnacle of eye health research in the world. His work has significantly contributed to promoting professional collaboration for patient care and inter-professional learning. This award is excellent recognition for an exuberant and talented researcher, teacher, optometrist and a great guy,' they said.
Heather Waldron was awarded a Medal of the Order of Australia in 2014.
Professor Helen Edwards, OAM, is acting executive dean of the Faculty of Health at Queensland University of Technology.
'The awarding of an AC to a researcher provides high-level public recognition for a lifetime of international research and professional service,' Professor Edwards said.
'For Professor Efron it acknowledges his achievements and importantly the real difference his work makes to the daily life of people who wear contact lenses and to diagnosing diabetic retinopathy.' 
Badges of the Order of Australia
The AC badge is a six-centimetre convex disc made from gold, in the form of a golden wattle flower, with a rich texture of beads and radiating lines.
At the centre is a blue enamelled ring representing the surrounding sea, with the word 'Australia' below two golden wattle branches.
The disc is surmounted by an enamelled Crown of St Edward signifying the position of the Sovereign as Head of the Order and the badge is decorated with citrines.
The AO, AM and OAM badges are similar in design but are progressively smaller, made from gold-plated silver, and do not have citrines. Only the crown is enamelled on the AM badge. The OAM badge is plain, without any enamelling. The badges for the General and Military Divisions are identical.
The ribbon of the Order for the General Division is blue with a central stripe of golden wattle flower designs; that of the Military Division has additional golden edge stripes.
Filed in category:
Uncategorised