Read time:

1:30min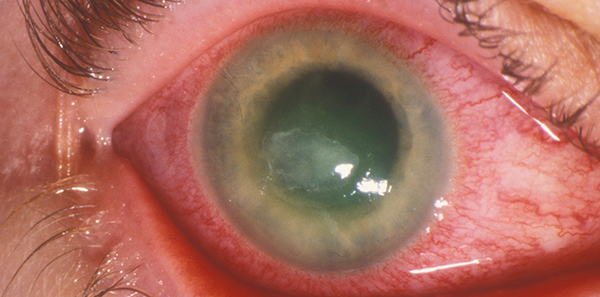 Acanthamoeba keratitis   Images: Royal Victorian Eye and Ear Hospital
______________________________
By Helen Carter
Journalist
Acanthamoeba keratitis appears to be occurring less often in Melbourne but researchers say contact lens wearers should remain vigilant about hygiene, avoid swimming while wearing contact lenses and never rinse them in tap water.
Frequency of cases presenting to the state's eye hospital has dropped in Melbourne over the past two decades according to their study published last week. It reviewed all 34 cases of the sight-threatening corneal infection managed at the Royal Victorian Eye and Ear Hospital over the past 18 years.
'Overall, there was a decreasing incidence with 17 cases identified from 1998 to 2003, 12 identified from 2004 to 2009 and five identified from 2010 to 2016,' the researchers wrote. Most were treated successfully but a small number experienced vision impairment.
Of 36 affected eyes, 31 or 86 per cent of cases were associated with contact lens wear, consistent with previous studies in developed countries.
While 19.3 per cent of the contact lens wearers admitted to wearing their lenses while swimming, with contamination of pool water a hazard, another 22.6 per cent admitted to rinsing their contact lenses with non-sterile tap water, instead of the recommended contact lens cleaning solutions.
Many cases admitted poor contact lens practices, including 38.7 per cent admitting prolonged contact lens use, 22.6 per cent omitting disinfection and 16 per cent having prolonged case use. Five cases or 14 per cent were in daily disposable contact lens wearers.
'Daily disposable contact lens wear is intuitively expected to reduce the risk of developing Acanthamoeba keratitis,' researchers wrote. 'However, it is worth noting that the use of daily disposable contact lenses does not preclude an individual from developing AK.'
In 26 eyes, the infection was diagnosed early within a month while in 10 eyes, infection was diagnosed late, more than 30 days after infection. Those with late diagnosis had statistically significantly worse presenting and best corrected final visual acuities. Researchers said late diagnosis was associated with a prolonged disease period and indicated need for early recognition and management.
Signs associated with early Acanthamoeba keratitis included epithelial infiltrates, while signs of late infection included uveitis, ring infiltrate, endothelial plaque and corneal thinning.
Eighty per cent of cases resolved with medical therapy alone, while surgical treatment was required in one in five cases, and all except one of the surgery cases had eventual improvement in visual acuity.
Overall, 80.6 per cent reported improved visual acuity compared with visual acuity on discharge, although five stayed the same and two worsened.
Researchers concluded that Acanthamoeba keratitis was an uncommon cause of severe keratitis.
Patients ranged in age from 19 to 79 years, and cases were evenly distributed among males and females, with those aged 21 to 40 comprising the biggest single age group affected, followed by those aged 41 and older.
Cases not associated with contact lens wear included an ocular trauma from a gardening injury, an immune-compromised patient with diabetes and lung disease, and a patient who had previous herpes simplex virus and microbial keratitis in the context of anterior scleritis secondary to rheumatoid arthritis.
Filed in category:
Uncategorised