Read time:

1:30min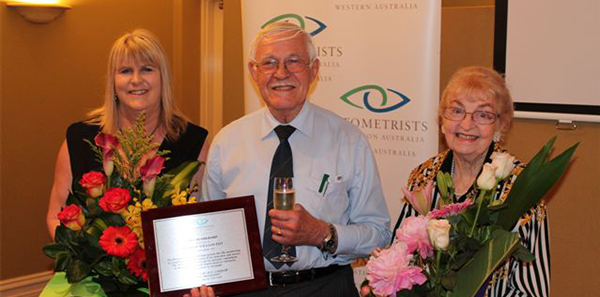 ______________________________
Optometrists Association Western Australian Division has awarded its fourth life membership to Perth optometrist and indigenous health campaigner Graham Fist.
Mr Fist's family has been caring for eyes for 116 years. Sixty years after starting in the family practice, he still works full-time between his city and Kalamunda practices, and works one day a week at the Royal Perth Hospital Eye Clinic where he is the longest serving optometrist.
A passionate advocate for indigenous health issues, Mr Fist visited remote Aboriginal communities doing mission work with the Methodist Church and for nearly 20 years was a visiting optometrist throughout the north-west of WA, including recently around the Kimberley with the Margie O'Neill North West Optometry Program.
He also provided volunteer optometry services in Kandilli, in the region of Tamil Nadu, India.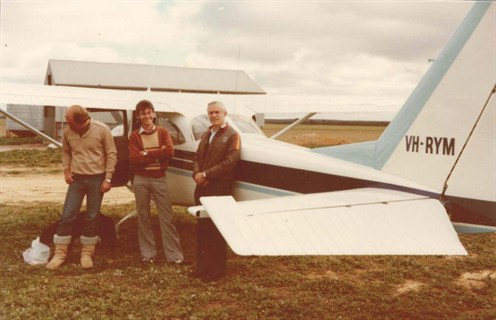 The Kimberly aircrew (and dog) getting Graham, far right,
ready for take-off on one of his remote optometry trips.
Mr Fist served at the Association for the Blind WA Low Vision Clinic and was a Councillor of the Optometrists Association WA Division.
The Division honoured Mr Fist, 77, with a surprise announcement at the Celtic Club in West Perth on 29 November.
The event was attended by 30 invited guests he has worked with over the years including his dedicated optical dispenser, secretary and wife Noele, and receptionist Suzie Cleverly who has worked for him for 28 years.
Division CEO Tony Martella was MC and President Darrell Baker presented Mr Fist with a plaque.
'It was a great night and the members really got behind Graham. In his typical modest reply, he was humbled and pleased to have been acknowledged by his peers and the association,' Mr Martella said.
'He reminded all gathered to not only enjoy what they do but to be happy doing it at the same time.'
Mr Martella said: 'Graham's commitment to the profession, his patients and overall his belief in doing good for others has made him not only a worthy recipient for OAA life membership but a true gentleman and person of the community.
'Over the years Graham has been a vocal and strong proponent for indigenous health issues, especially those relating to diabetes and eye health.
'He has continually written to, met with and lobbied Federal and State governments and Ministers on these issues and remains passionate in not only helping those in need but also making a real difference.
'Diabetes and macular degeneration are high on his list of concerns and he always looks to educate and inform those in office as to the importance and need to deal with these diseases.'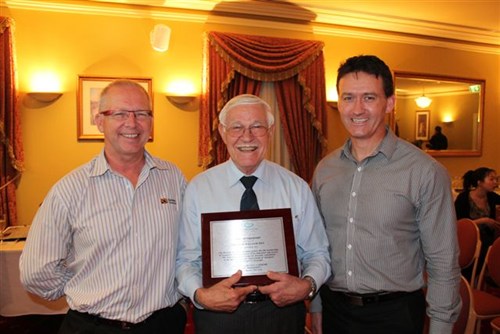 Gary Crerie, Graham Fist and Darrell Baker (OAA WA President)
A strong supporter of the association's education program, he attends many CPD events and is an accomplished church pipe organist.
Having a great-grandfather with eye problems prompted his family to venture into optics. Mr Fist's great-grandfather John W Fist arrived in Tasmania on a convict ship in 1852.
'John was cross-eyed and his elder son William went to considerable lengths to learn how to treat his father and in the process was taught to be an optician,' Mr Martella said.
'William initially earned a living as a salesman then combined this with patent medicines and optics, first registering Associated Opticians Company in Carlton in 1897.'
In 1899 he took the company to Adelaide and in 1900 opened a store at 507-9 Wellington Street, Perth. William and Arthur Bennett practised in Central Arcade, Perth, and his son Gordon John William Fist was his first apprentice.
Gordon was optometrist and manager of the optical manufacturing section of the company. His son Graham started in the family business as a 17-year-old in 1953 and his brother Stuart joined in 1954.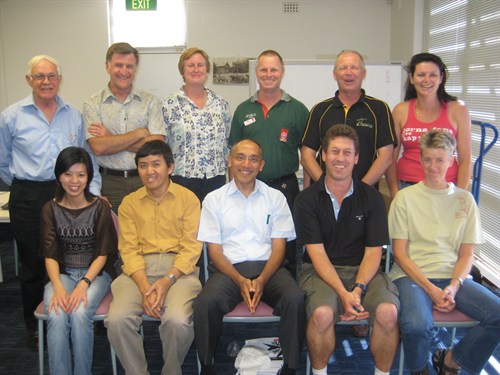 The North West Optometry Program team with Margie O'Neill, standing far right,
and Graham Fist, standing far left. They had just completed
CPR training as a requirement of the program.
Graham was doing National Service and learning to fly Tiger Moths when he started optometry studies at the University of Western Australia. As part of the course, students had to work one day a week in a grind shop.
'He used to fly over Noele's house and drop little parachutes containing messages, some of which landed in the neighbour's yard but they took them in to her,' Mr Martella said.
Mr Fist graduated with a Diploma of Optometry in 1958 from UWA and in his class were other well-known WA optometric names including Ezekiel, Knapp and Hogan.
When his father died in 1976 he took over the family business.
Colleagues who paid tribute included Margie O'Neill.
'I feel fortunate to have crossed paths with Graham in Aboriginal health over more recent years. I am both amazed and truly humbled by his encyclopaedic knowledge on diabetes and his generosity in sharing his extensive skills with humour and kindness,' she said.
'Graham is an eternal advocate of optometry. He is a caring and gentle man and a wonderful role model for all optometrists. His lovely smile has left a legacy amongst the Aboriginal people of the Kimberley.'
Dr Paul Levi said: 'It is an award that you richly deserve, having given decades of service to the profession and to the association.'
Damon Ezekiel added: 'You have set a terrific example for the younger generation of optometrists who are coming through. Your integrity and commitment to the WA optometry profession is something you should be very proud of.'
Filed in category:
Uncategorised