Read time:

1:30min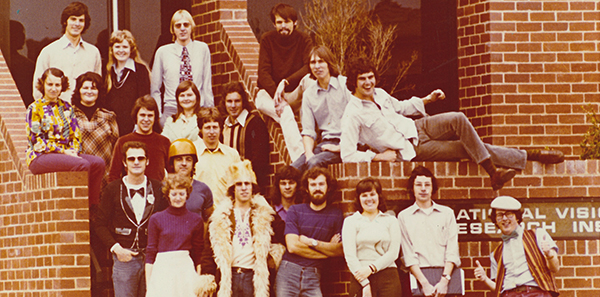 University of Melbourne optometry class of 1976
(L-R rear) Chris McDonald, Deborah Lapthorne, Merv Trimper, Colin Bates. (Middle) Maria Greene (nee Dobes), Debra Boyce, Alan Greenhill, Judith Orenstein, Mark Leverett, Peter Cunningham, (on wall) Peter Craven, Russell Lowe. (Front) Michael Edwards, Jean Walters, Rod Fullard, James Moran, Randall Lamont, Tim Fowler, Patricia Kiely, Chris McGuire, Nathan Efron.
______________________________
By Helen Carter
Journalist
University of Melbourne final year optometry classes from 1976, 1986, 1996 and 2006 are invited to attend evening reunion tours at the Department of Optometry and Vision Sciences in June.
The department is holding reunion tours of its new teaching, research and clinical facilities for the 2006 class on 14 June, the 1996 class on 16 June, the 1986 group on 21 June and the 1976 class on 23 June.
Dinner in Lygon Street, Carlton is planned for the groups after the tours.
Head of department Professor Allison McKendrick said she hoped that the tours would offer a wonderful opportunity to meet old friends and see what had and had not changed since the groups had studied.
'There have been many exciting changes in the department, particularly as we have commenced our postgraduate OD course,' she said. 'We would be delighted to have the opportunity to show your class our new on-campus training facilities, our expanded EyeCare clinic, and some of our research laboratories engaged in the science that drives optometry's future.'
Those attending the 40-year reunion might remember the big news events in optometry in 1976. According to A History of Australian Optometry by Barry Cole, these include Ian Bailey and Jan Lovie devising the LogMAR chart to measure visual acuity, the University of New South Wales establishing a department of optometry, and Brien Holden establishing the Cornea and Contact Lens Research Unit at UNSW. In the US state of West Virginia, optometrists obtained rights to use therapeutic pharmaceutical agents.
The 45-minute tours will start at 6:30 pm at the University of Melbourne EyeCare clinic, 800 Swanston Street, Carlton.
People attending should state whether they will attend the reunion and the dinner when they RSVP to Thomas Cougan tcougan@unimelb.edu.au or phone 8344 7003 by 27 May.
Visit the Alumni website
Filed in category:
Uncategorised