Read time:

1:30min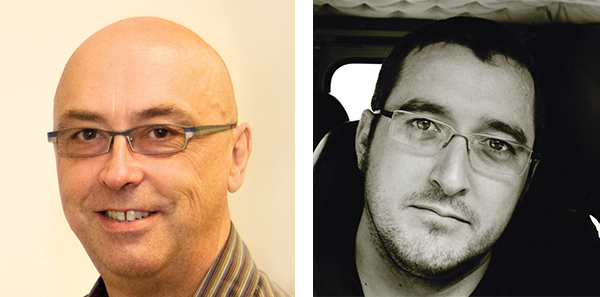 Dr David Wilson (L), Grant Hannaford
______________________________
SA Blue Sky Congress 2014 is a one-stop-shop for quality education for optometrists and optometric practice support staff.
Optometry South Australia's congress, which will be held in Adelaide on 7-8 November, offers up to 36 CPD points for optometrists and six CPD points for members of the Australian Dispensing Opticians Association (ADOA). For the first time, SA Blue Sky Congress features two separate streams: one for optometrists and another for optical dispensers and front-line optical staff.
Registration for the optical dispensing stream is only $245 per person including GST. Participation will provide ADOA members with 50 per cent of their annual CPD point requirements and non-ADOA members' attendance will be recognised by a Certificate of Completion awarded jointly by ADOA and Optometry South Australia.
Optometrist Elise Pocknee-Clem from Eyre Eye Centre in Port Lincoln said the congress had solved her practice's staff training dilemmas because it could ensure all of its team was motivated and inspired by quality professional development.
Optometry South Australia CEO Libby Boschen praised the congress's committee of experienced optical dispensers for developing a program that was evidence-based and a blend of practical, take-home learning outcomes that could be used in the practice tomorrow, combined with forward-thinking, inspirational content.
'The committee has met our brief to develop all that is sensational about the congress for our optical dispensing and front-line colleagues,' Ms Boschen said. 'Our keynote speaker Dr David Wilson has lectured on optical dispensing all over the world and written several specialised optical dispensing text books.
'He will be joined by experts from across the world of optics and optometry to provide a full day of relevant and inspiring lectures. Day two will feature a full trade exhibition and a range of practical small group workshops.'
Workshops will be facilitated by experts and include dispensing difficult prescriptions, best practice for facial measurements, advanced measurement techniques, getting the best from progressive lenses, and being a great coach for your contact lens wearer.
The dispensers stream speakers will discuss spherics, atorics and biaspherics, balancing business and health care, a critique of the latest dispensing technology, Lasik and cataract, contact lenses, sunglasses, advanced lens dispensing and building business by creating trusting patients.
Optical dispenser Grant Hannaford will outline a tool kit for dispensing the optimum progressive lens. Mr Hannaford is an optical dispensing teacher and vice president of the ADOA, and runs a practice with his wife optometrist Thao Hannaford in Bowral, NSW.
'There was a lot of interest from independent optometrists attending ProVision's 25th anniversary conference in Hobart in October,' Ms Boschen said.
'I am also delighted to be expecting delegates employed in national and South Australian corporate optometric service providers, small and large. This is a great melting pot for optical dispensers from all backgrounds to share and talk.'
The conference features lectures, practical workshops, a trade event, crèche and social events including a rural dinner on the Thursday night and a mystery tour at The Sanctuary Function Centre at Adelaide Zoo on the Friday night.
For optometrists, SA Blue Sky Congress will deliver as it usually does, with the same high-quality education delivered with energy in an entertaining way. The key speaker is Professor and Chairman of the Department of Clinical Education and Director of the Office of Continuing Professional Education at the State University of New York College of Optometry, Dr Richard Madonna.
His topics include differentiating glaucomatous from non-glaucomatous optic neuropathies, best practice and future use of spectral domain OCT in retina, glaucoma and anterior segment diagnosis, new ideas and controversies in glaucoma, and provocative clinical grand rounds.
Other speakers will cover topics including amblyopia, aviation optometry, myopia in children, keratoconus and visual presentations of various drugs.
Register at www.optometry.org.au/SA.
Filed in category:
Uncategorised