Read time:

1:30min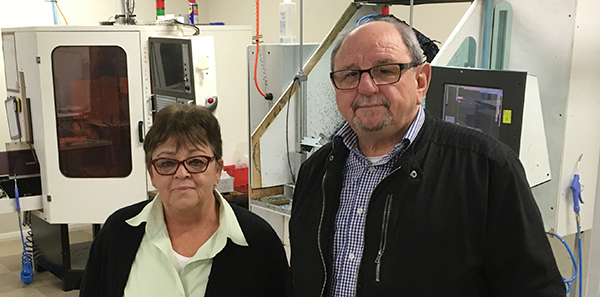 Gino Trigatti with Heather Young
______________________________
By Rhiannon Riches
Assistant Editor
A phone call from an accountant to a client previously in the steel industry has saved an Australian spectacle manufacturer from going out of business.
In August last year, Optex Eyewear in Dubbo was about to close its doors. The then owner and the new co-owner, John Hansen, happened to have the same accountant.
'My accountant called and asked if I was interested in buying the business. He said the owner had been trying to sell it but without success,' Mr Hansen said.
Mr Hansen was previously a managing director of an industrial steel company that had more than 3,000 employees. He retired in 2003 to his cattle properties. 'I sold the farms in 2010 and moved down to Newcastle, and then to Wollongong.'
When his accountant called about the opportunity, time to make a sale had run out for Optex.
'I worked out a business plan on a plastic table mat in a Dubbo Hotel and I made my decision that day,' Mr Hansen said. 'I jumped in head first'.
Joining him is his business partner Gino Trigatti, with whom he worked in the steel industry for 30 years.
They renamed the business Clive & Wally Pty Ltd. Mr Trigatti is manager director, based in Dubbo, and Mr Hansen is CEO, based in Wollongong. In September they relocated the business.
'We had no choice but to move from the industrial shed to a more suitable location in the heart of Dubbo,' Mr Hansen said. 'Acetate is susceptible to heat and cold, and the tin shed had no insulation so the acetate was exposed to extreme ranges in temperature.'
Three former Optex Eyewear employees, the original owner, senior sales manager Heather Young, and production supervisor Peter Robinson, stayed to establish Clive & Wally. 'We've been able to rehire staff. We started with three employees and now we have eight,' Mr Hansen said.
The new owners focused on fitting out the new facility and officially opened for business at the end of January.
New South Wales Deputy Premier Troy Grant visited the new Clive & Wally Eyewear manufacturing facility when it opened.
'We started with virtually no customers. Optex's biggest customer was Vision Care in New South Wales, a government-funded program but that was taken away when the government changed the program. Now we have a growing base of some 380 customers: optometrists.'
Mr Hansen, Mr Trigatti and Heather Young have travelled extensively to meet optometrists face to face. 'We don't sell to the public. We made that decision early on in the process because you can't be all things to all people,' Mr Hansen said.
Australian made
'The only way independent optometrists in Australia can distinguish themselves is by offering something that multinationals cannot or do not, which is Australian made product. Our niche claim is that we sell and stock 100 per cent Australian made spectacles,' Mr Hansen said. 'It's a big selling point. We also offer a two-year warranty against any defect.'
He said that under the former ownership, back orders took four or five months to fill. 'That's too long to wait for a pair of spectacles.'
Mr Hansen and Mr Trigatti have taken a different approach, manufacturing minimum quantities to ensure they always have 25 pairs of every item in stock.
'If we're going to compete, we have to always have stock available,' Mr Trigatti said. 'We're also offering one-for-one replacement if an optometrist doesn't sell one of our frames for 12 months.'
On the road
Clive & Wally merchandise has been exhibited at trade shows to raise the brand's profile among independent optometrists.
'We have been to trade shows in Brisbane, O-Show in Melbourne, and we're going to WAVE in Perth in August, as well as displaying at Silmo and ODMA in Sydney next year. Gino went to MIDO in Milan in February, looking at the latest in acetates in the European market and the latest ideas in the fashion industry, as well as the latest in spectacle manufacturing equipment,' Mr Hansen said.
'Frame manufacturing businesses in the European market are starting up again, instead of buying from India and China.'
'We are focused on providing good quality product and service. Quality, service and price, as the saying goes. You can pick any two, but you can't have all three.'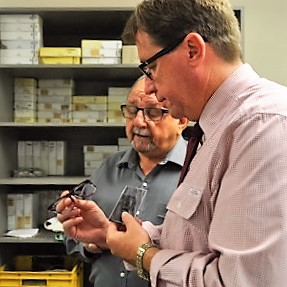 Gino Trigatti (L) with New South Wales Deputy Premier Troy Grant
Filed in category:
Uncategorised