Read time:

1:30min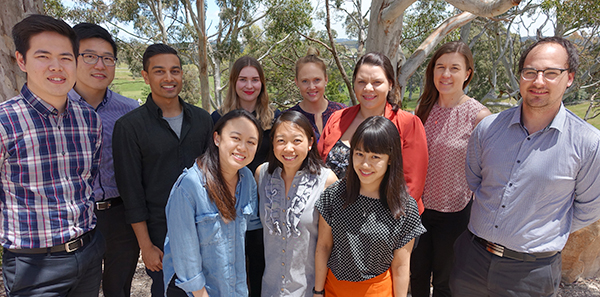 Participants in the Early Career Optometrists meeting held at SA Blue Sky conference
______________________________
By Ashleigh McMillan
Journalist
The Optometry Australia board has endorsed and warmly welcomed the establishment of state-based networks to support the country's early career optometrists.
The formalising of a network of Early Career Optometrists groups based in each state was the outcome of a national meeting held in November 2016 in South Australia during the SA Blue Sky conference, facilitated by Optometry Victoria member services and policy adviser Michelle Marven.
Optometry Australia's board received a report from this meeting, which highlighted a number of policy area priorities on which the ECO members have sought engagement, future discussion and action.
The groups will work through their state organisations to support and advocate in the interests of Optometry Australia members who are in the first decade of their career. Primary issues identified in the report focused on supporting and developing opportunities for young optometrists to practise to the full extent of their training.
Optometry Australia has agreed to support the groups to develop a nationally-consistent 'look and feel' for materials that can be used to brand and promote their activities and advocacy work, and has commenced this work.
Initiative and drive
National president Andrew Hogan said he was impressed by the initiative and drive of the members behind the establishment of these groups, and their enthusiasm for tackling head-on new and emerging issues in the profession, such as future scope of practice.
In NSW, early career optometrists will continue under the banner of Young Optometrists NSW and will work in partnership with the national organisation to provide continuing professional development and other opportunities, Mr Hogan said.
'The ECO groups formed in each state organisation will work together with state boards and members to develop and generate their own particular activities. As part of our strategic planning process, we will be seriously examining the issues they have put on the table for us. Some of their ideas will no doubt challenge our own thinking and move us forward.
'We will also do what we can to support the future leaders of our profession to become even stronger advocates for the career they have chosen as health professionals, and to understand the history of the profession in context,' he said.
Mr Hogan said he was encouraged by the enthusiasm of the collective leadership of the ECO groups, and hoped that for some, this would build skills and inspire them to consider future leadership opportunities with the state or national organisations.
Filed in category:
Uncategorised