Read time:

1:30min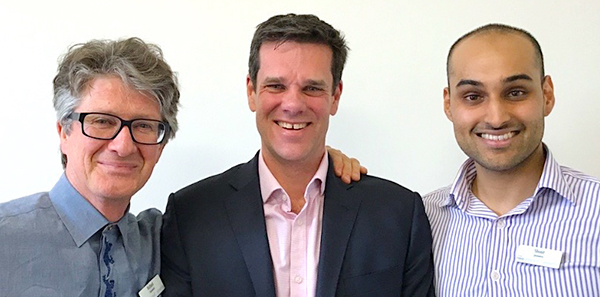 (L-R) Richard Vojlay, finance specialist Trevor Knowles and Shonit Jagmohan
______________________________
By Philip Ritchie
Journalist
Shonit Jagmohan has entered a practice partnership for the first time, with the help of Optometry Finance Australia.
Shonit had wanted to buy into Vision Camberwell, a Melbourne practice with a strong contact lens base, as soon as he was taken on board as an optometrist in March 2016. He and the owner had agreed to consider equal-share partnership after one year in the position.
'I went in wanting to know the practice and the owner, but I was also completely transparent that I was looking for somewhere to settle down,' Shonit said. 'I never wanted to be a sole owner. I'd love to learn from someone who's got the experience.'
Almost a year after joining Vision Camberwell, Shonit started the partnership process with Richard Vojlay, who had been the sole owner for 26 years. Richard is an Associate Professor at the University of Melbourne.
Shonit has a Bachelor of Optometry from the University of Auckland and began practising in 2009.
Paul McKinley is managing director of Optometry Finance Australia. He helped Shonit secure finance to purchase a share of the practice.
'We're a niche independent finance broker that's tailored towards finding the right funding solutions for optometrists nationwide. The services we provide include finance for equipment, fit-out, motor vehicles, practice purchases, and commercial, residential and investment property,' Paul said.
'We encourage members to approach us before they make buying decisions. You can go in knowing what you can afford to spend and what it's going to cost you. To go in with a pre-approval sticking out your back pocket gives you buying power.
'The banks pay us a commission for doing the deal, so there's no cost for the optometrist.'
Shonit first contacted Paul in November 2016.
'The first thing I said to Paul was that I'm an amateur, I don't know what's going on, all your help would be greatly appreciated,' Shonit said. 'It was a 10-month process of discussions, evaluations, sorting finance, planning the succession over the coming 15 years and making sure that everything was acceptable for Richard.'
Shonit said the best part of working with Optometry Finance Australia was how streamlined the process was, as Paul guided him through it.
'Paul gave advice on how businesses are valued and how the process can go: "You need to agree on an evaluation, you need to agree on a number and you need to agree on a shareholder agreement,"' he said.
'Because he kept telling me the next step it meant that for someone who'd never been through the process before, I could continually move forward and keep the process moving. It was nice to work with someone who's been through it multiple times and bounce ideas off him to make sure that what we were doing wasn't ridiculous.'
Shonit said Paul's role in creating a business plan and getting the case accepted had been a huge help, freeing time to focus on patients.
'I'm booked a month in advance and Richard's booked about two months in advance. All those phone calls and follow-ups that Paul did for me, I would have had to do during consulting time or after hours, and other people don't work after hours,' Shonit said.
'At one stage, my accountant was talking directly to my lawyer and Paul without my being involved because it was so complicated getting some of the legal stuff sorted. If I had had to be in the middle of that, it just wouldn't have worked.'
Shonit found Paul was up front about the cost of his services. 'He said that when the loan gets accepted, a percentage of the repayments go to Optometry Finance Australia, and Paul was transparent about the commission.
'Paul's service was free the whole time during negotiations. Between December 2016 and September 2017, I didn't pay anything. 'There was a stage there where we were talking at least once a week updating him and asking questions. He was always available. For the amount of work he's done, the commission is completely acceptable.'
Shonit had been seeking a partnership in a practice for some time before settling in Camberwell, but he hadn't found the right business to buy into.
'My advice would be to be patient and take your time to do the due diligence and seek advice from people who are specialised in those areas. For finance, for example, we did go to a lawyer and we did go to a broker.
'There's so much co-ordination between lots of different people and entities that you really want people who are good at what they do.'
Want more information? Visit Optometry Finance Australia's website, call 1300 678 346 or email info@optometryfinance.com.au.
Filed in category:
Uncategorised