Read time:

1:30min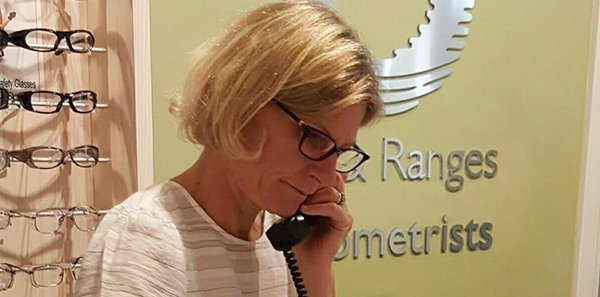 Tiffany Hancock
______________________________
By Helen Carter
Journalist
A 'nightmare' experience connecting to the National Broadband Network left Gulf & Ranges Optometrists in Port Augusta an estimated $60,000 out of pocket, according to its owners.
Practice manager Tiffany Hancock and her optometrist husband Mitch Hancock told their story to Australian Optometry to try to help other practices planning to connect to the NBN so they are aware of potential problems and can be prepared in case they experience similar issues.
Mrs Hancock said it took three weeks to switch to the NBN, and during this time the practice was without phones and had intermittent service for a further three weeks.
For the initial three weeks, the mother of four young children said she worked daily from 8 am to 10 pm with technicians at the practice trying to resolve the 'stressful and frustrating' issue.
The Hancocks now have a claim before the Telecommunications Industry Ombudsman for reimbursement from Telstra NBN for $60,000, supported by a log detailing expenses and lost time, inconvenience and stress they encountered due to the problems. Mrs Hancock kept a record of fault reports made to Telstra NBN, the length of call times, who was spoken to and call log numbers.
The main cost was lost productivity as they estimate they lost thousands of dollars by patients not being able to contact them by phone to book appointments. Mrs Hancock compared the number of patients who attended and practice income for the period in 2016 when they were without phones, with the same period in 2015 and 2014.
'We estimate we are about $60,000 out of pocket,' she said.
Other expenses included buying a mobile phone to be the practice phone while landlines were not working, and advertising the new mobile number on television and in other local media, emphasising that they were open despite people being unable to get through on the practice number.
No-one answering
'Patients were saying they were calling and calling but no-one was answering,' Mrs Hancock said. 'The team would be on the phone, and another call would come in which would knock out both calls. At times it was extremely difficult to hear the patient calling the practice as the line was so unclear or one side of the call could be heard but not the other.'
The NBN is Australia's new landline phone and internet network designed to provide access to fast broadband and phone services. The practice switched to the NBN in July 2016. While NBN is the wholesaler building the network, the Hancocks chose Telstra NBN as the retailer/service provider.
'We thought we were organised and had everything well planned but problems began after the NBN box was fitted and the technician cut the copper cables,' Mrs Hancock said.
'All internet access was disconnected. We had no phone lines, no EFTPOS, no HICAPS and were without phones for three weeks and had intermittent service for a further three weeks. It was very stressful.'
Their answering machine, which they turn on overnight to take messages and is separate from the phone system, also didn't work.
Installing the NBN added 101 home messenger to the phone system but they had not been advised so were unaware that people were leaving messages on this system. When they discovered this, there were 27 unplayed messages from patients.
HICAPS not compatible
Mrs Hancock said the existing HICAPS machine was not compatible with the NBN so HICAPS upgraded it to a different machine, but that also did not work. She said the only way to access HICAPS was to downgrade to old technology and use ether lines to ensure integration with Optomate practice management software and move the internet service to an alternative provider.
Mrs Hancock said the HICAPS technician had been outstanding in helping upgrade their systems but during this time patients were forced to postpone collection of their spectacles or to manually claim their health fund entitlements. Patients reported it took six weeks to receive health fund rebates.
Local IT company Arid Lands Communications was present when NBN technicians were there and kept explaining that there was nothing wrong with their computers or phones as they used the same systems and theirs worked with the NBN, she said.
'The Telstra NBN help-line technicians were concerned with the band width and would continually alter this,' Mrs Hancock said. 'There were so many issues Telstra NBN local technicians decided to replace the NBN box with a new one to try to solve problems but it happened all over again so we changed the band width a third time and replaced the box again.
'The whole thing was a nightmare, just horrendous. I repeatedly called Telstra who said it wasn't their problem and I should call NBN, so I called NBN who said it wasn't their problem call Telstra.'
The Hancocks alerted their local Federal MP, former Communications Minister Rowan Ramsey, who elicited an apology from Telstra and urged the Hancocks to contact the Telecommunications Industry Ombudsman.
Claim with ombudsman
The practice lodged a claim with the ombudsman, which has still not been settled.
'If your business has problems with the NBN switch, keep a log recording everything,' Mrs Hancock said. 'Keep records of your outgoing expenses, receipts to prove you had to spend extra money such as the mobile phone we bought so patients could call the practice, and make sure the NBN box is easily accessible.
'Every time I called Telstra NBN and the ombudsman, I had to keep retelling the story as different people would answer, so record your reference number which escalates you in the queue and they can see the history.'
Mrs Hancock said the problems were not unique to their practice. She said a local hairdresser, jewellers and the shoe store had had no phone for weeks, affecting their businesses, and a woman in a wheelchair was left at home with no phone.
The system is now set up using different providers for internet access and HICAPS, and three stand-alone phone lines.
'We are continuing to have calls drop out and as recently as late January spent two hours with no dial tone. We still have phone calls drop out at least once a day but we aren't game to change anything,' she said.
An NBN spokeswoman told Australian Optometry: 'Telstra is not NBN. They are two completely separate entities. Telstra in this case is the retailer. NBN is the wholesaler. NBN hasn't had any known outages to their fixed line service in Port Augusta in recent times.'
A Telstra spokesperson told Australian Optometry they were unaware of any recent issues with the customer's service but would contact her to confirm whether she required assistance.
'We apologise for the disruption she experienced. We work to address any issues raised with us as quickly as possible,' the Telstra spokesperson said.
'We worked with the customer to address her concerns late last year and our records indicate the matter was resolved with the Telecommunications Industry Ombudsman.'
However, Mrs Hancock said the case was pending, as confirmed in a letter from the ombudsman on 13 February 2017 stating she informed them that her complaint had not been resolved since the ombudsman referred the matter to Telstra Corporation, and the ombudsman had now transferred the complaint to its dispute resolution area.
The NBN
The NBN is being built across Australia. Service providers such as Telstra plug into the network in each area to give people access. Once construction is complete, service providers manage the final connection to homes and businesses, and customers then liaise with their provider for connection.
Phone and internet service providers offer plans and packages based on a choice of speeds; NBN 25, 50 and 100. Households with basic phone or internet usage may consider a retail plan based on NBN 12 which is not a 'superfast' broadband plan. Superfast is wholesale download speed above 25 megabits per second, a measure of data transfer. A plan based on NBN 12 may be similar to that which many households and businesses may experience on ADSL2.
Contact the NBN for information about the network roll-out and service provider for plans, pricing and ordering services over the NBN, installation, activation enquiries and support.
Filed in category:
Uncategorised