Read time:

1:30min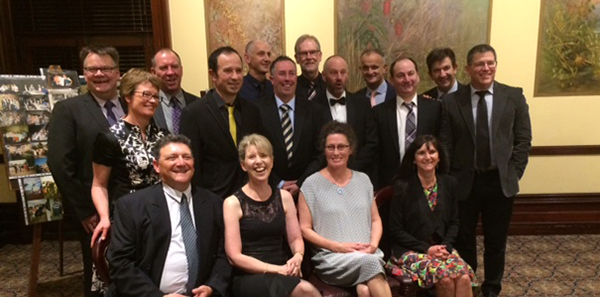 University of Melbourne 1985 optometry class 30-year reunion (L-R rear) Ken Thomas, Mark Letts, Arthur Papoulias, Ian Wood, Peter Larsen, Kent Snibson; (middle row) Christine Ellett (Gross), Davut Ulusoy, Mark Prince, Darren Lane, Tom Lazaridis, Ron Ben-David; (front) Stephen Giacon, Judy Taylor, Annette Wallis (Goudappel), Heather McKay.
______________________________
By Helen Carter
Journalist
30 year reunion
University of Melbourne optometry students from the class of 1985 have celebrated their 30-year reunion.
Pakenham optometrist Judy Taylor said 16 classmates attended the October 2015 gathering for a wonderful evening of reminiscing about their university days.
'Most of us are still optometrists and many are practice owners and leaders in the profession,' she said.
Green vegies linked to lower glaucoma risk
Higher dietary nitrate intake, mainly from green leafy vegetables, is associated with a 20 to 30 per cent lower risk of developing primary open-angle glaucoma (POAG), particularly POAG with early paracentral visual field loss at diagnosis.
Researchers prospectively analysed two large studies that followed nearly 105,000 nurses and health professionals for more than 25 years, during which time 1,483 glaucoma cases were identified.
Compared with the lowest quintile of dietary nitrate intake (about 80 mg/d), the highest quintile (about 240 mg/d) was associated with a 21 per cent lower risk of all POAG and a 44 per cent lower risk of POAG with paracentral visual field loss.
Good dietary sources of nitrates include lettuce, spinach, celery, green beans, cabbage, parsley, beets and carrots.
The analysis of data from the Nurses Health Study and the Health Professionals Follow-up Study were published online on 14 January 2016 in JAMA Ophthalmol.
Keratoconus risk factors
Men, people with asthma, sleep apnoea or Down syndrome, and Latinos and African Americans are at much higher risk of developing keratoconus, a new study shows.
Females, people with diabetes and Asian-Americans appear to have a lower risk, according to the largest clinical study of keratoconus, published online in Ophthalmology, 17 December 2015.
Researchers analysed data from 16,000 patients with keratoconus and 16,000 without. They identified previously unknown risk factors such as 43 per cent higher odds in Latino people and 57 per cent higher odds in African-Americans and a 39 per cent reduced risk in Asians.
Men and people with Down syndrome were known to have a higher risk but the study confirmed this and revealed that Down syndrome patients have a six-time higher risk.
A 20 per cent lower risk of keratoconus in diabetes patients and an even lower risk in those with diabetes complications was a new finding.
University of Michigan researchers suggested clinicians caring for keratoconus patients enquire about breathing and sleep, and when appropriate refer for evaluation of asthma or sleep apnoea.
Glaucoma genetic code
International scientists, including Australians, have identified three areas of genetic code that are associated with an increased risk of developing glaucoma.
Researchers brought together the data from 14 genetic studies of the most common form of glaucoma, primary open-angle glaucoma (POAG.)
They performed meta-analysis on studies from the USA, Australia, Europe and Singapore and identified three new susceptibility loci for POAG.
They hope the findings, published online in Nature Genetics (11 January 2016) will help identify new pathways underlying POAG susceptibility and suggest new targets for preventative therapies.
'No show' patients
About one in five patients fails to turn up to scheduled doctor appointments in America, a study shows.
Patients are more likely to miss appointments on Mondays, in winter, and if they are young and female, but the rate of no-shows was lowest on Tuesdays and in summer.
The University of Texas analysis of 12 years of data from a primary care clinic and nine specialist clinics at regional hospitals was published online on 14 January 2016 in BMC Health Services Research.
Factors affecting no-show included age, gender, time of appointment (day and month), distance, employment status and patient health status. Implementation of a phone reminder system only modestly reduced the no-show rate.
Filed in category:
Uncategorised