Read time:

1:30min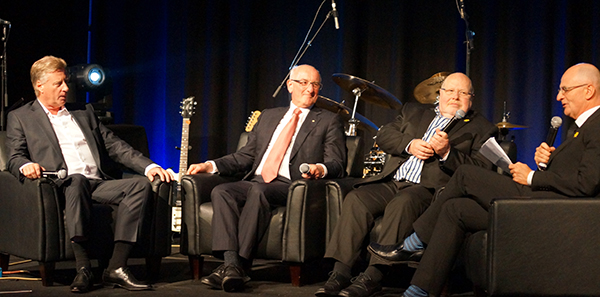 (L-R) David Healy, Joe Chakman, Micheal Knipe and James O'Loghlin
_____________________________
A panel of early contributors to ProVision explored the group's history at its 25th anniversary conference and celebrations in Hobart in October.
James O'Loghlin hosted a dinner and discussion by the panel that comprised Micheal Knipe representing ProVision members, David Healy representing suppliers, and Joe Chakman representing Optometry Australia.
A record 450 delegates attended the conference.
ProVision CEO Steven Johnston said the biennial conference on 3-5 October was a huge success for members, suppliers, guests and ProVision staff.
The event started with a visit to the Museum of Old and New Art on Friday night, and ended with the celebration dinner on Sunday night.
Members were recognised at the dinner by their peers with a last man standing countdown of length of membership.
This left 14 people standing who were involved in the very early days of ProVision. They were Stephen Wakeling, John Warren, Renata and Sue on behalf of Peter Cunningham, Andrew Thomas, John Farmer, Reg Bennett, Peter Lewis, Micheal Knipe, Norm Russo, Lesley Vedelago, John Kingshott, Lino Di Guglielmo and Lucilla Colagrande.
Mr Johnston presented supplier awards with Essilor winning for range of products, RimOptics for service, VMD for value and Maui Jim for quality. The overall supplier winner was Maui Jim.
'Delegates were treated to an outstanding speaker program headlined by several international guests. They included Al Cleinman from the USA who ran a workshop on the "brand called you" and added a keynote on the future of optometry in the USA, Robert (William) Morris from the United Kingdom who talked about the independent market in the UK, and Caroline Abram from France who shared the art of designing frames,' Mr Johnston said.
'Attendees were entertained and informed by local speakers including Lisa McInnes-Smith who got the audience to appreciate the art of learning, Dan Gregory who introduced the audience to five concepts to develop innovation, Khoa Do who inspired with his incredible life journey, David Foster who gave a taste of Tasmanian wood-chopping, and burns surgeon Professor Fiona Wood who had the audience hanging off every syllable.'
Workshops included Wayne Reuben from CooperVision illuminating the contact lens category, Nick Hornsby from Essilor talking about its eyeCARE training program, Gina Lednyak and Dave Bonovrie from Lednyak Associates on social media, and Rob Ellis from ProVision providing insight into recruiting and retaining the right staff.
A trade show, in which 25 strategic partner suppliers displayed their latest offers, was highlighted by the release of ProShop, a new business to consumer transactional website for ProVision members to start selling on-line.
ProVision raised $13,800 for Optometry Giving Sight across the weekend, which included $7,800 in recurring annual donations and $6,000 in a raffle in which Andrew Thomas from Thomas and Mackay in Adelaide won a trip to an OGS project.
Visit the ProVision website.
Filed in category:
Uncategorised