Read time:

1:30min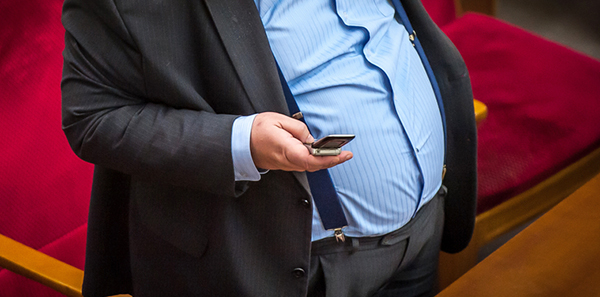 By Sandra Shaw
National Communications Manager
Obesity and IOP link
Obesity is associated with increased intraocular pressure compared with normal weight controls, but not with the magnitude of postural IOP change across different seated and supine positions, according to research reported in the Journal of Glaucoma.
In a prospective case-control study, 25 morbidly obese subjects scheduled for bariatric surgery and 25 age-matched and sex-matched normal weight controls were recruited.
In total, 19 obese subjects completed follow-up after bariatric surgery. Mean weight loss was 49.1+/-17.2 kg, 36 per cent of total body weight. Mean IOP was significantly lower after bariatric surgery by 1.6+/-0.5 mmHg (p < 0.001).
Linear regression demonstrated that every 10 per cent body weight loss correlated with 1.4 mmHg decrease in IOP (r = -0.46).
Effect of head position and weight loss on intraocular pressure in obese subjects 
Lucentis and Eylea in top 10
Ranibizumab and aflibercept for macular degeneration were among the top 10 most costly medicines on the PBS in 2015-2016.
Ranibizumab ranked number four with a cost to the government of $241,256,012 for 163,595 prescriptions, followed by aflibercept in fifth place with a cost of $231,194,036 for 155,404 prescriptions.
Both are noted as expensive medicines with a low number of prescriptions.
Des Murray Scholarship
Nominations are invited for the Des Murray Scholarship, which is awarded every second year to enable a young person from a more remote area to attend the National Rural Health Conference.
In 2017 the scholarship will cover the cost of registration, airfares and accommodation for the conference in Cairns on 26-29 April.
For information contact the National Rural Health Alliance on 02 6285 4660 or email sue@ruralhealth.org.au.
1 million in Shanghai myopia study
The myopia team at Brien Holden Vision Institute is working with researchers in China to analyse data from one million children who have been screened for vision and refractive error.
The study of children aged from four to 14 years in Shanghai was conducted by the Shanghai Eye Disease Prevention and Treatment Centre (SEDPTC), the leading primary eye-care centre in China, and funded by the Shanghai Government.
The SEDPTC will investigate next the impact of increased time outdoors on myopia development as it seeks to build on evidence of its protective effect on the onset or progression of myopia.
Brien Holden Vision Institute has signed a three-year agreement with SEDPTC for collaboration on these research projects.
International meeting in Sydney
The International Cornea and Contact Lens Congress will be held in Sydney in September 2017.
Registrations will open in February and information is available from ICCLC@saneevent.com.au, 02 9553 4820.
Comfort flows and ebbs
Researchers have tested the performance of a commercial spray and a drop supplement in contact lens wearers, and found that neither of these products has an effect on lens wear comfort.
Tear samples from participants were examined one day after the three-time daily application of the supplement and then again after 14 days of the three-times daily application.
The study showed that the majority of the biochemical changes in tears that occurred at day one had returned to baseline at day 14, which suggests an effect of prolonged lens wear or that the tear film adapts to this application.
The researchers were from Brien Holden Vision Institute and the School of Optometry and Vision Science at University of New South Wales Australia.
Effects of lipid supplements on tear biochemistry in contact lens wearers 
CERA wins $1.4 million in grants
The NHMRC has awarded grants in excess of $1.4 million to the Centre for Eye Research, for projects led by researchers Professor Robyn Guymer and Associate Professor Alex Hewitt.
Professor Guymer's grant is for work to understand the underlying mechanisms by which debris accumulates in the retina in age-related macular degeneration.
Professor Hewitt's grant will lay the foundation for a new generation of gene therapy which will enable direct gene-editing in the eye.
Filed in category:
Uncategorised