Read time:

1:30min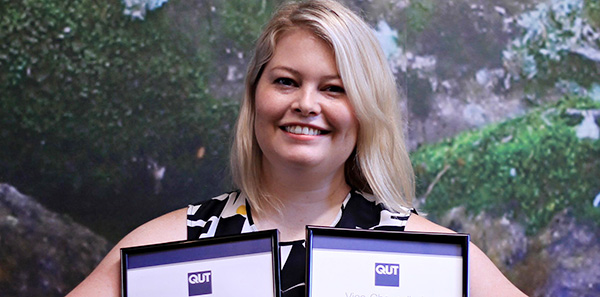 Dr Emily Pieterse  Photo: AG Photography
______________________________
By Helen Carter
Journalist
QUT has recognised the work of Emily Pieterse, a talented young optometrist and researcher who founded Australia's first university-based myopia control clinic.
Dr Pieterse was presented with a Queensland University of Technology Vice-Chancellor's Individual Performance Award on 2 December, for her significant and superior contributions to clinical teaching at QUT.
The awards are offered annually to academic and professional staff across the various faculties at QUT.
Dr Pieterse is vice-president of Optometry Queensland/Northern Territory and a post-doctoral research fellow within QUT's School of Optometry and Vision Science.
She works one day a week as supervising clinician in The Myopia Control Clinic at QUT and the other four days works on her research looking at different environmental influences on the structure of the eye and how these could relate to myopia development.
While completing her PhD studies, which examined the ocular changes associated with accommodation and myopia development, Dr Pieterse initiated, developed and implemented the speciality clinical service, The Myopia Control Clinic, within the QUT Optometry Clinic.
Evidence-based
This was the first such clinic established in an Australian university, and the evidence-based clinical procedures and myopia management guidelines developed by Dr Pieterse have since been adopted by other universities when integrating myopia control into their clinical training.
Patients are referred to Dr Pieterse both internally from the QUT Optometry Clinic and from external optometry practices.
After the consultation, the most appropriate treatment options for each child are determined based on their progression rate and risk factors for further progression, in consultation with the child and their parents.
Evidence-based treatment guidelines developed by Dr Pieterse are derived from the latest research, and are updated on an ongoing basis to ensure patients receive the best treatment available.
'My background in myopia research, coupled with my experiences with orthokeratology and ocular therapeutics gained in private practice gave me the skills necessary to tackle this project,' she told Australian Optometry.
'I was aware of the growing epidemic of myopia in Australia, and knew that our QUT students needed to develop the knowledge and skills necessary to address these types of patients once they had graduated.'
The clinic sees children up to the age of 18 years referred by external optometrists. So far it has seen about 100 children at the rate of about 30 a semester, with patients coming from across south-east Queensland to attend the clinic.
Responding well
'We have had great success with the children who have commenced treatment through the clinic, with the majority of patients demonstrating a stabilisation in their myopia,' Dr Pieterse said.
A typical myopia clinic consultation will require patients to complete a detailed questionnaire to ascertain their exposure to certain risk factors such as family history, ethnicity, and levels of near work and outdoor activity.
Patients then undergo dilated fundus examination to screen for retinal myopic complications, ocular biometry measurements, and a binocular vision assessment.
Control options are discussed with patients and their parents to determine whether orthokeratology, low-dose atropine eye-drops or multifocal soft contact lenses are the best option for the level of myopia and the individual child.
'Some treatments are more effective at controlling myopia but may have more side-effects, so we weigh the pros and cons of each treatment with the severity of myopia and the potential for further myopia progression, so the families can choose the best option for their child,' she said.
Dr Pieterse has lectured on myopia control and the aetiology of refractive error at national and international conferences. She will be giving a presentation on the topic of atropine and myopia control at the 2017 Australian Vision Convention on the Gold Coast on 22-23 April.
Filed in category:
Uncategorised